Hey loves, guess what? A new Texas-style HALAL restaurant has officially opened a few weeks ago on King. St. West in Toronto & I was able to get a sneak peak of what they're all about! It's called "Meat & Pie Co." and you've guessed it- they sell exactly that. The restaurant was super cute- the interiors were quite spacious and chic. We were able to reserve a private dining experience for my mom's birthday so we had a chance to try out the place before their grand opening. It was pretty exciting…
In this blog post, I show you a bit of the dreamy interiors & what to expect when checking it out. SPOILER– this spot might be your new go-to for succulent meat AND homey pies. LOL. I'm a girl that loves me some meat… so I was really excited to try this place out in general. I think it's safe to say that the whole family enjoyed their meals as well & I know for sure I will be back here VERY, very soon.
212 King Street W. Toronto, ON, M5H 1K5
Price: $$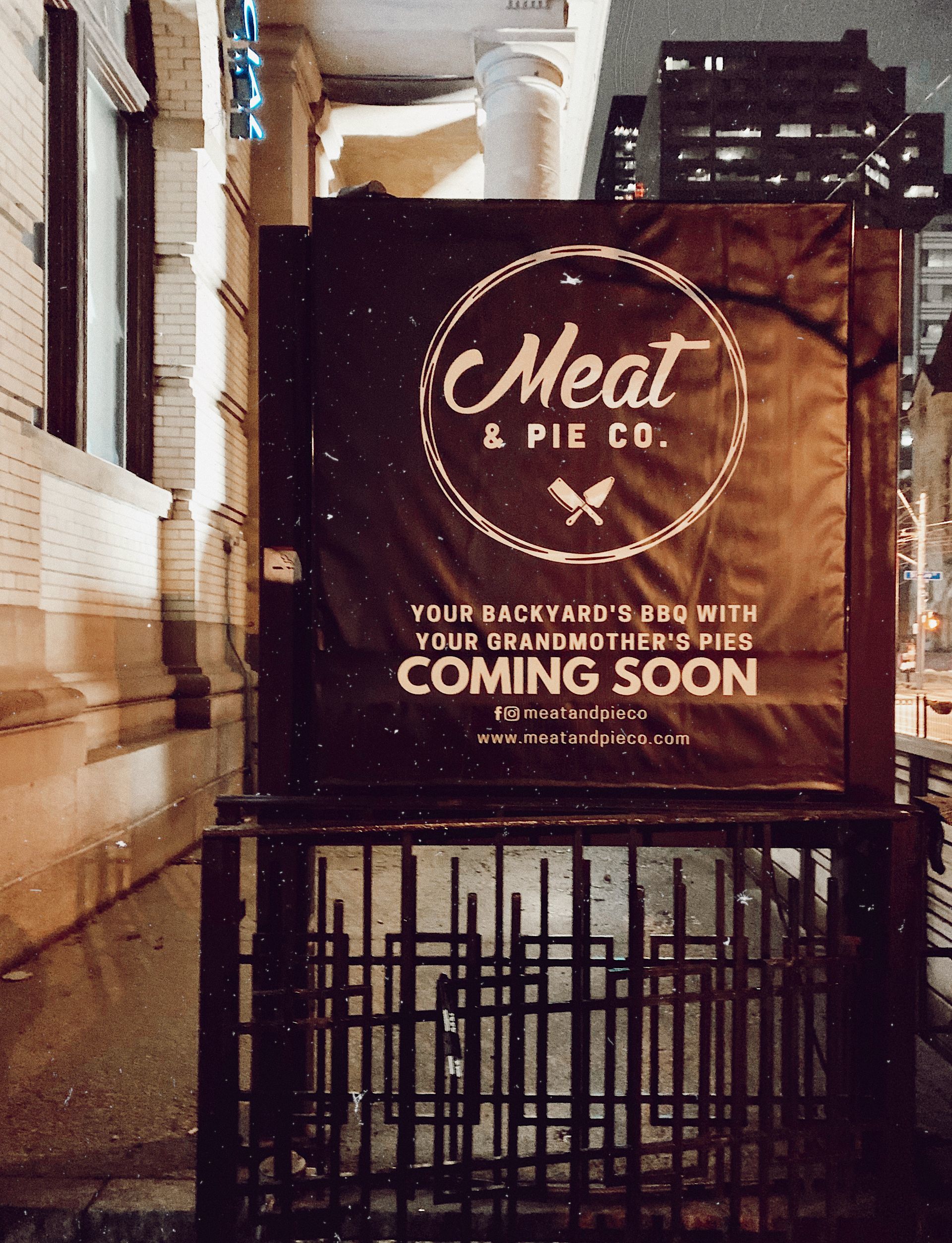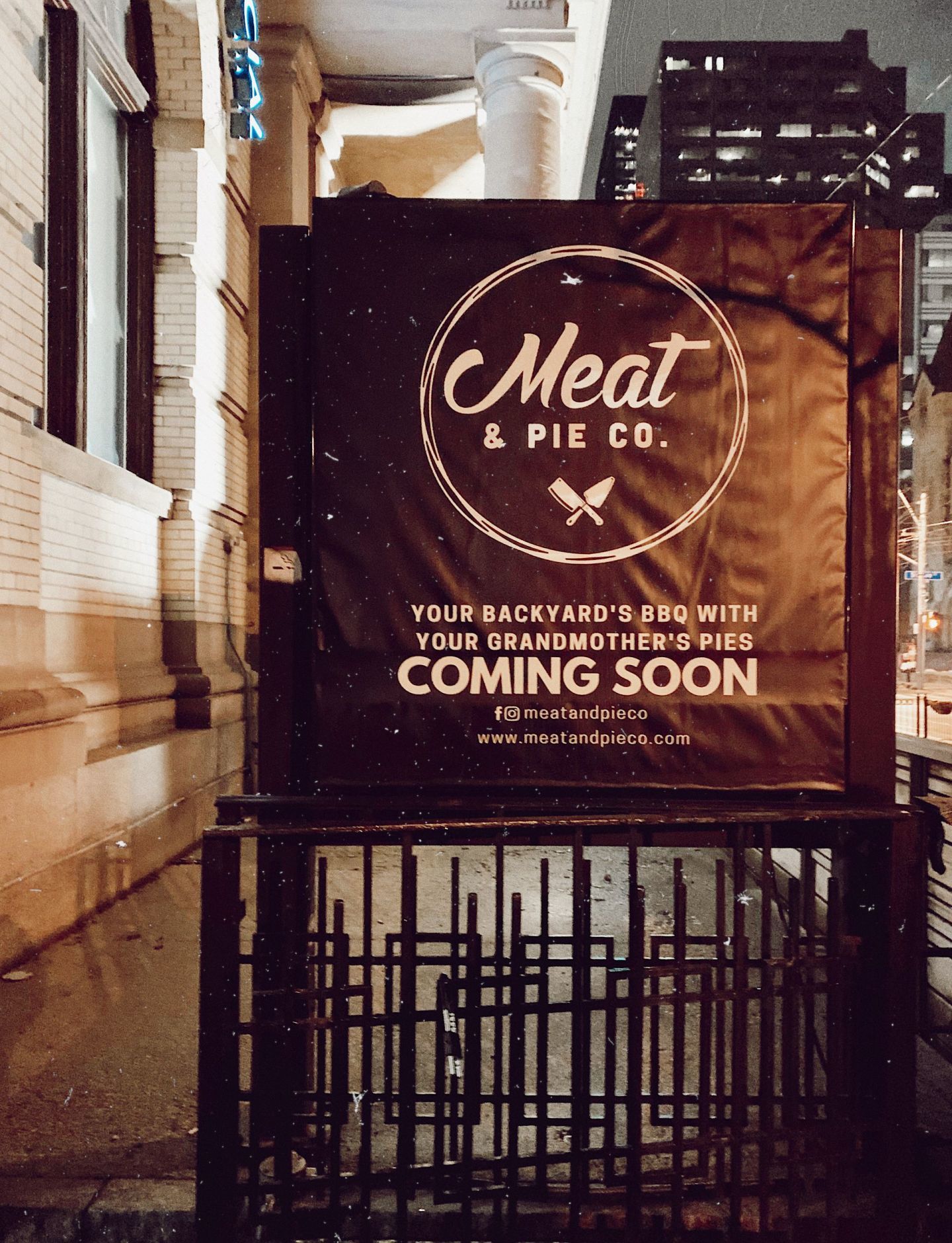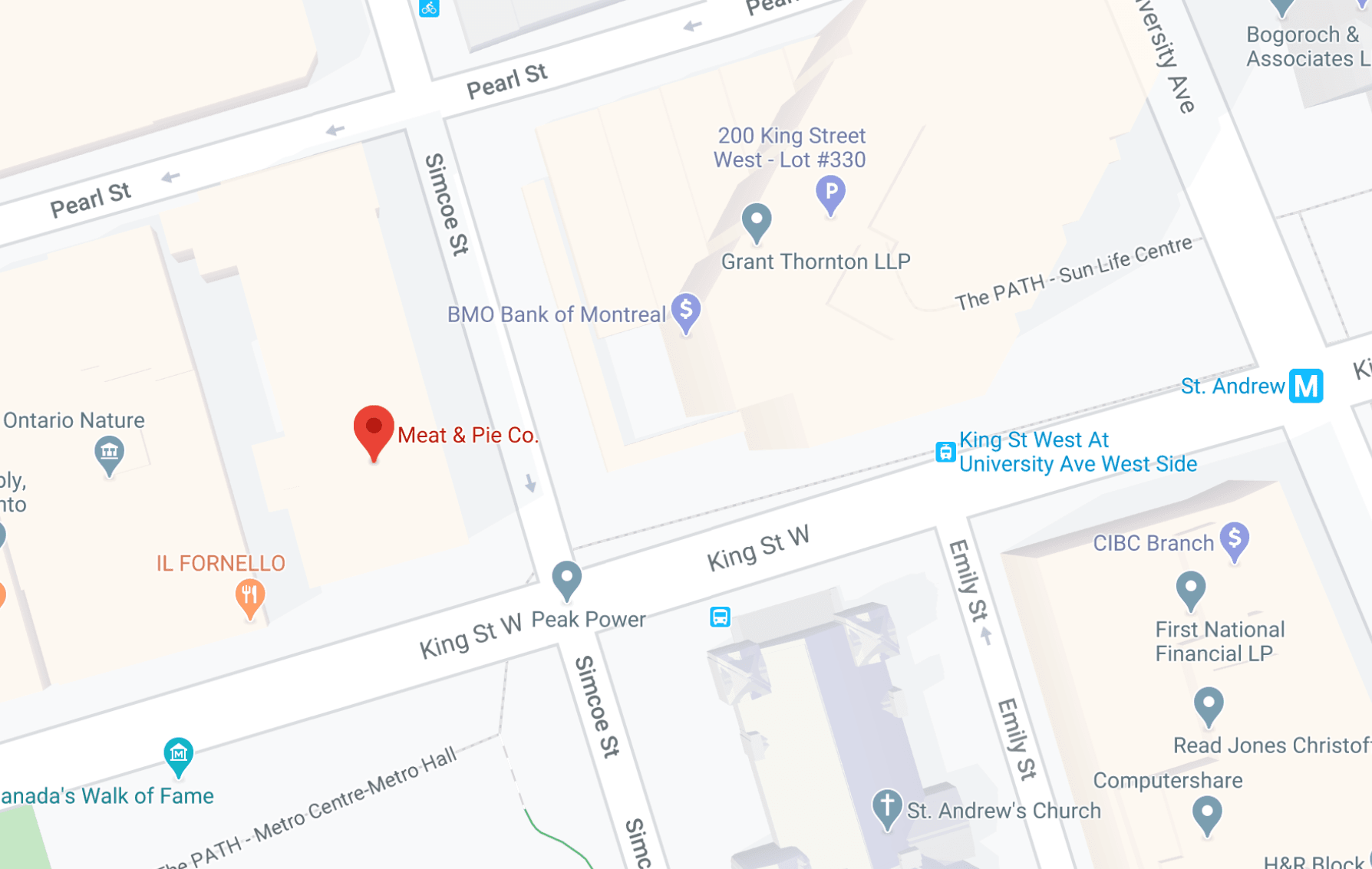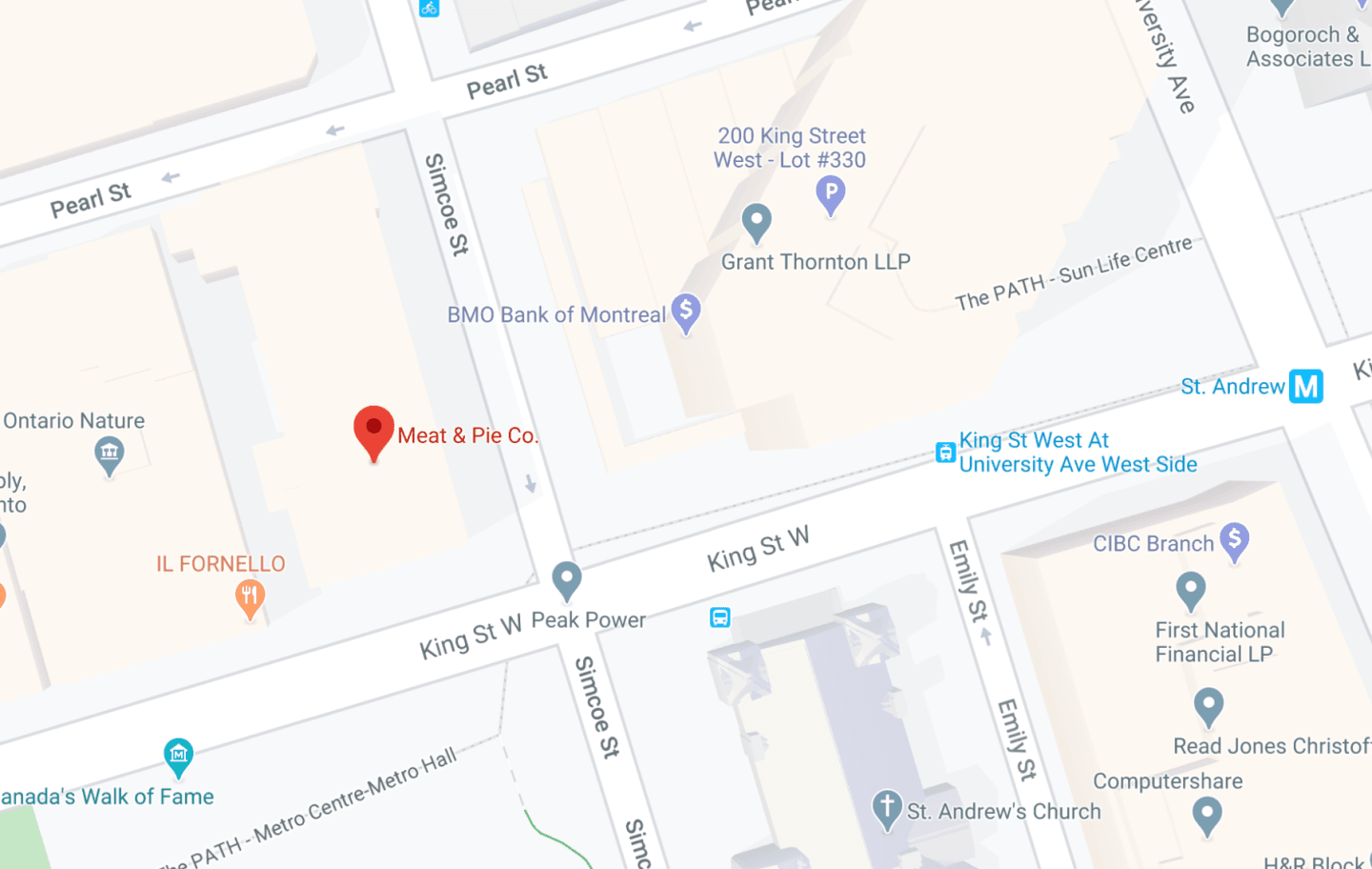 *As you can see, it's quite close to St. Andrew station- barely a 5 minute walk!
Interior & Decor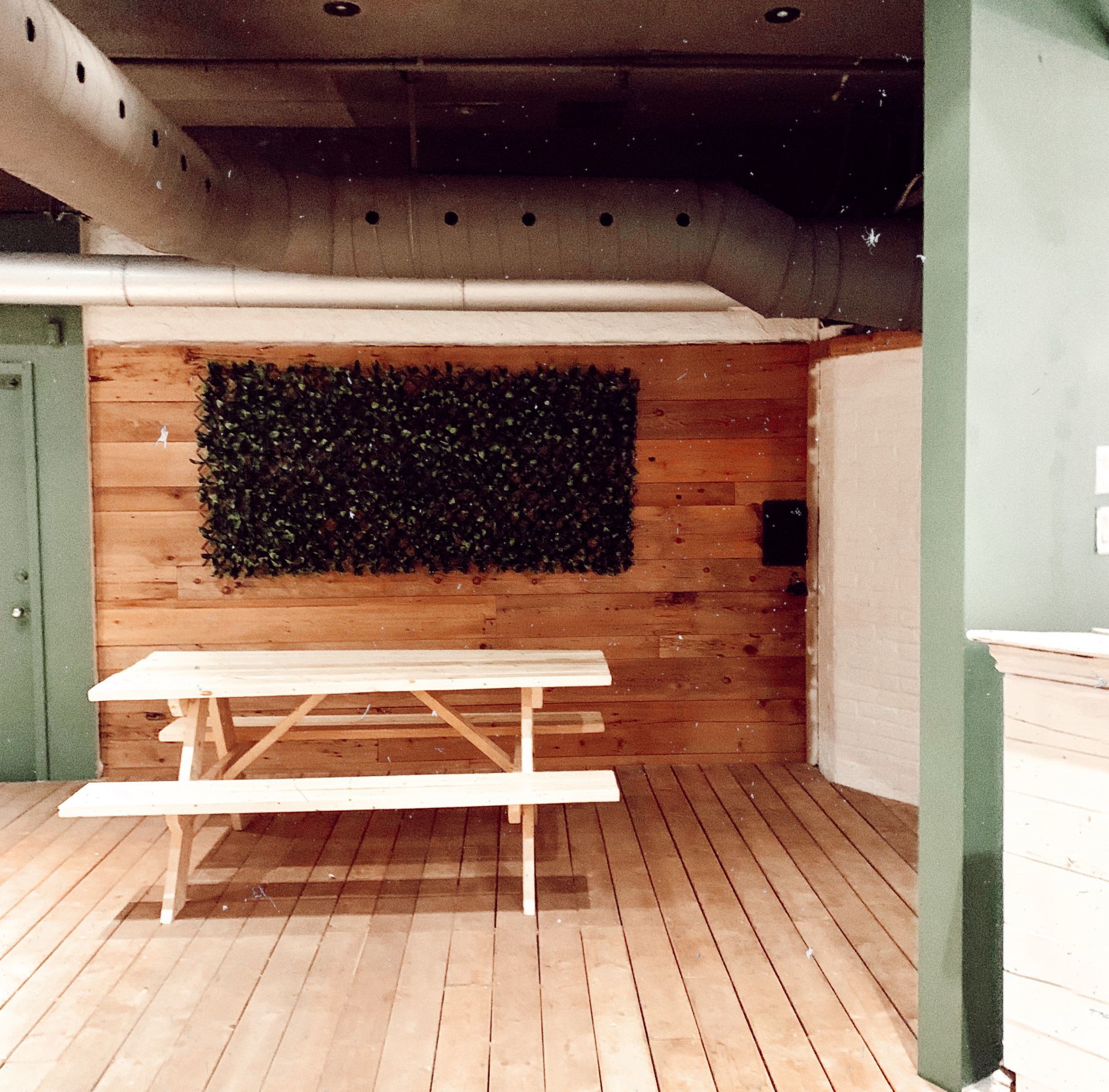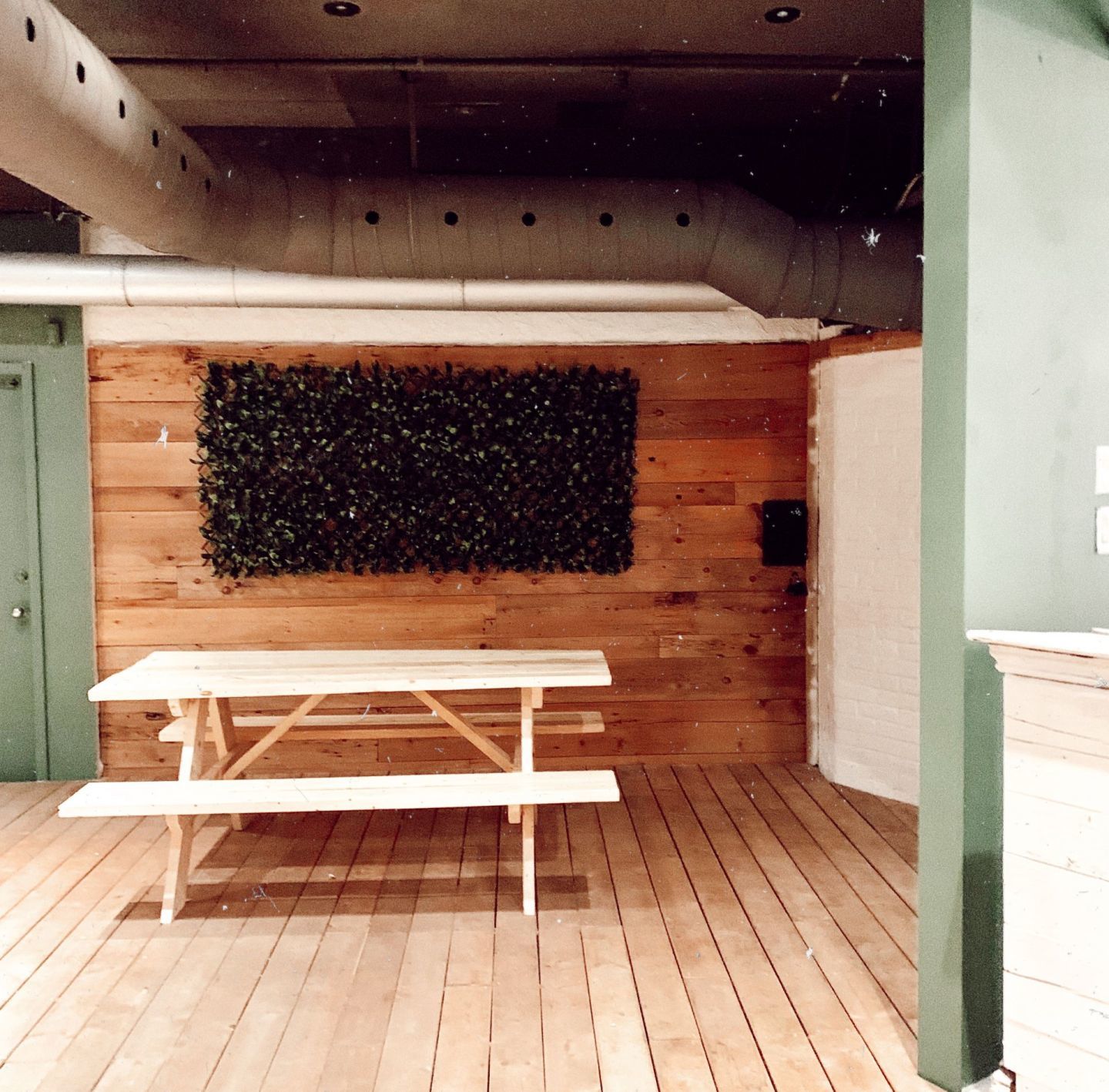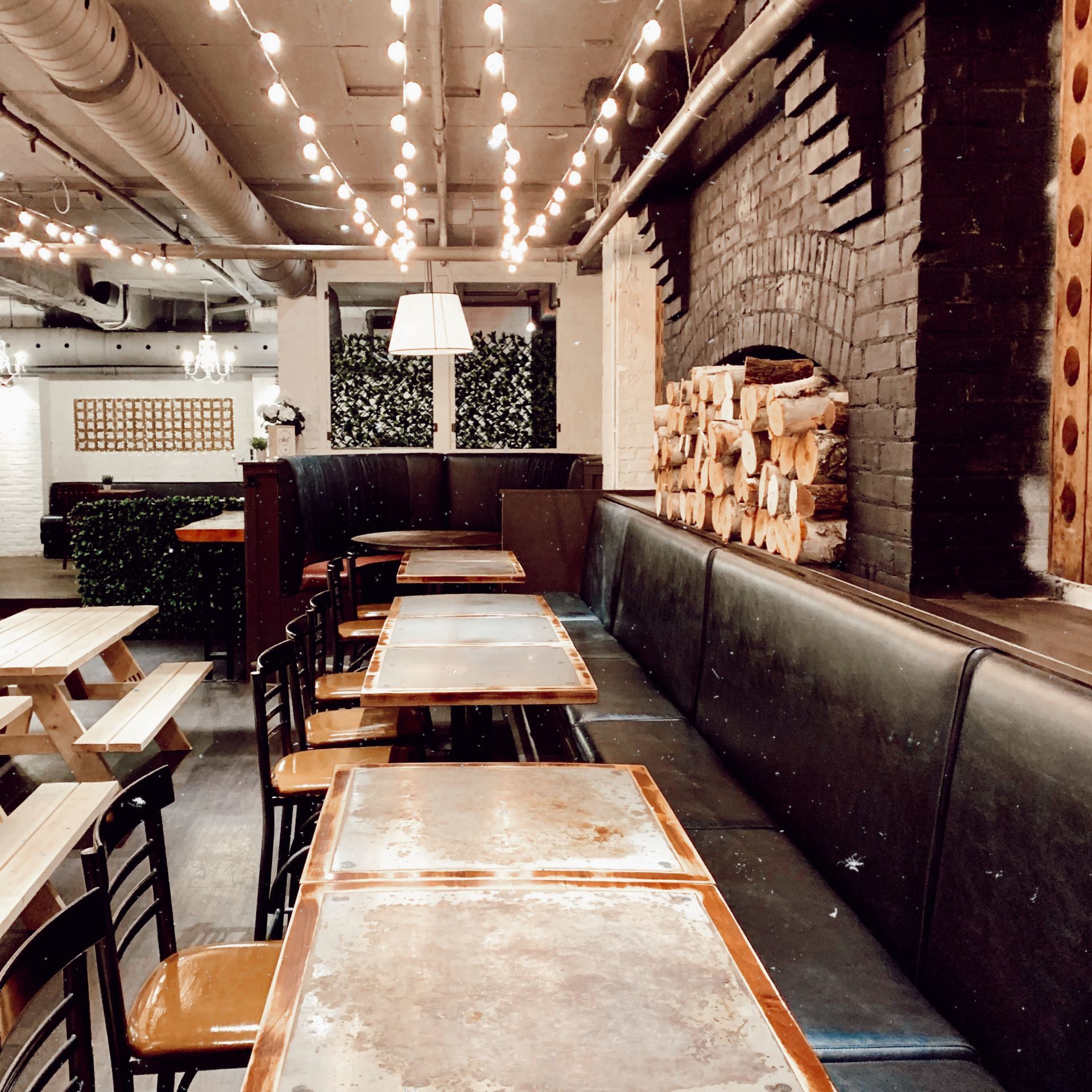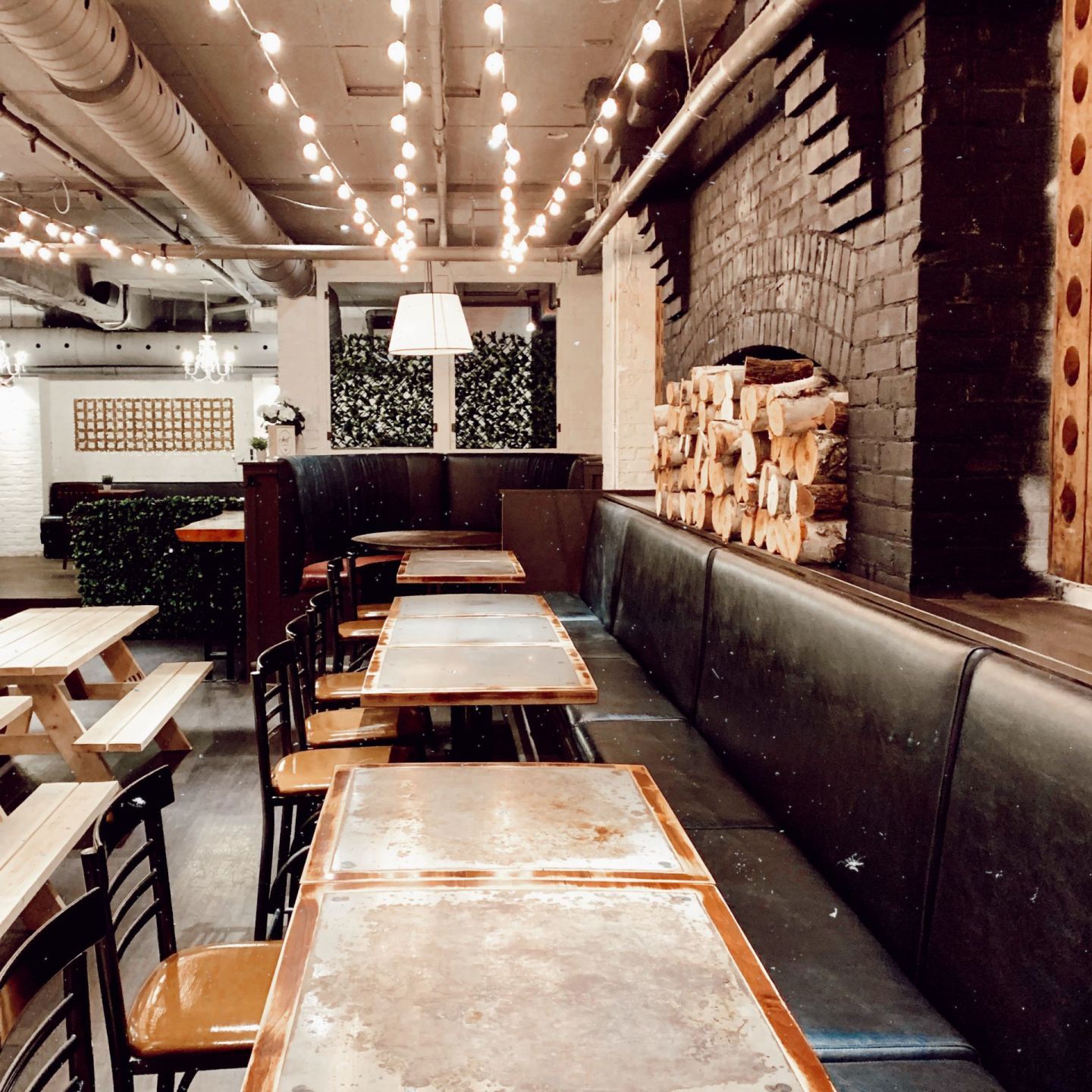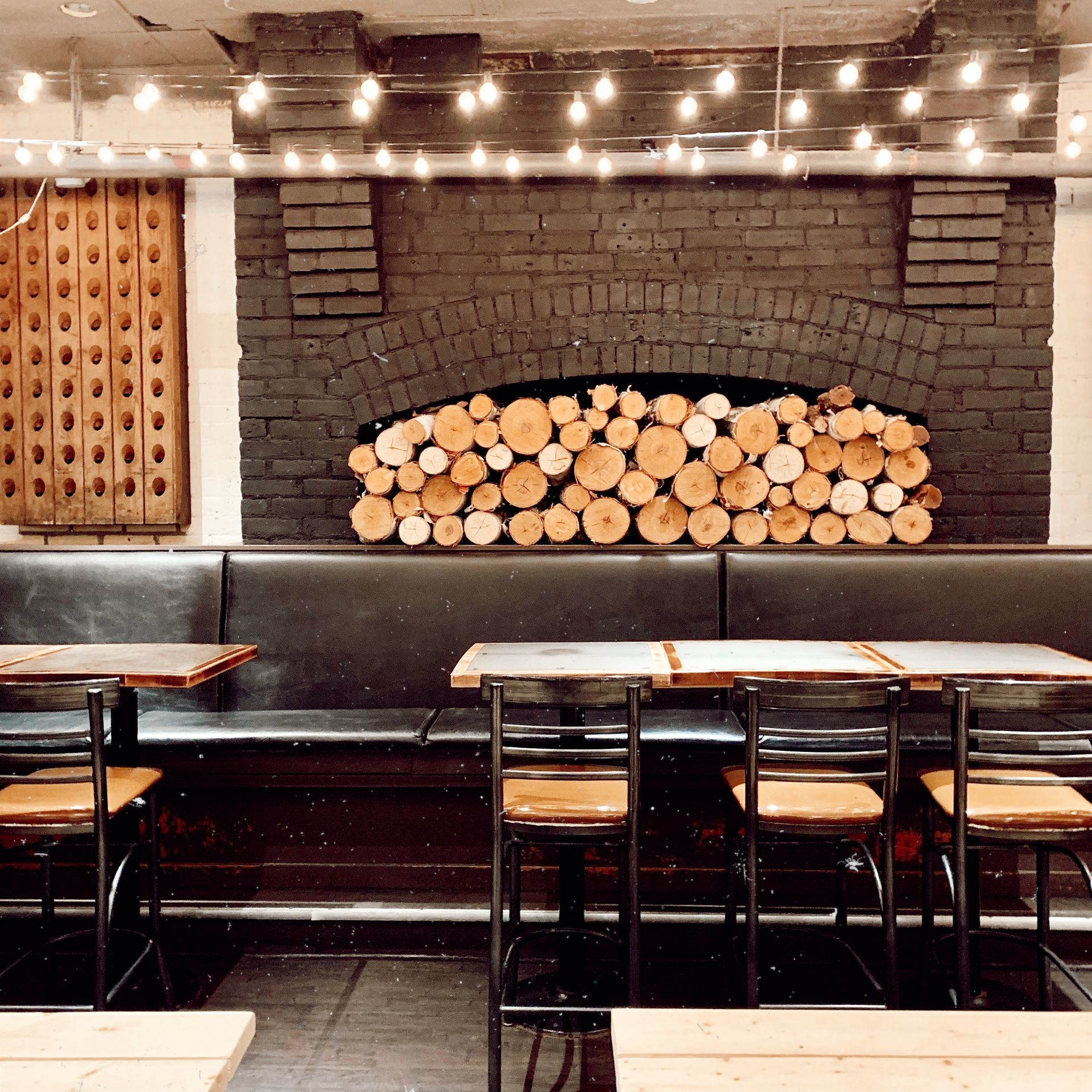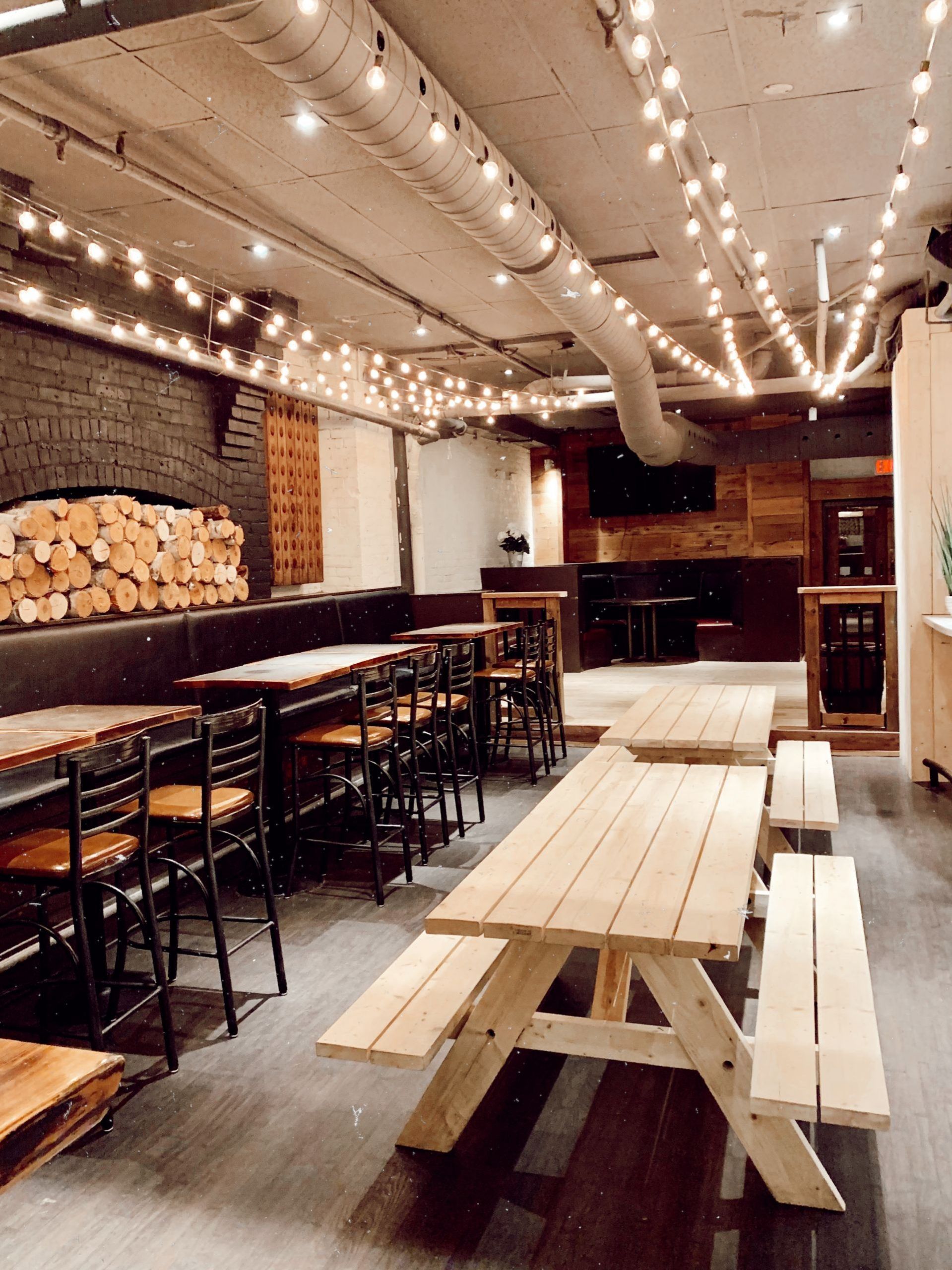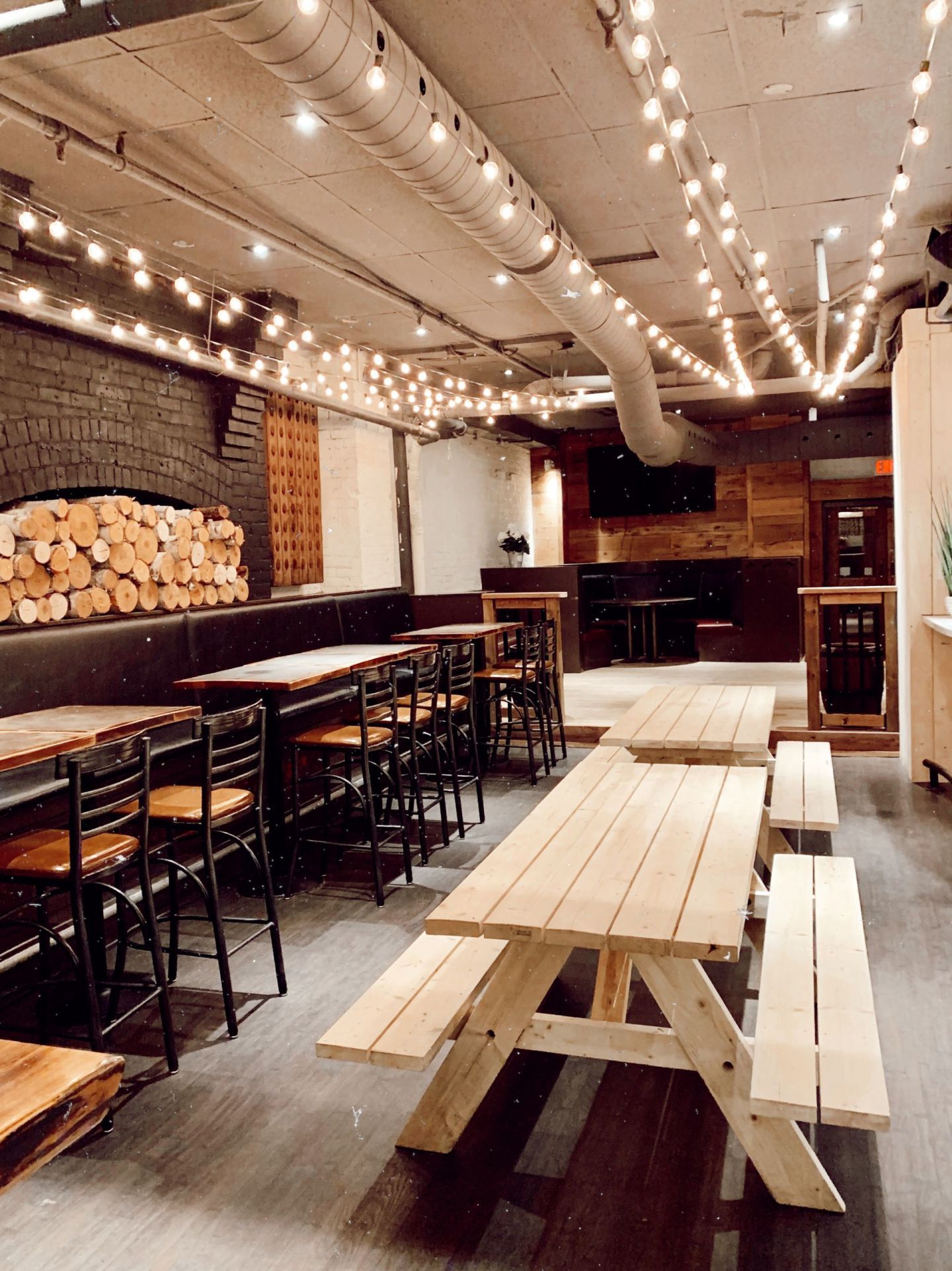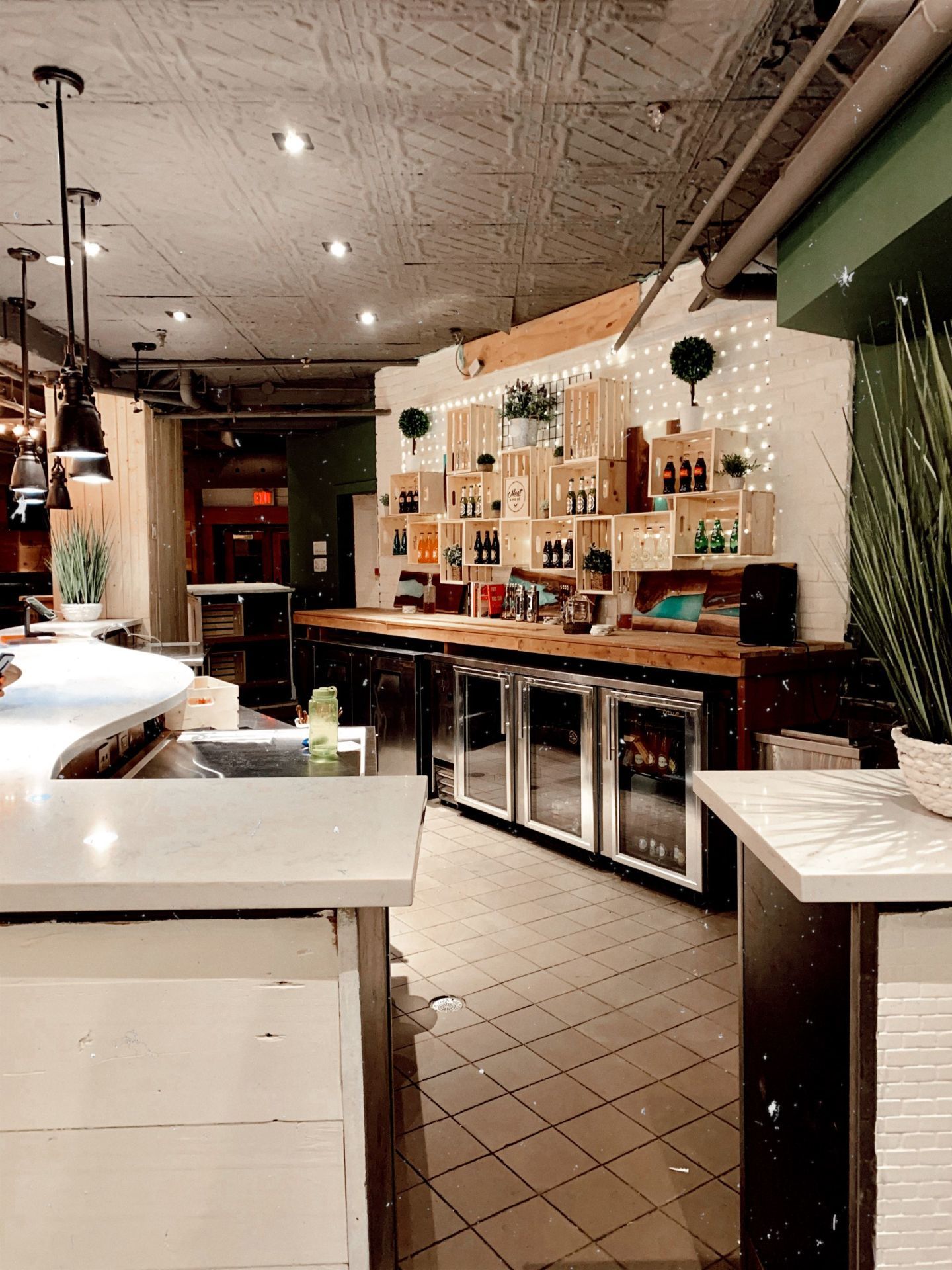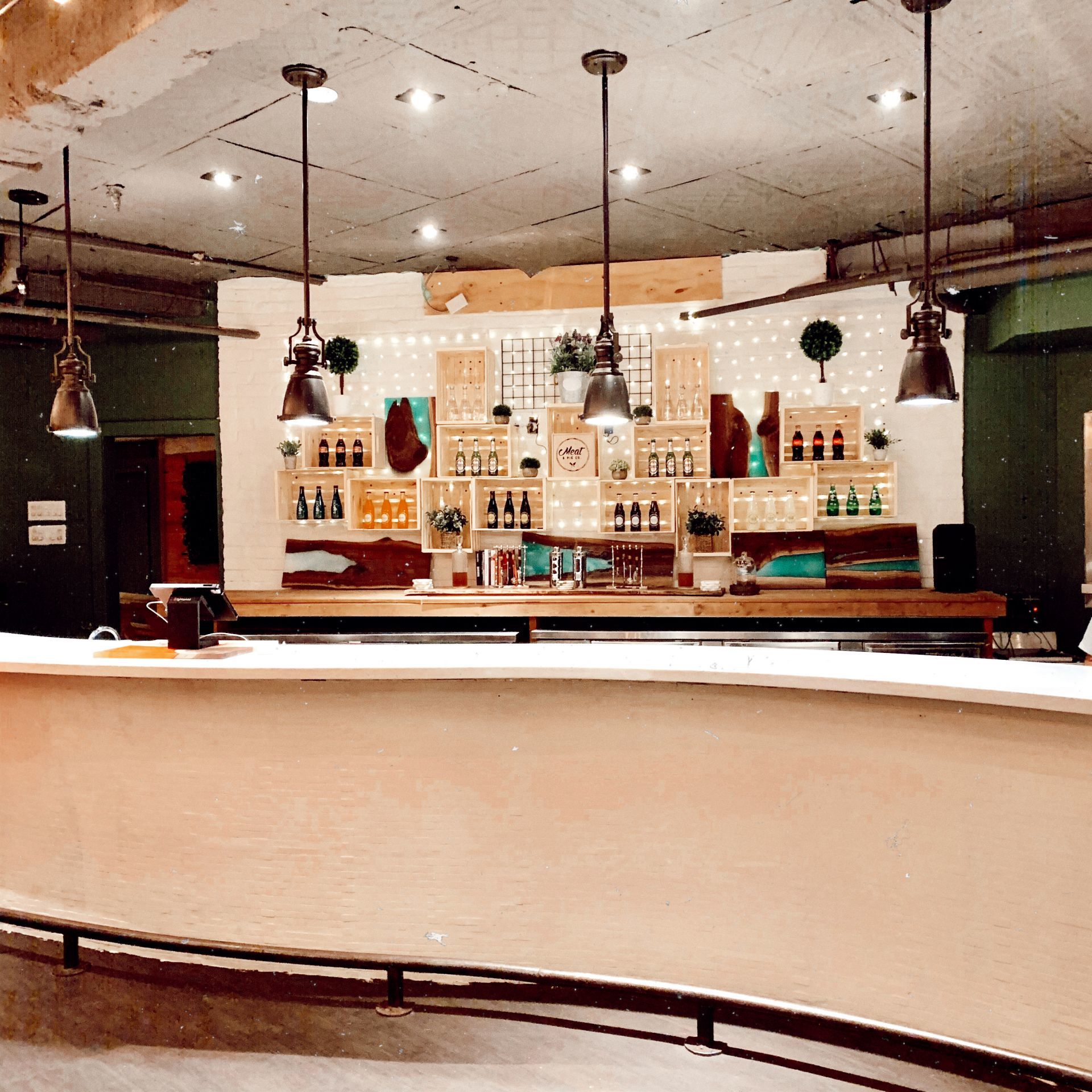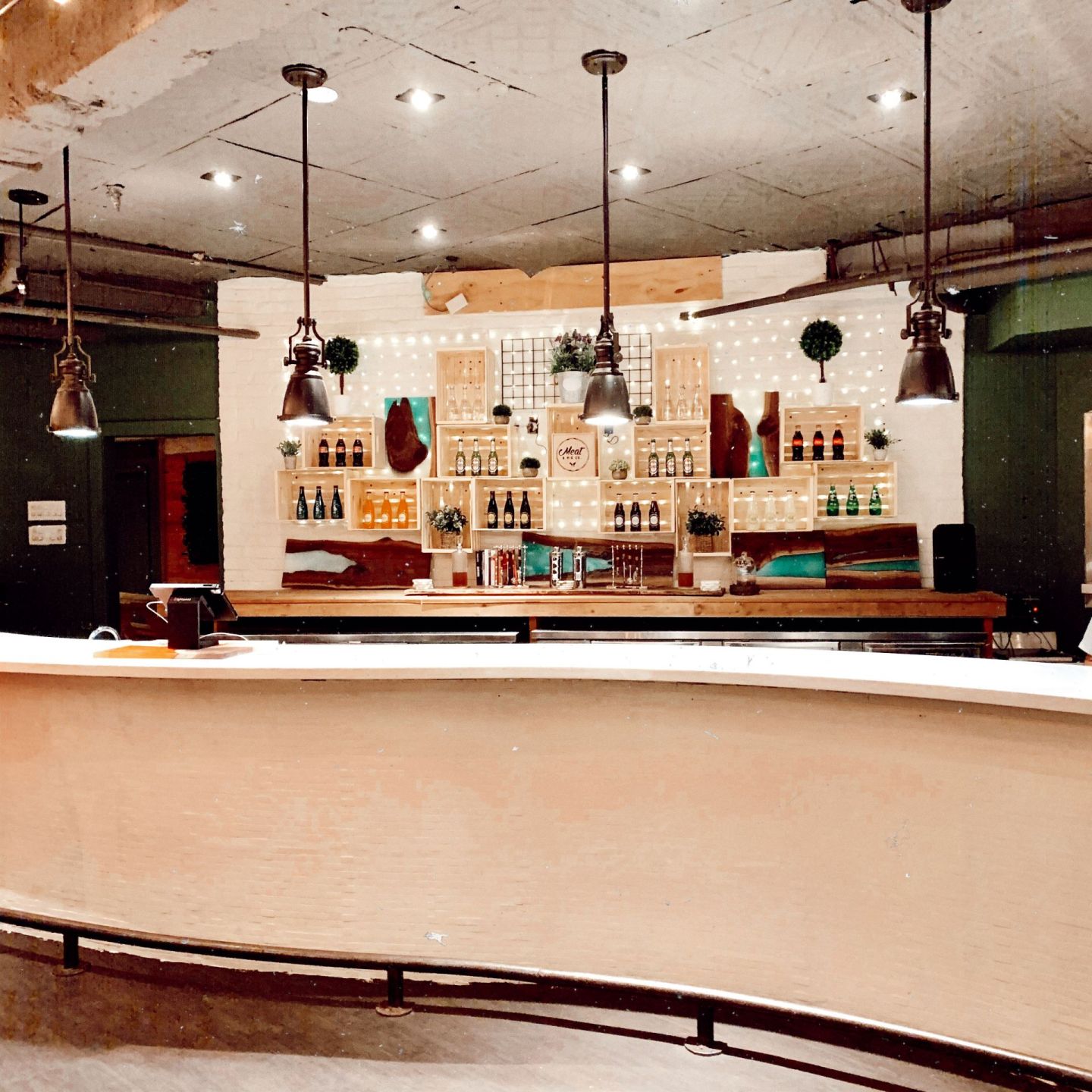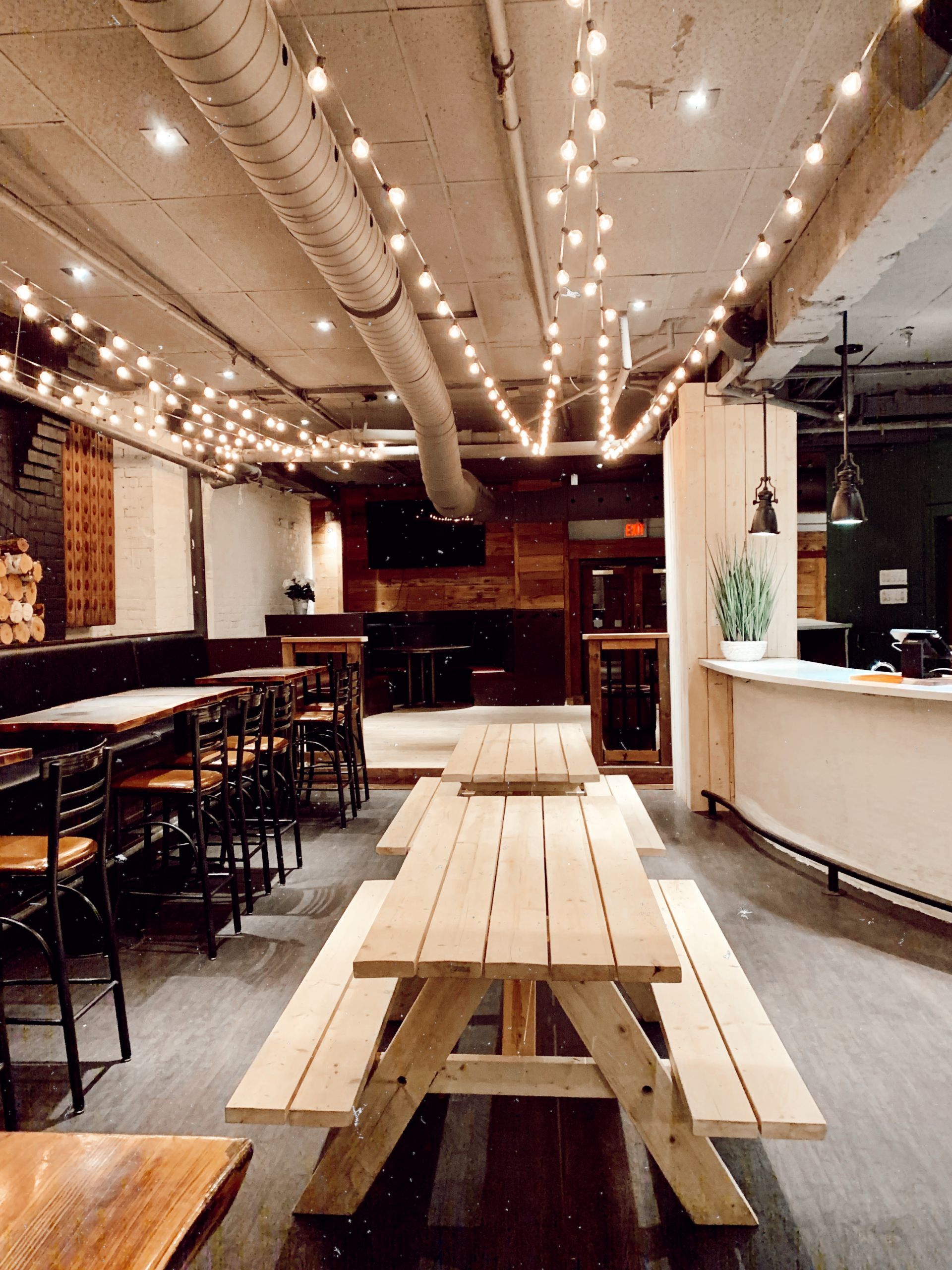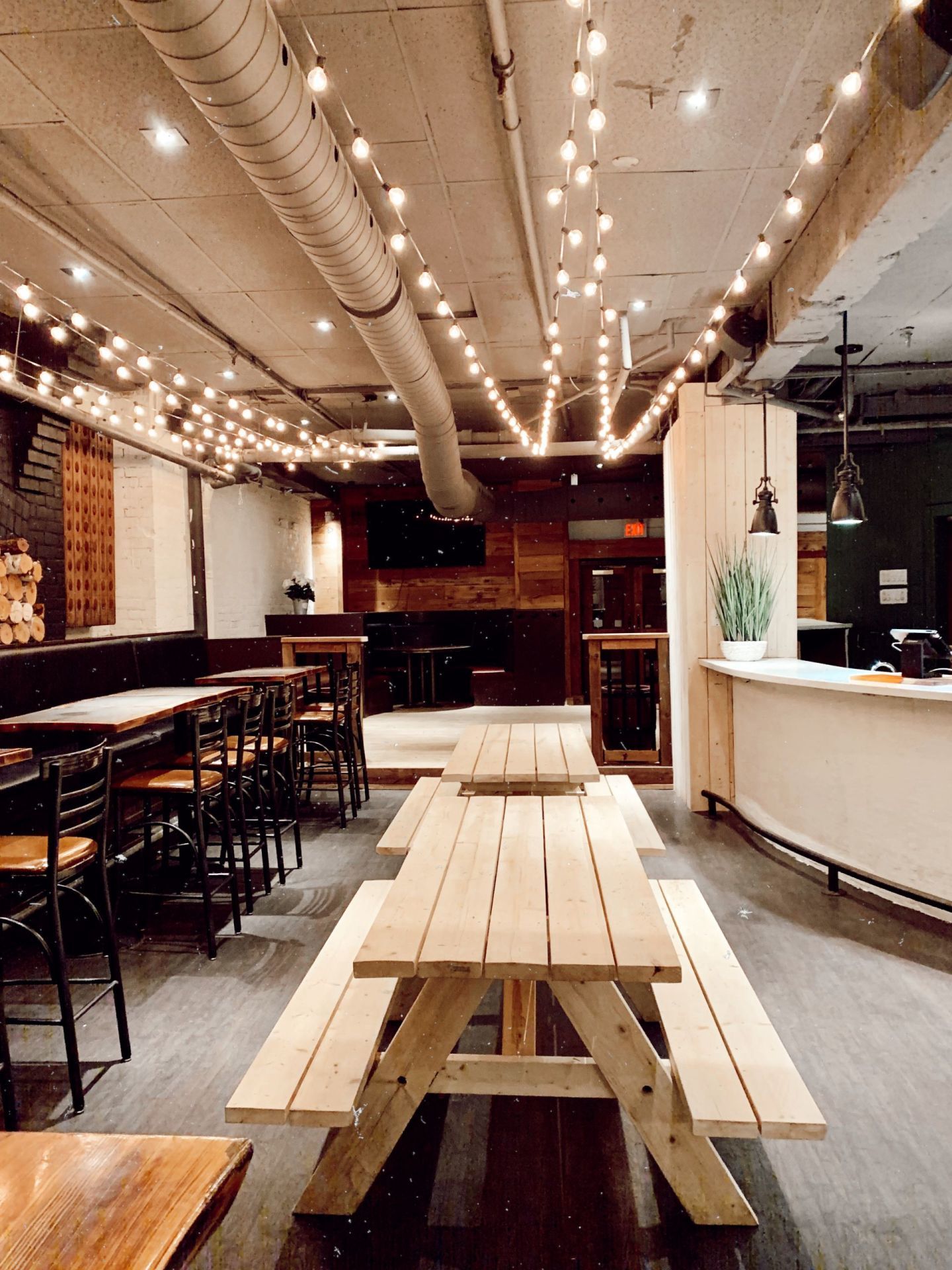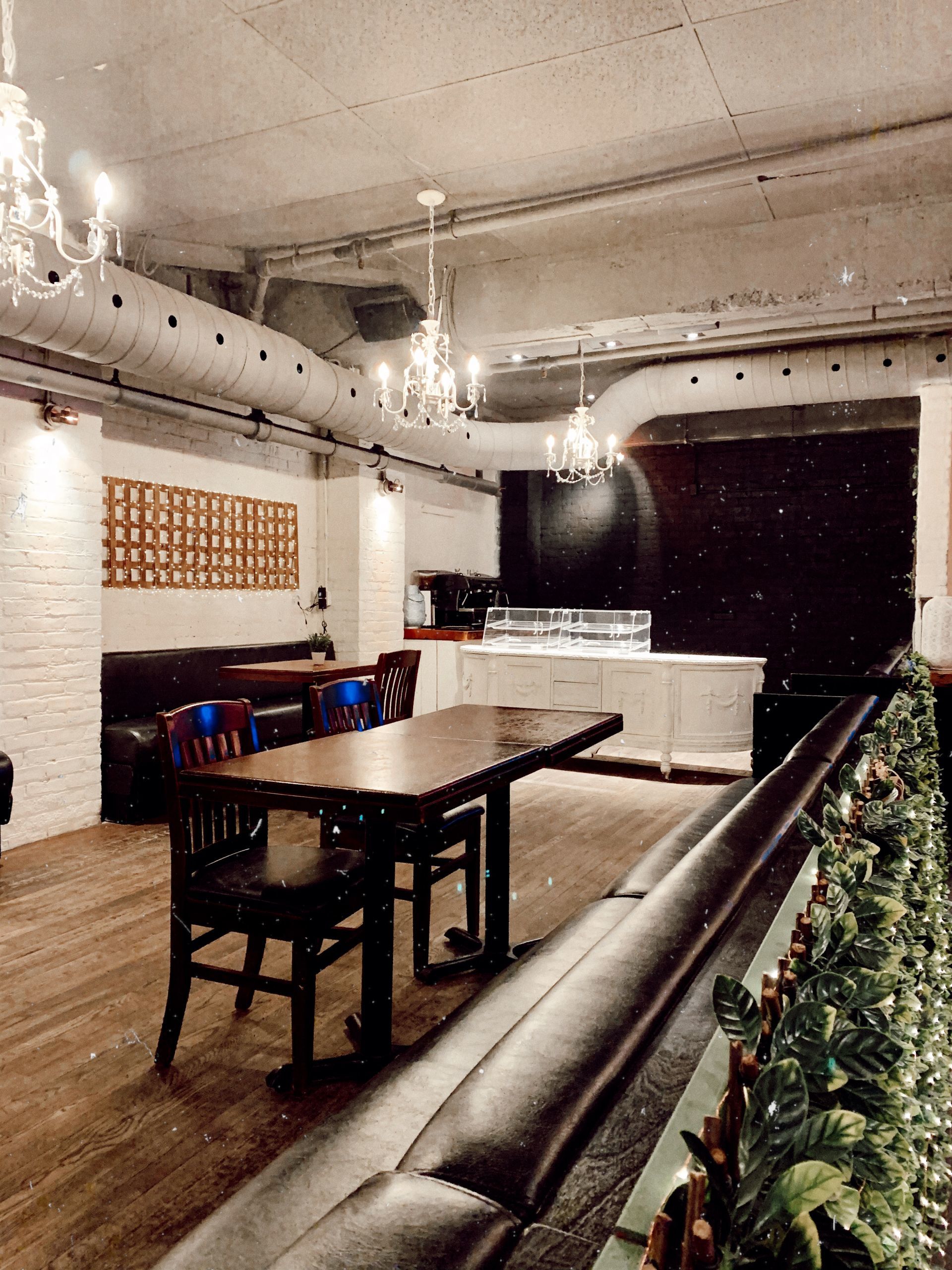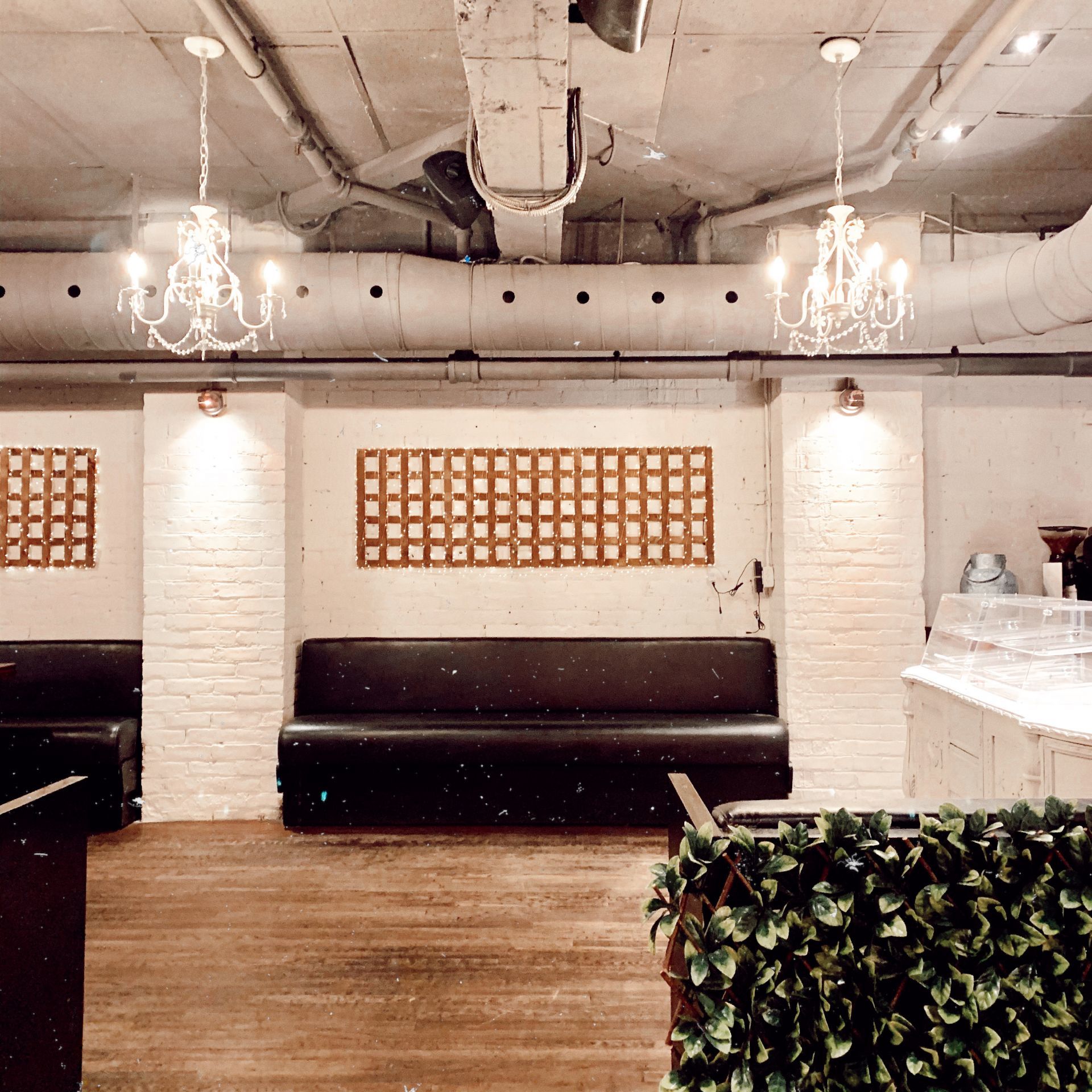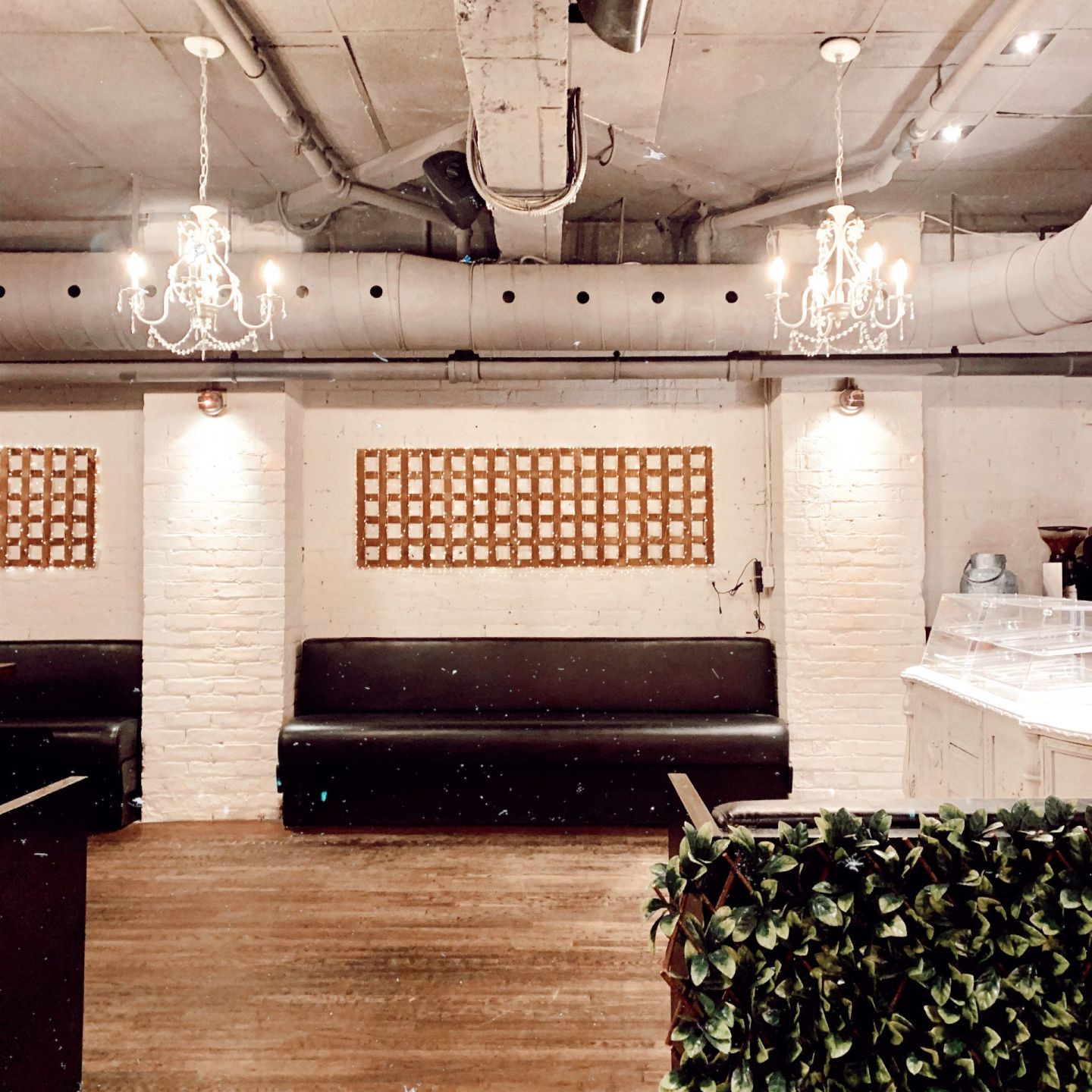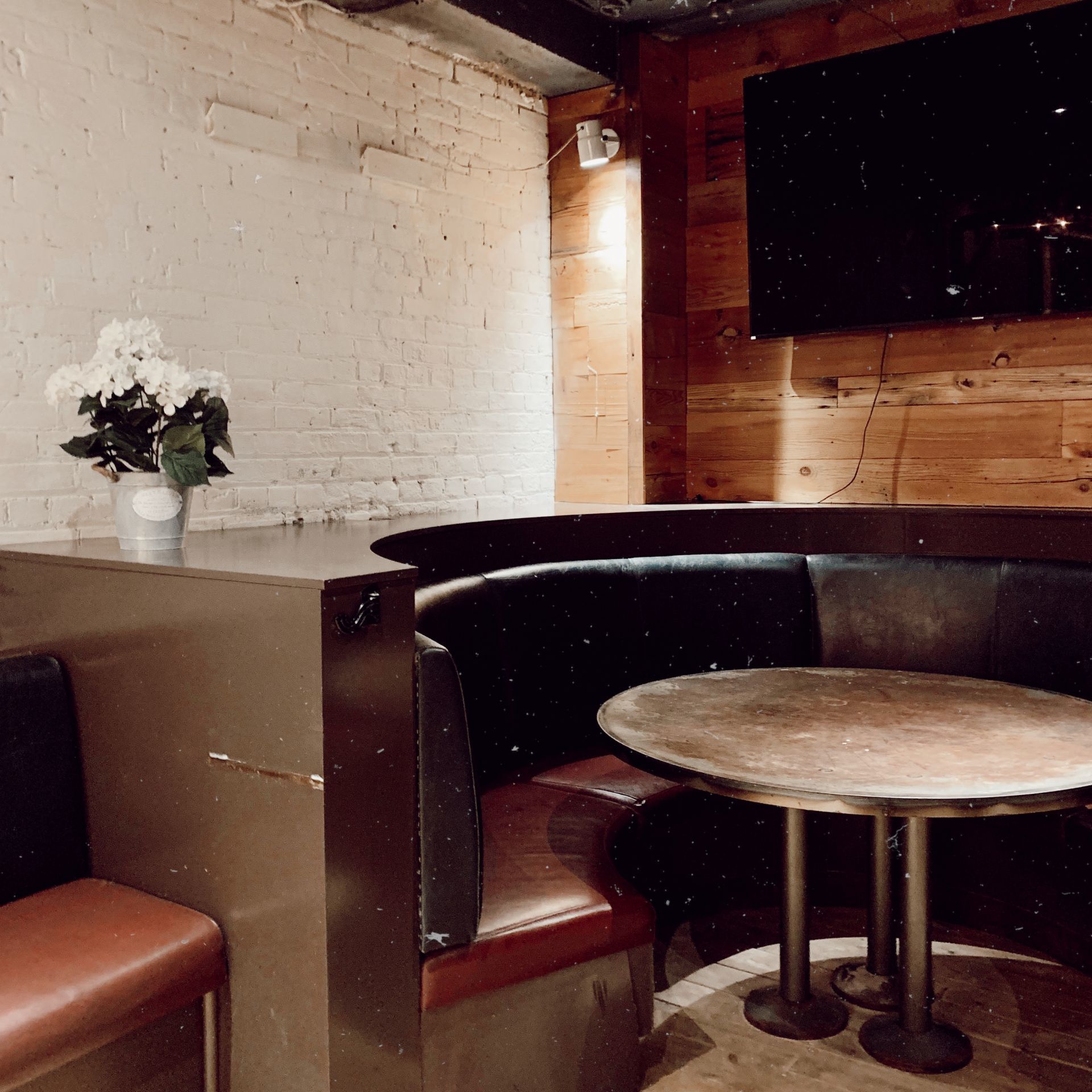 They have a lot of cute areas in this place- some spaces that you could probably host a family gathering or a friends birthday at- overall was truly loving the decor.
Menu & Food
MEAT & SIDES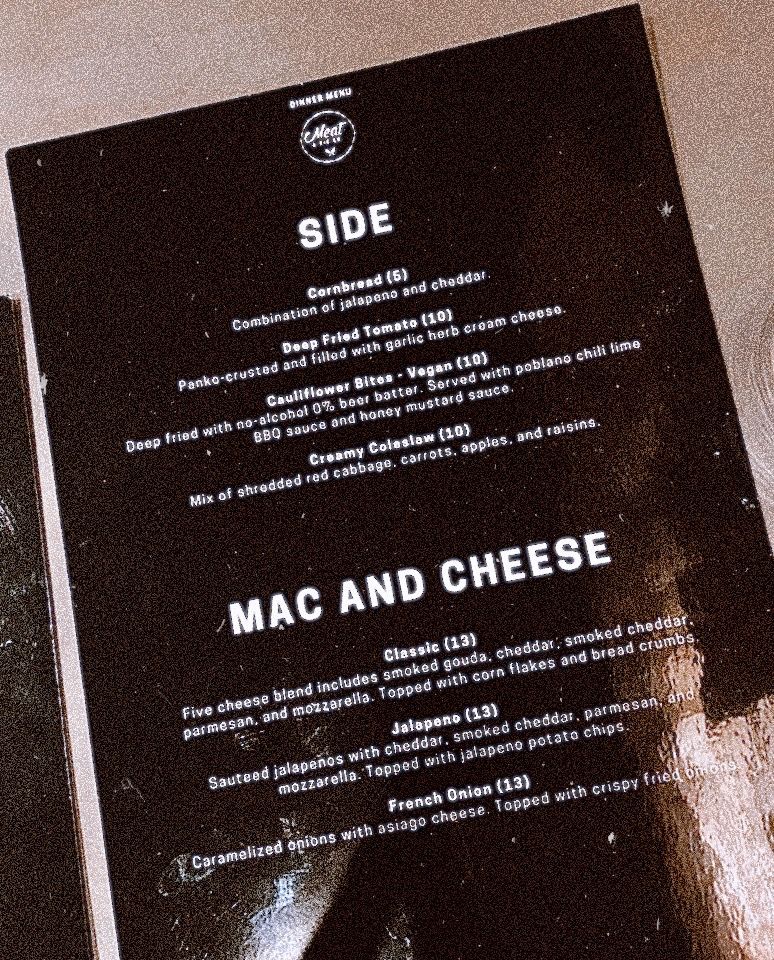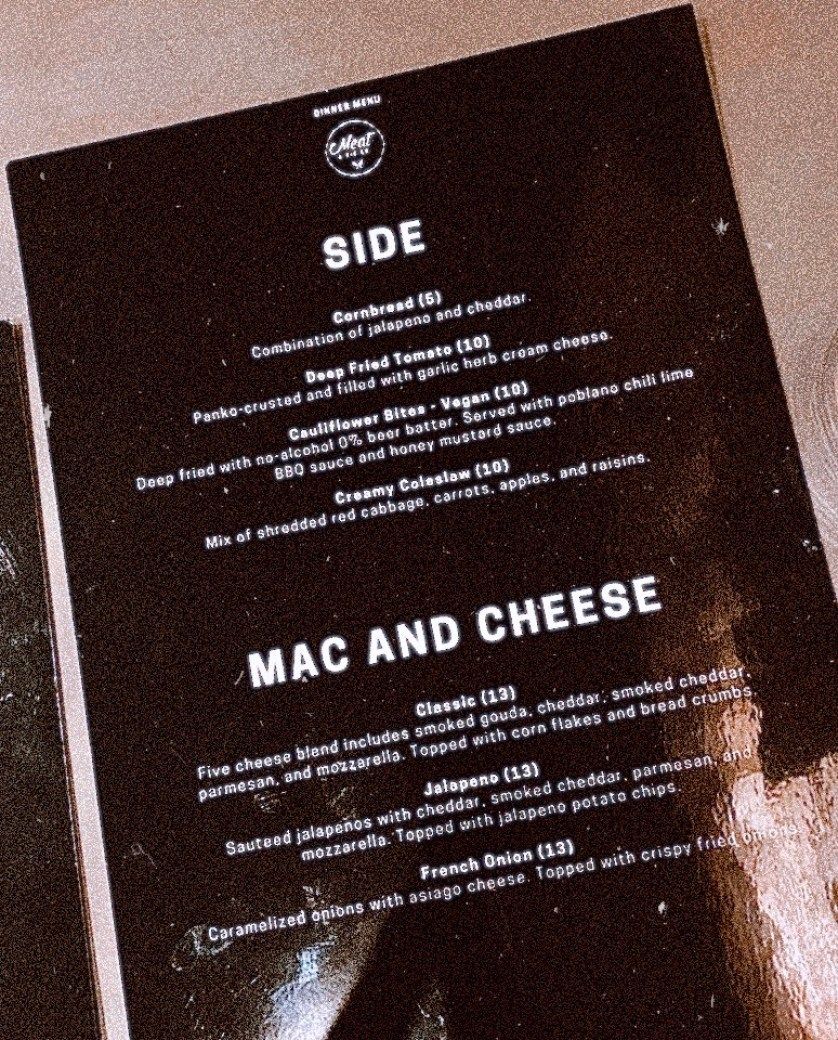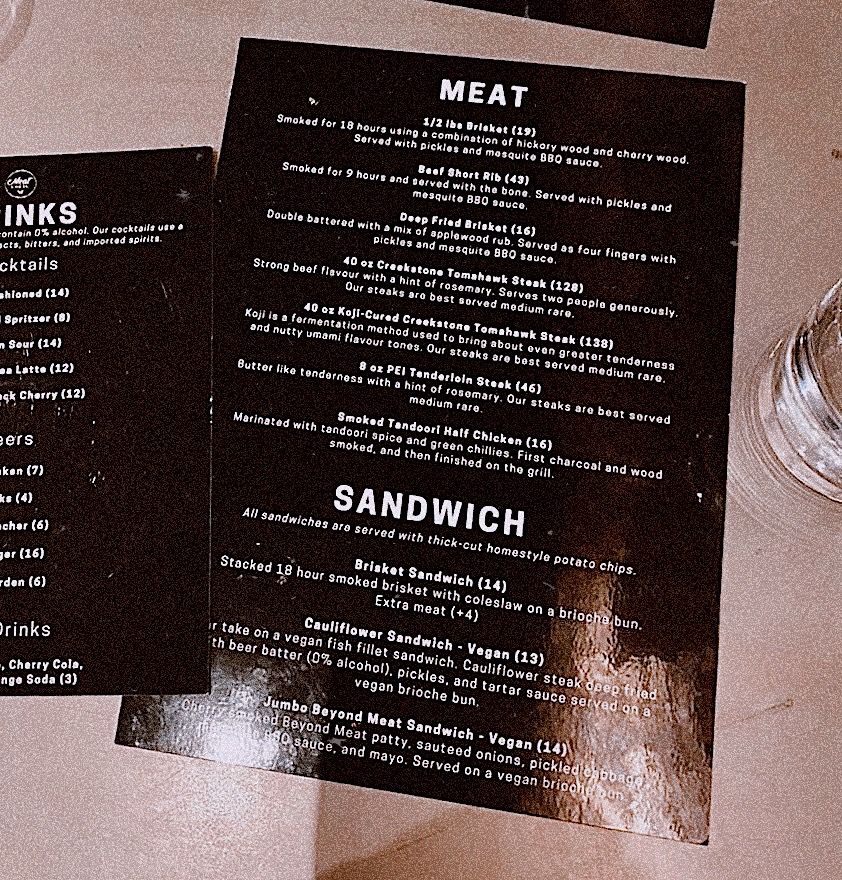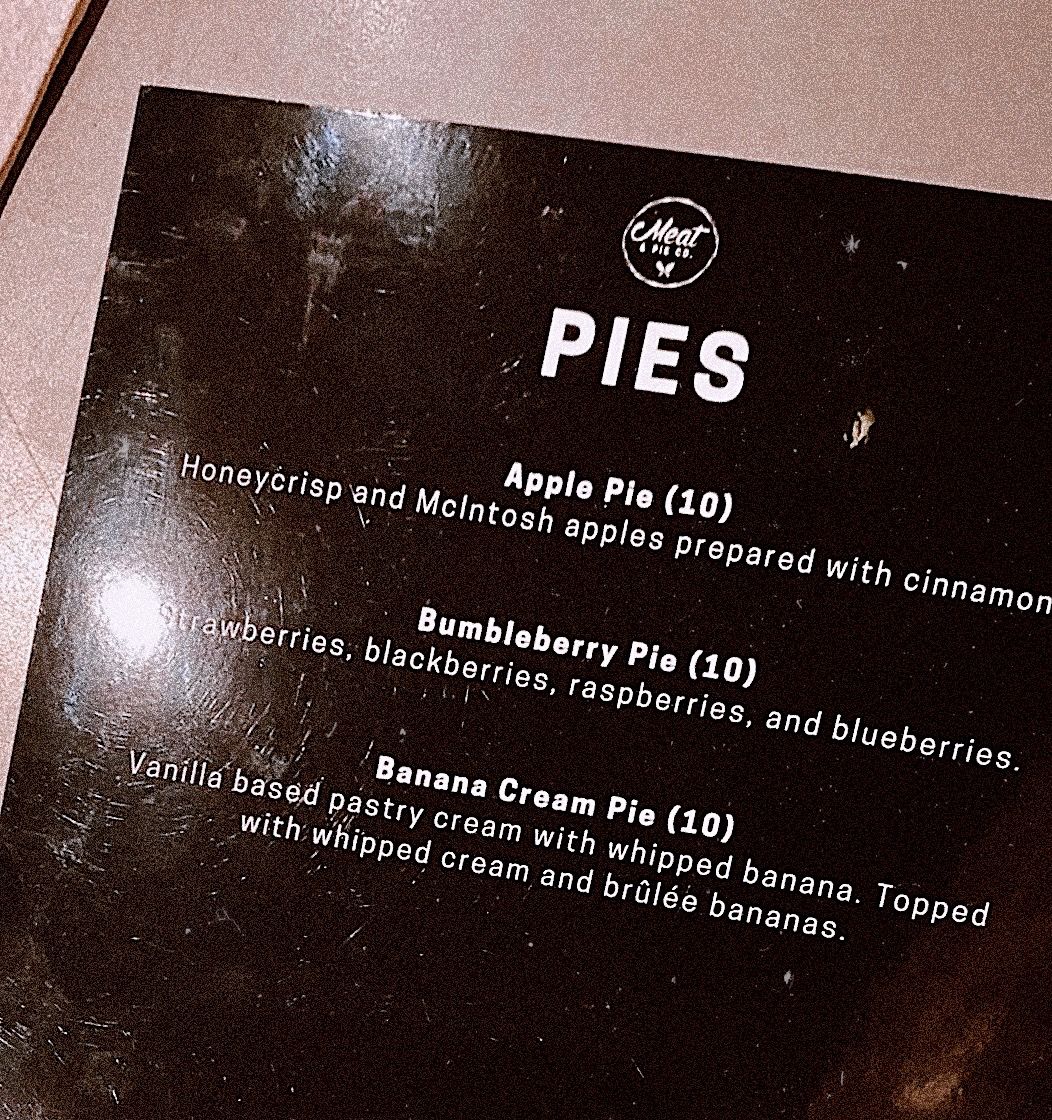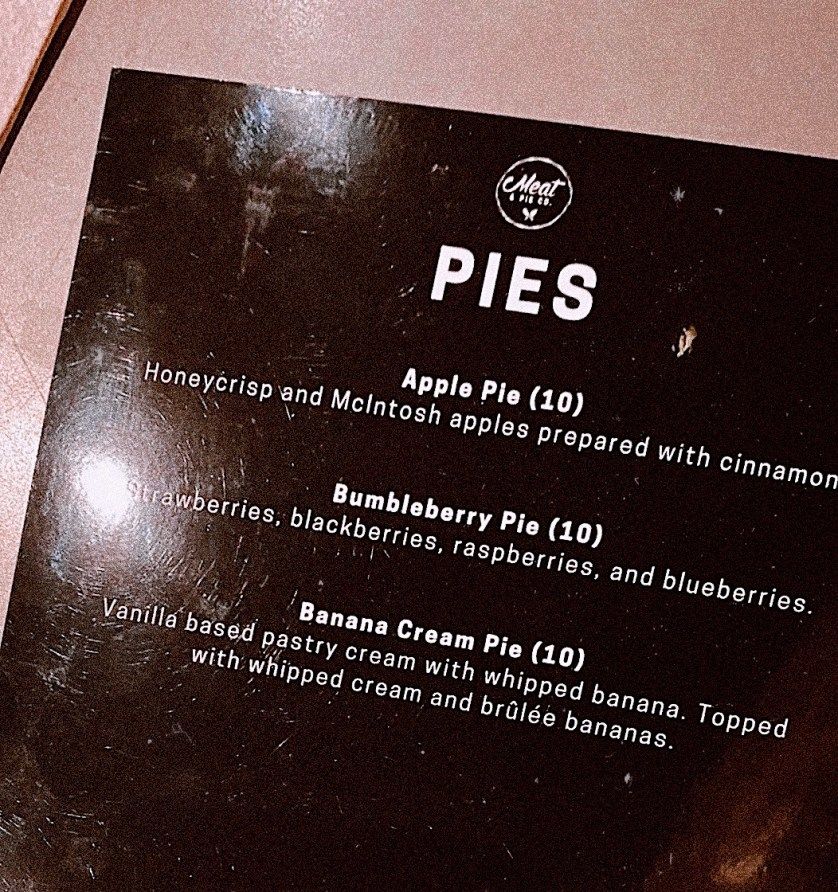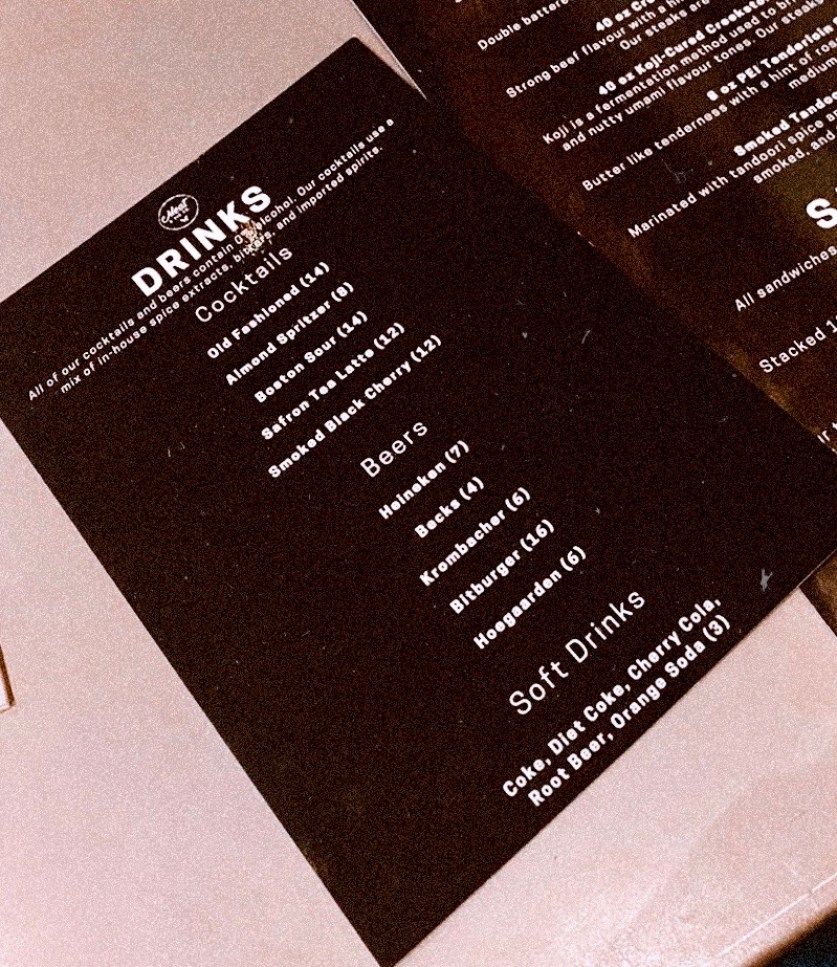 *Sorry for the really bad glare in the photos- I'll try to take better ones soon!
As you can see, there are SO MANY wonderful choices. Remember this place is 100% HALAL- so their drinks menu contains no alcohol! I don't drink alcohol so it was nice to see all of these mainstream "alcoholic" drinks without it. Was a pretty cool concept!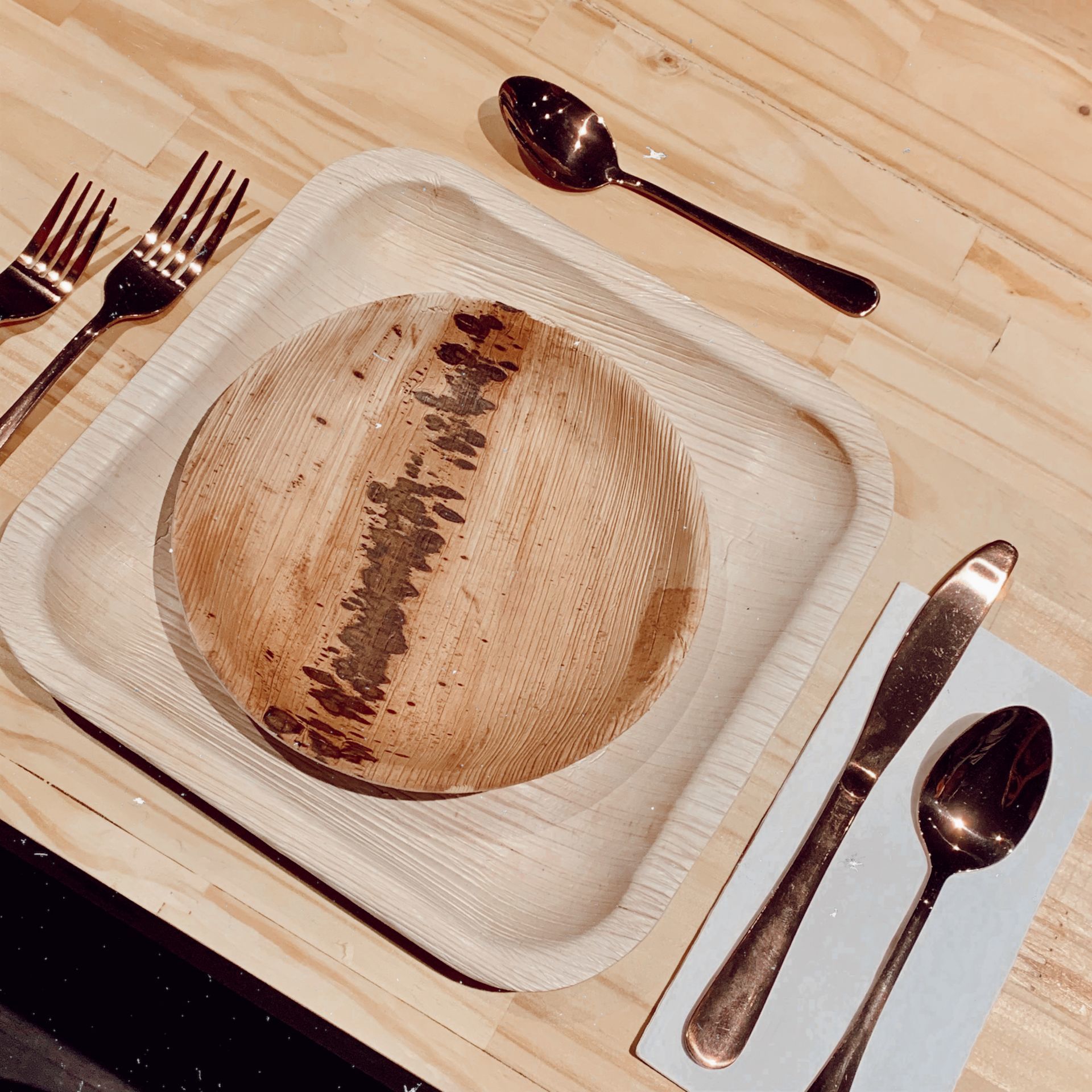 This set-up was so eco-friendly! They use recyclable materials, how cool is that?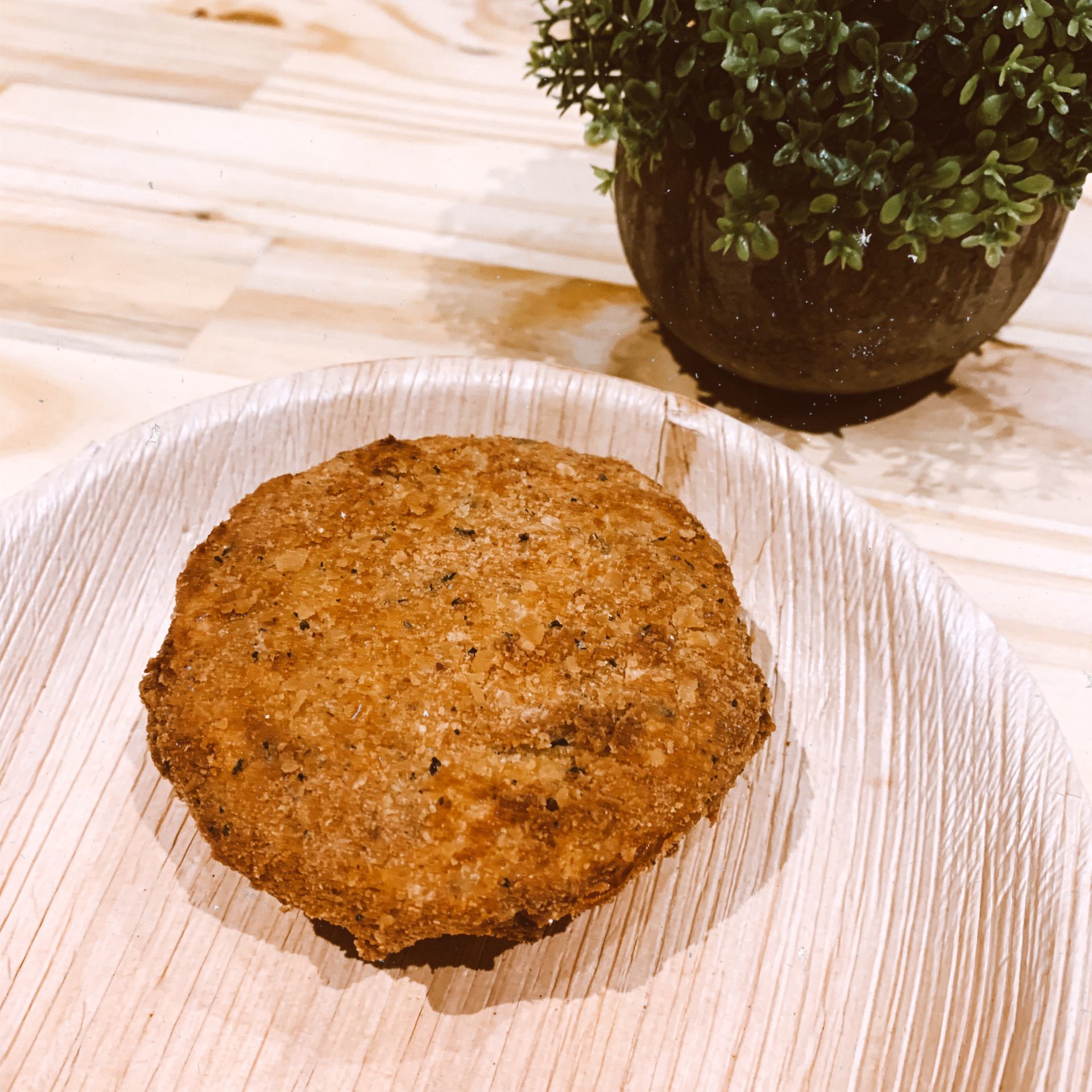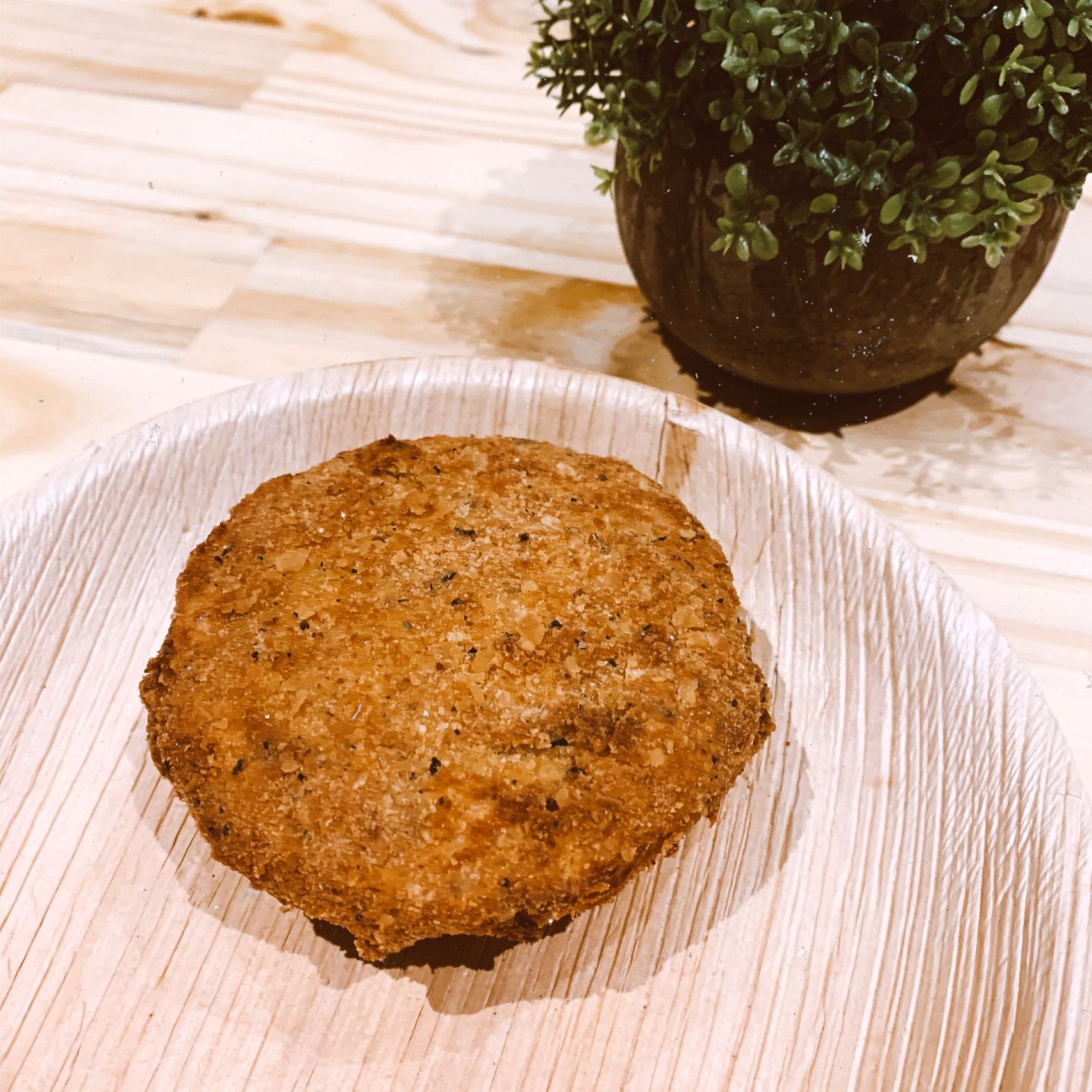 Appetizer- Deep Fried Tomato ($10.00)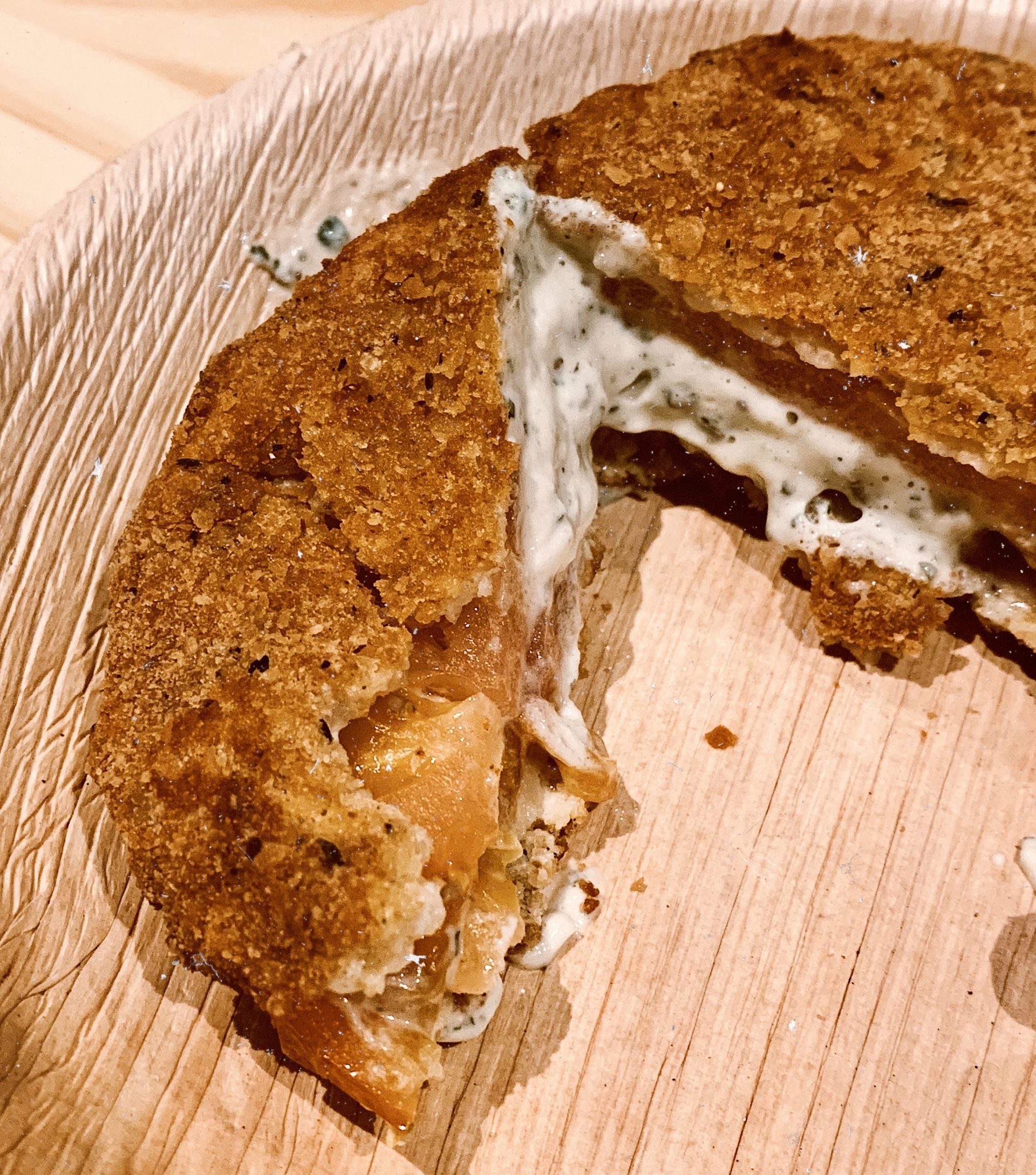 This was filled with garlic cream cheese & housed in panko crust. Crispy amazingness. LOL. I would say this could feed about 2 people!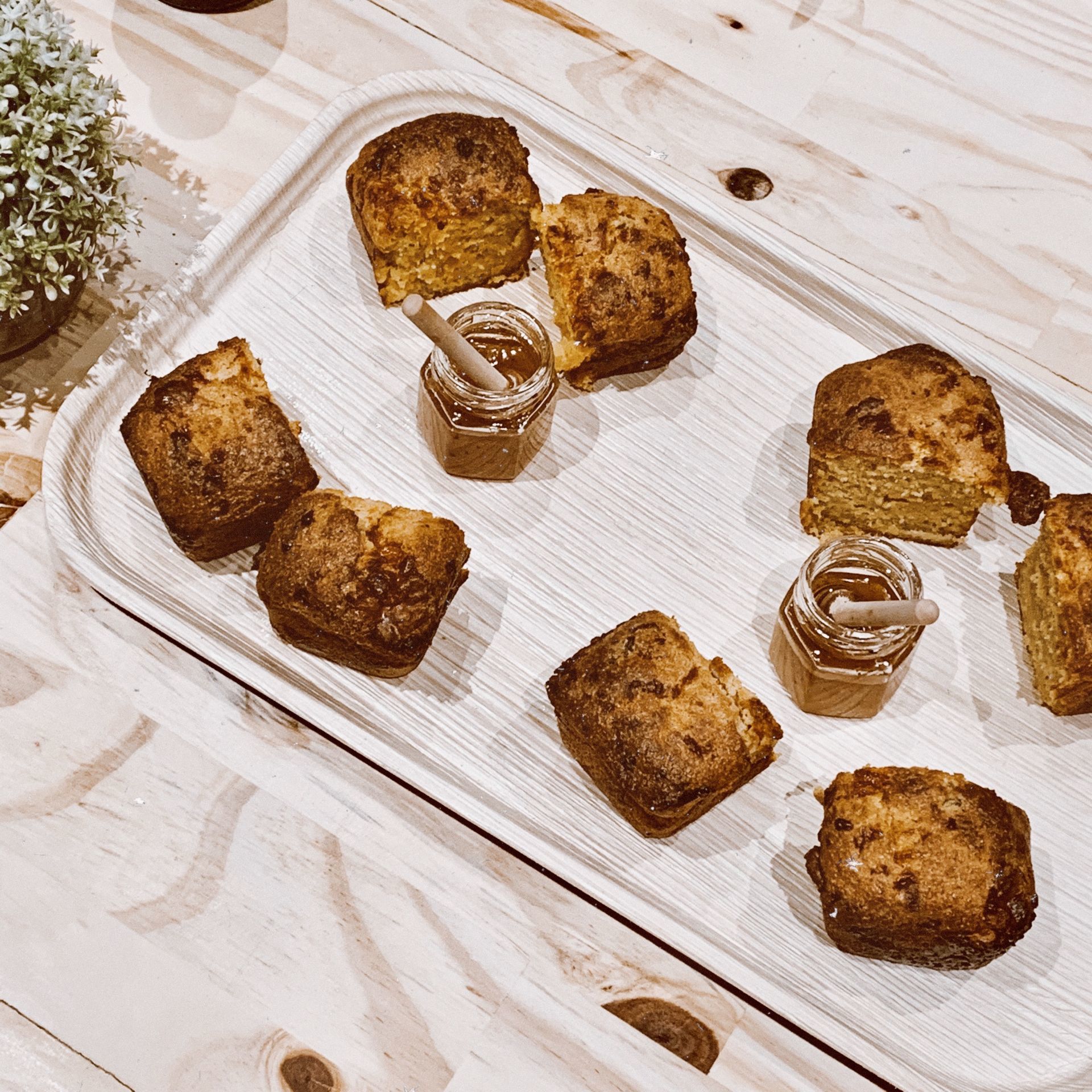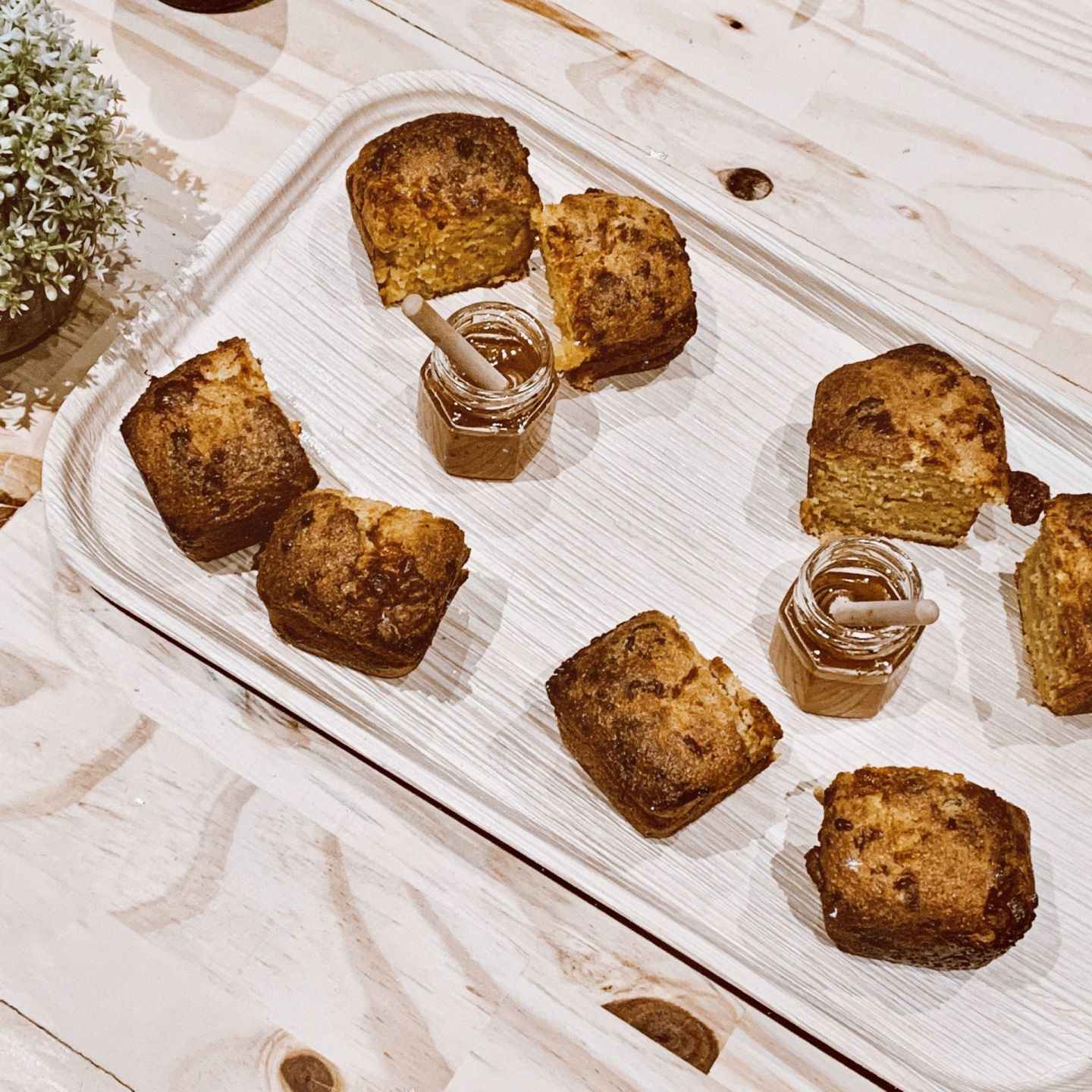 Appetizer: Cornbread ($5.00)- served with delicious honey (how cute are the little pots LOL), I usually don't like cornbread AT ALL but topped with honey.. YES please! I was surprised at how much I enjoyed this.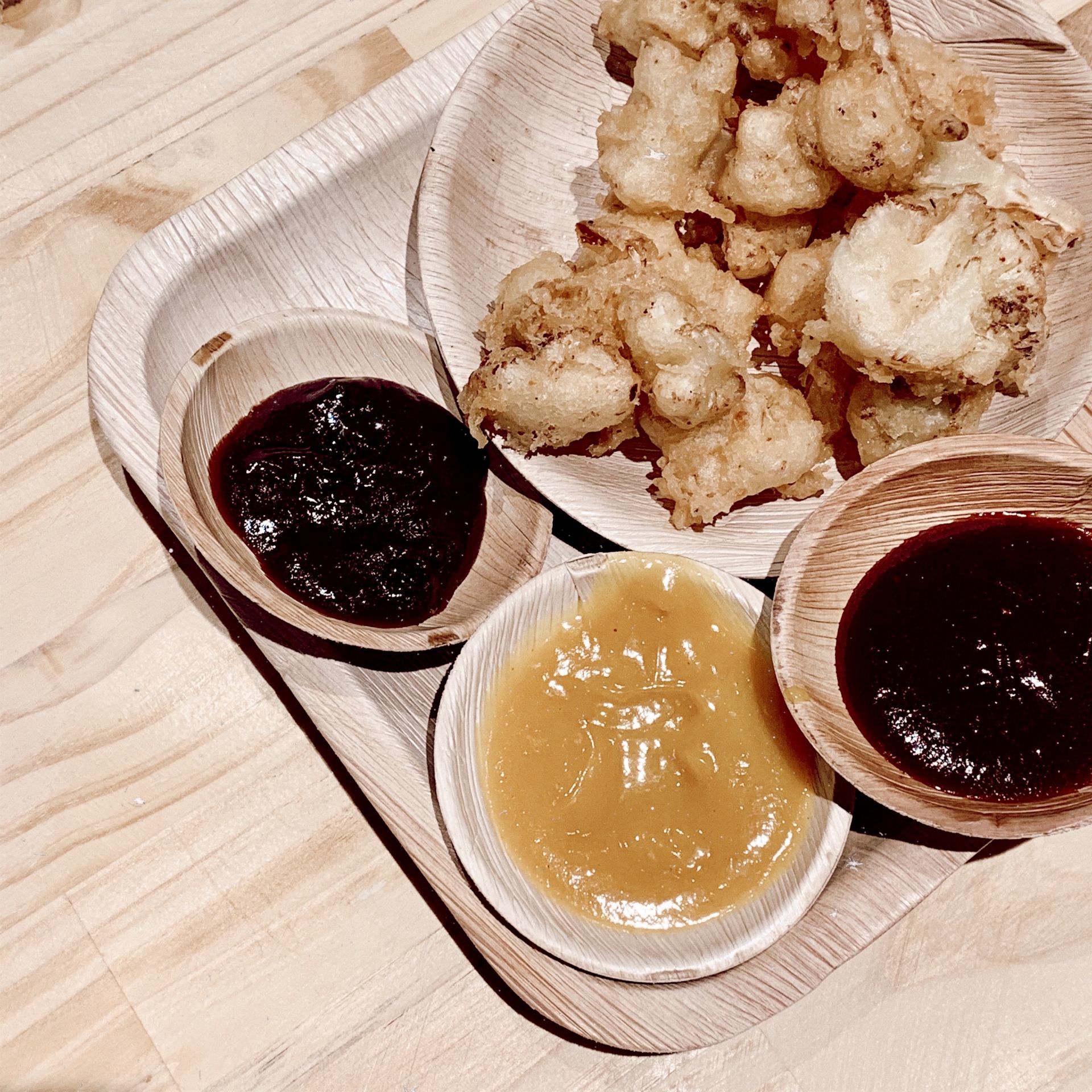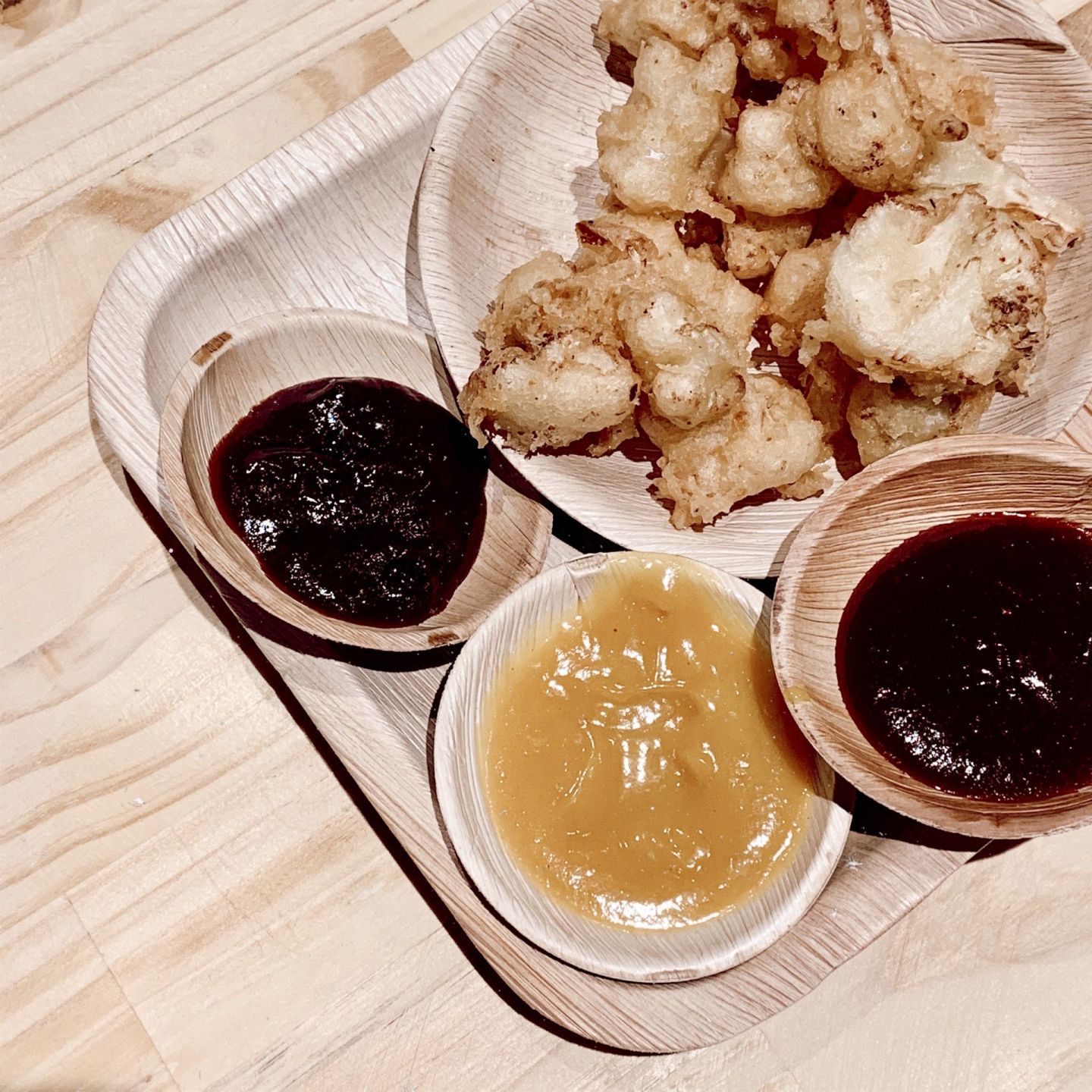 Appetizer: Vegan Cauliflower Bites ($10.00)- served with a few different sauces (honey-mustard/poblano chili lime BBQ) & lightly deep-fried. I really liked this- wasn't soggy and the crust was super "airy," NOT oily and didn't make me feel gross after. I usually can't eat heavily deep fried foods- this was cooked to perfection.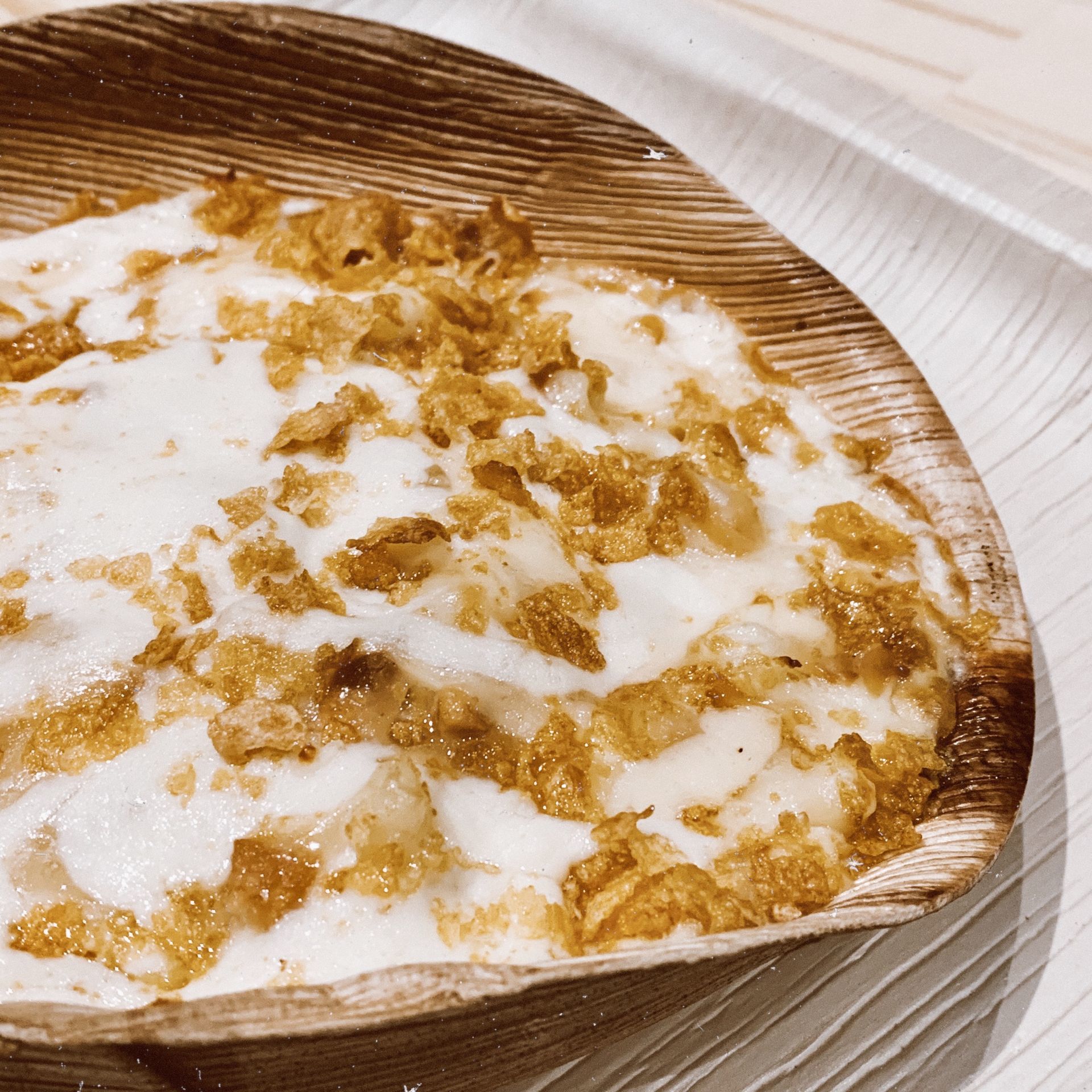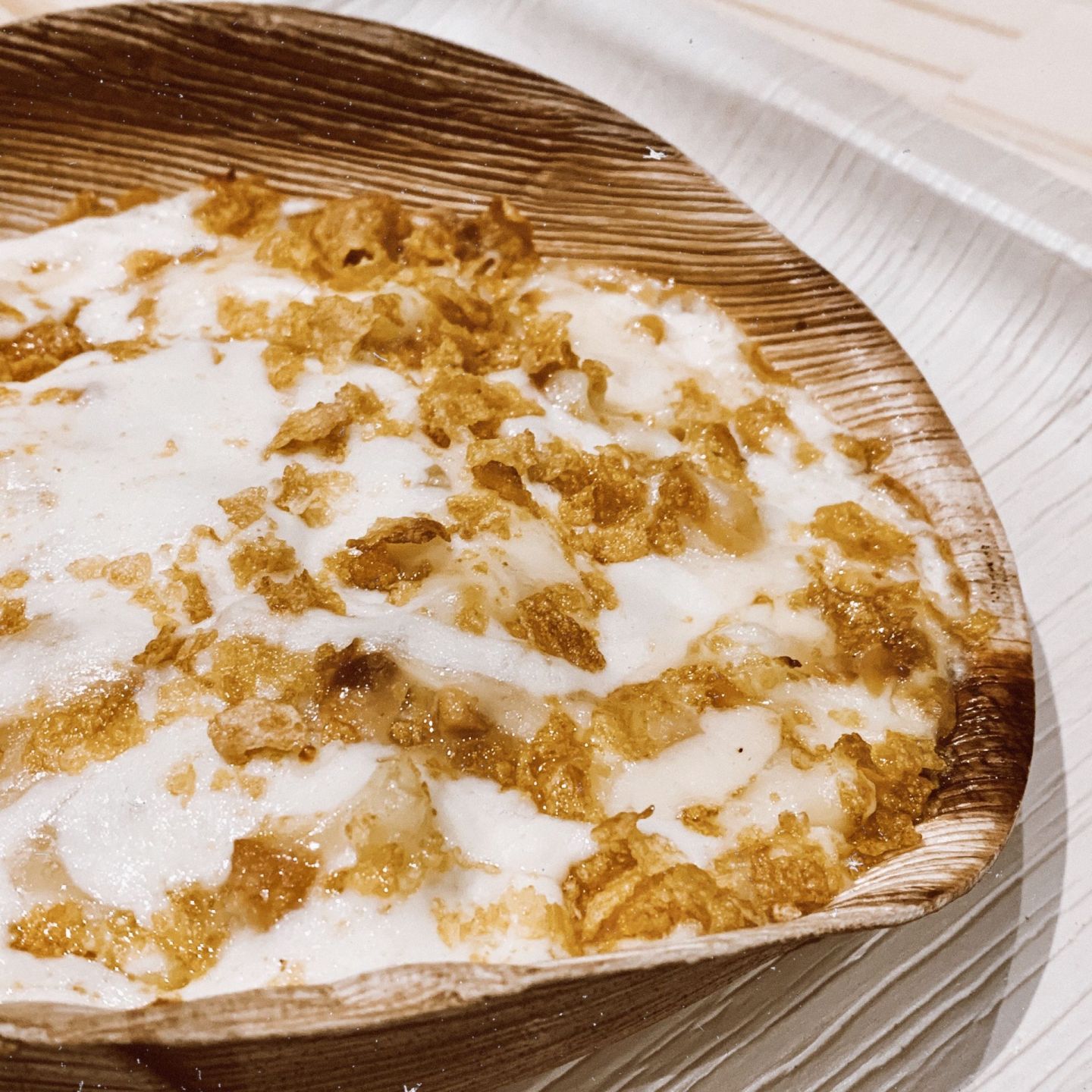 Mac & Cheese: French Onion ($13.00)- tried all of these & they were great! French onion was my favourite.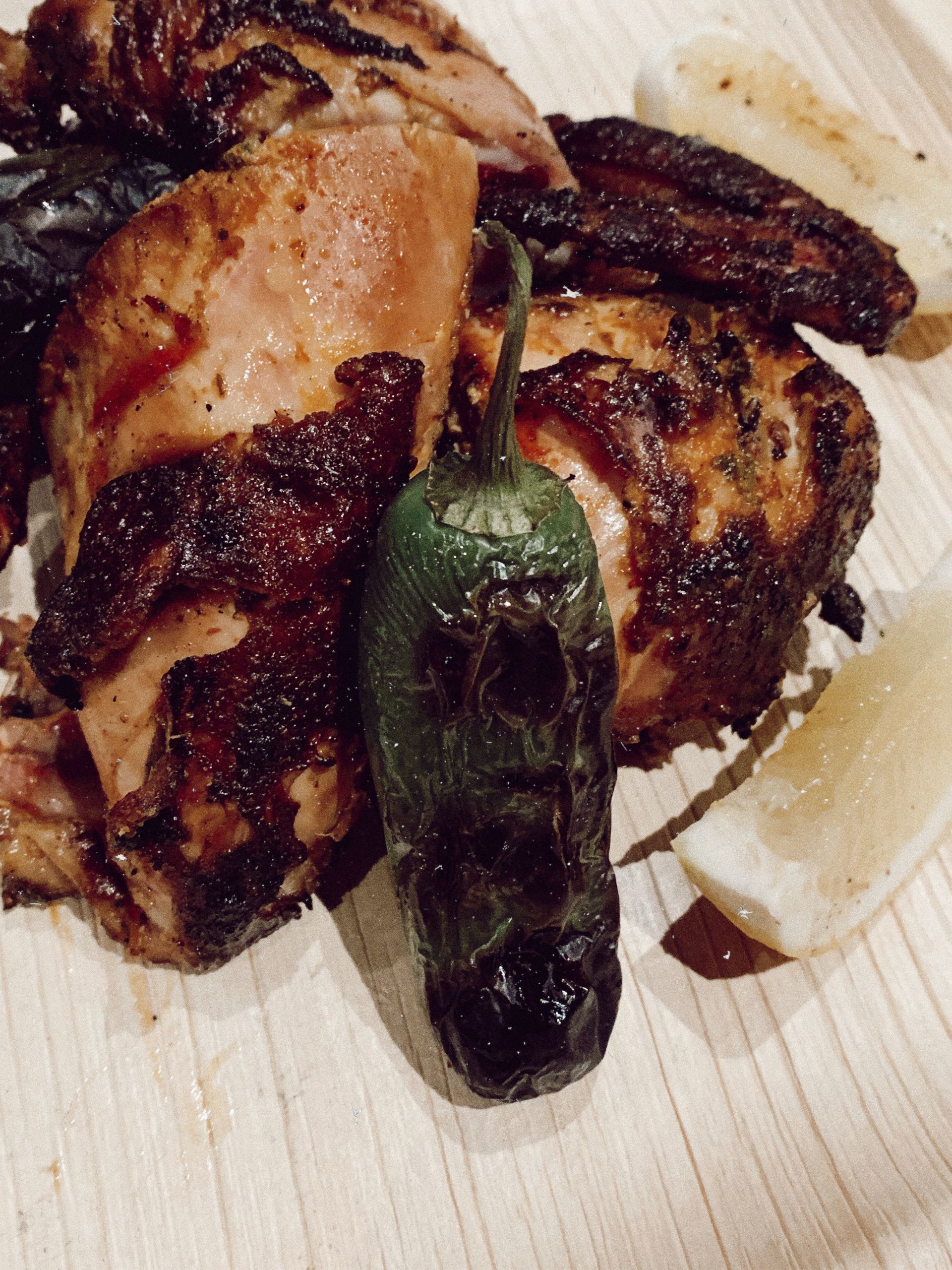 Meat: Smoked-Tandoori Half Chicken ($16.00)- succulent chicken cooked to perfection. It was juicy yet the skin had a nice crispiness to it.. a bit spicy but tasted really good. For those who don't eat beef- this would be your go-to!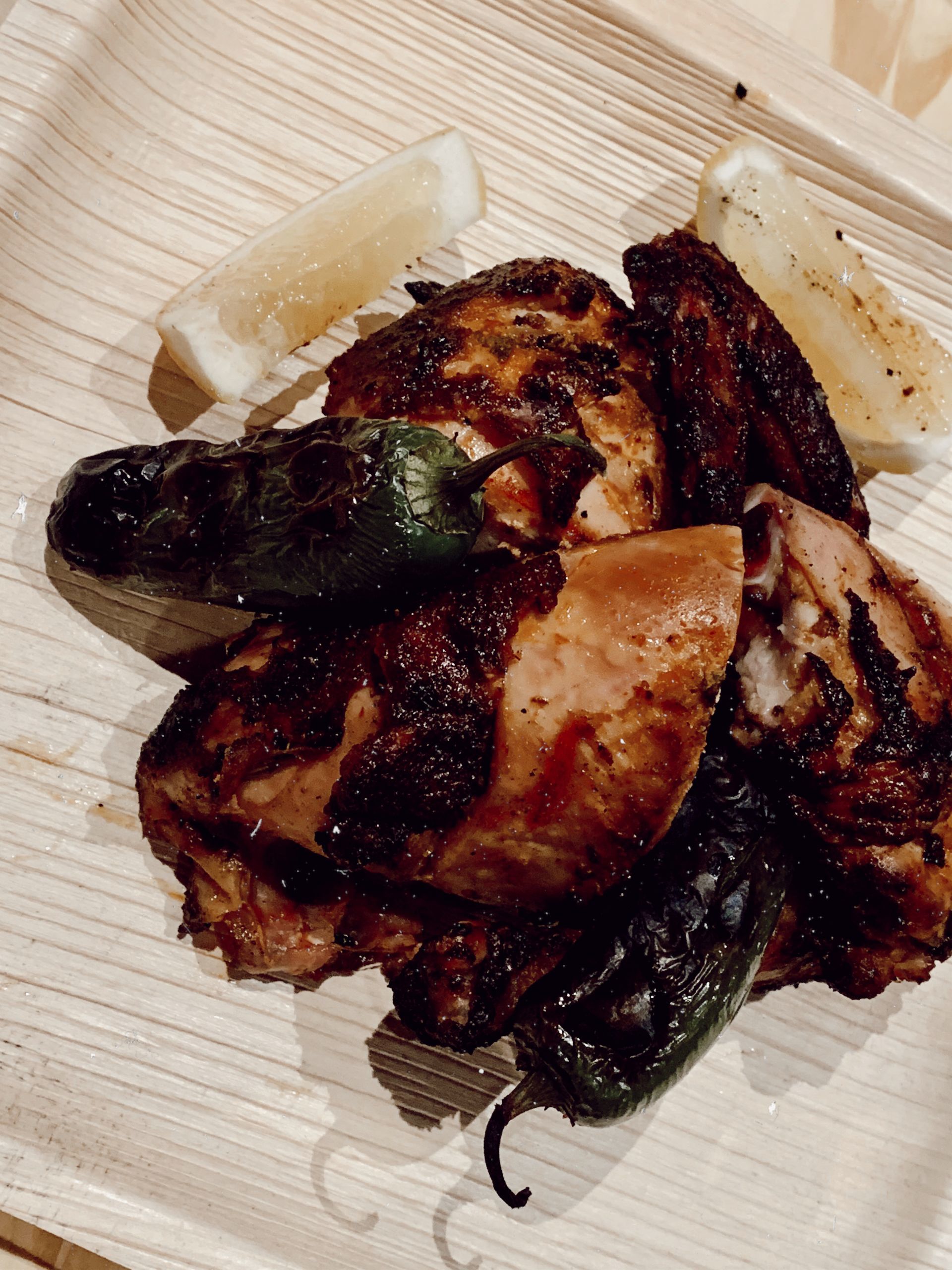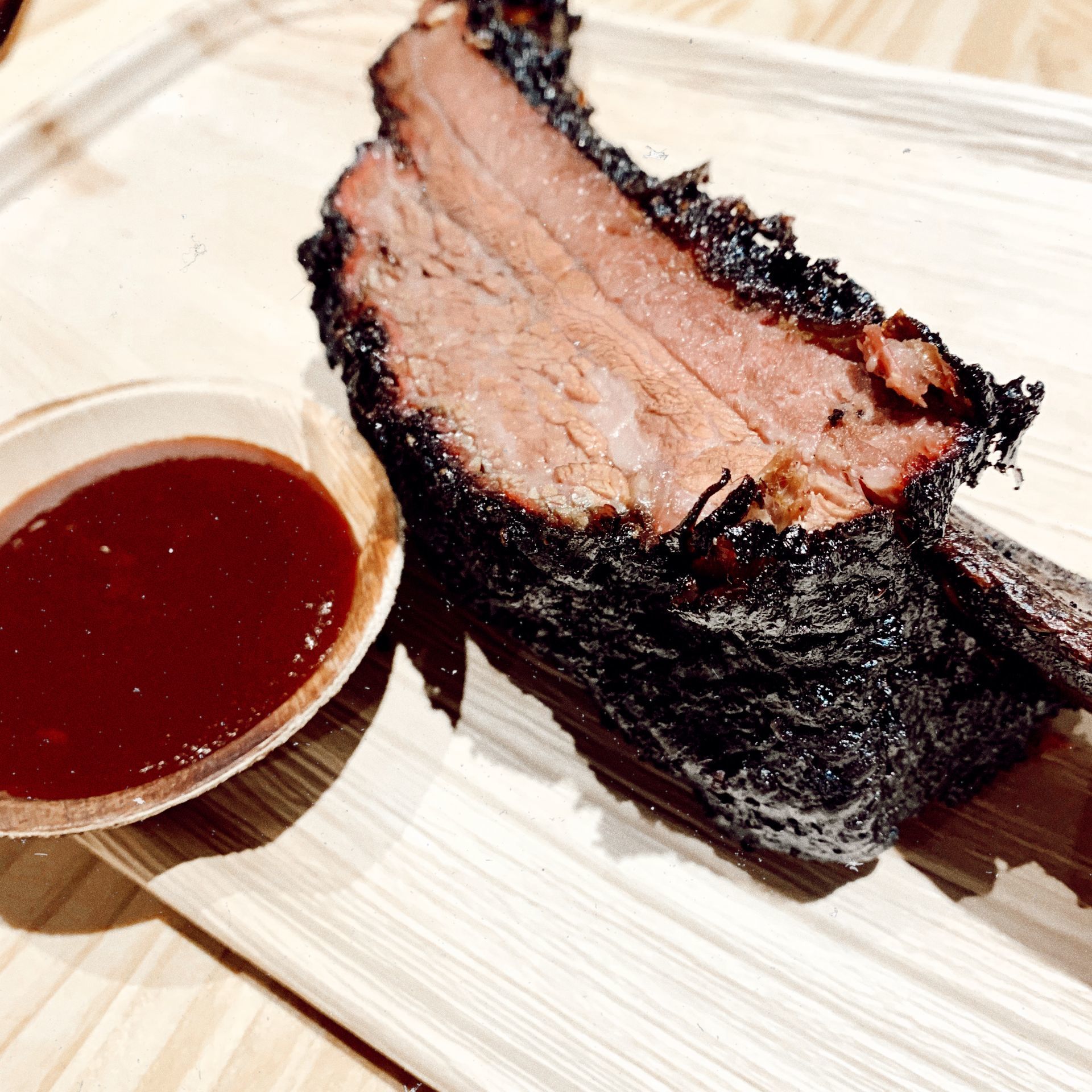 Meat: Beef Short Ribs ($43.00)- crispy on the outside, tender on the inside. The meat was practically melting off the bone. Seriously. We all loved it.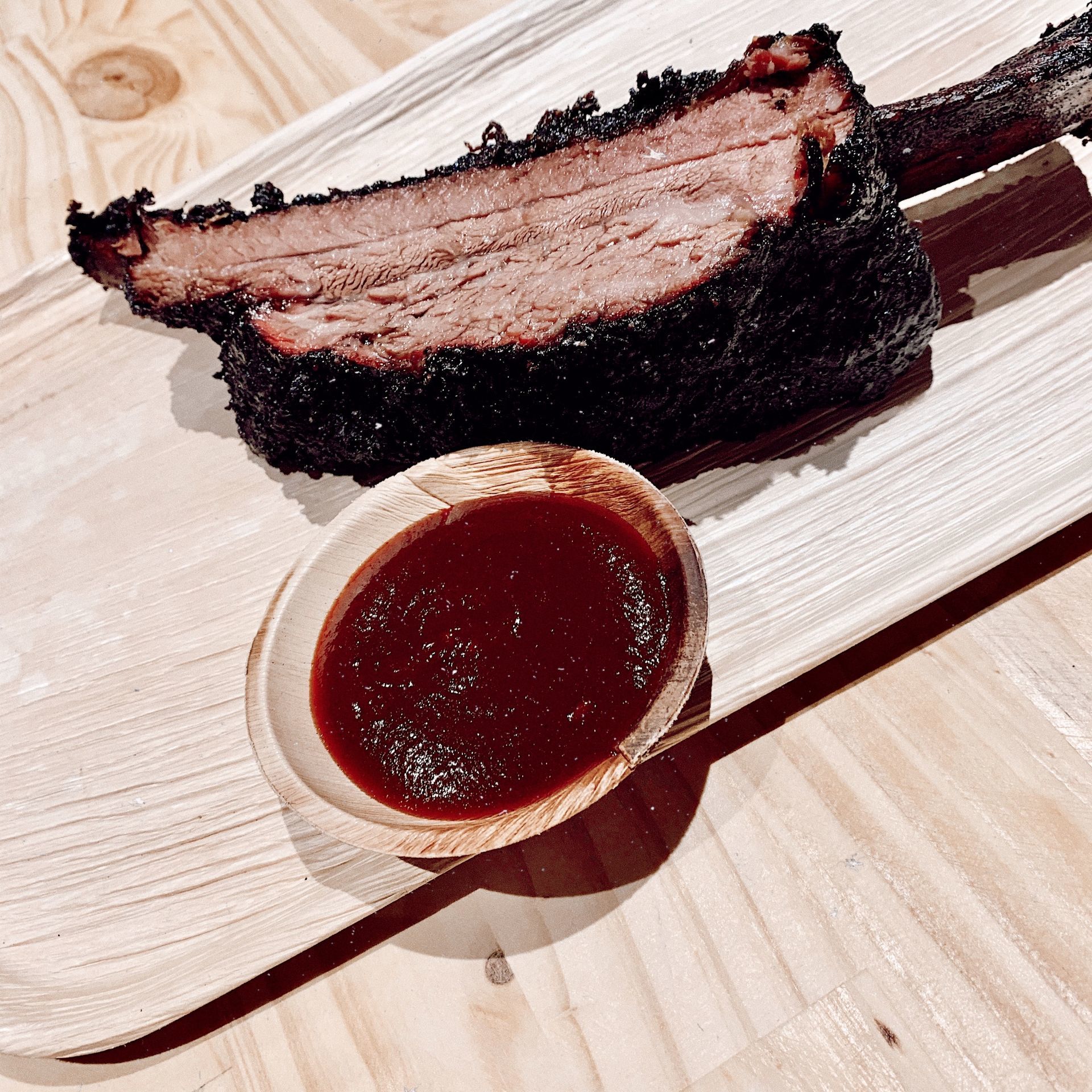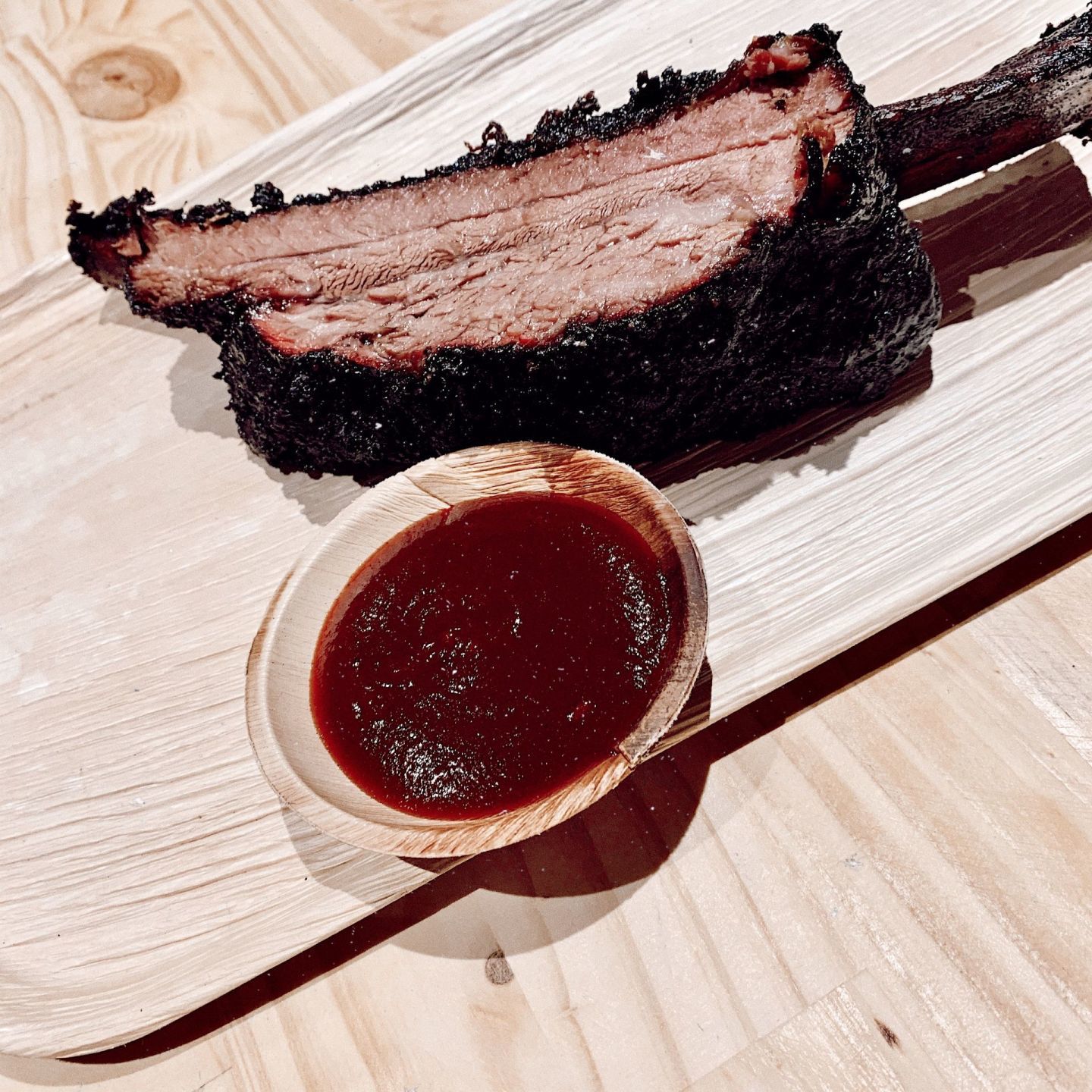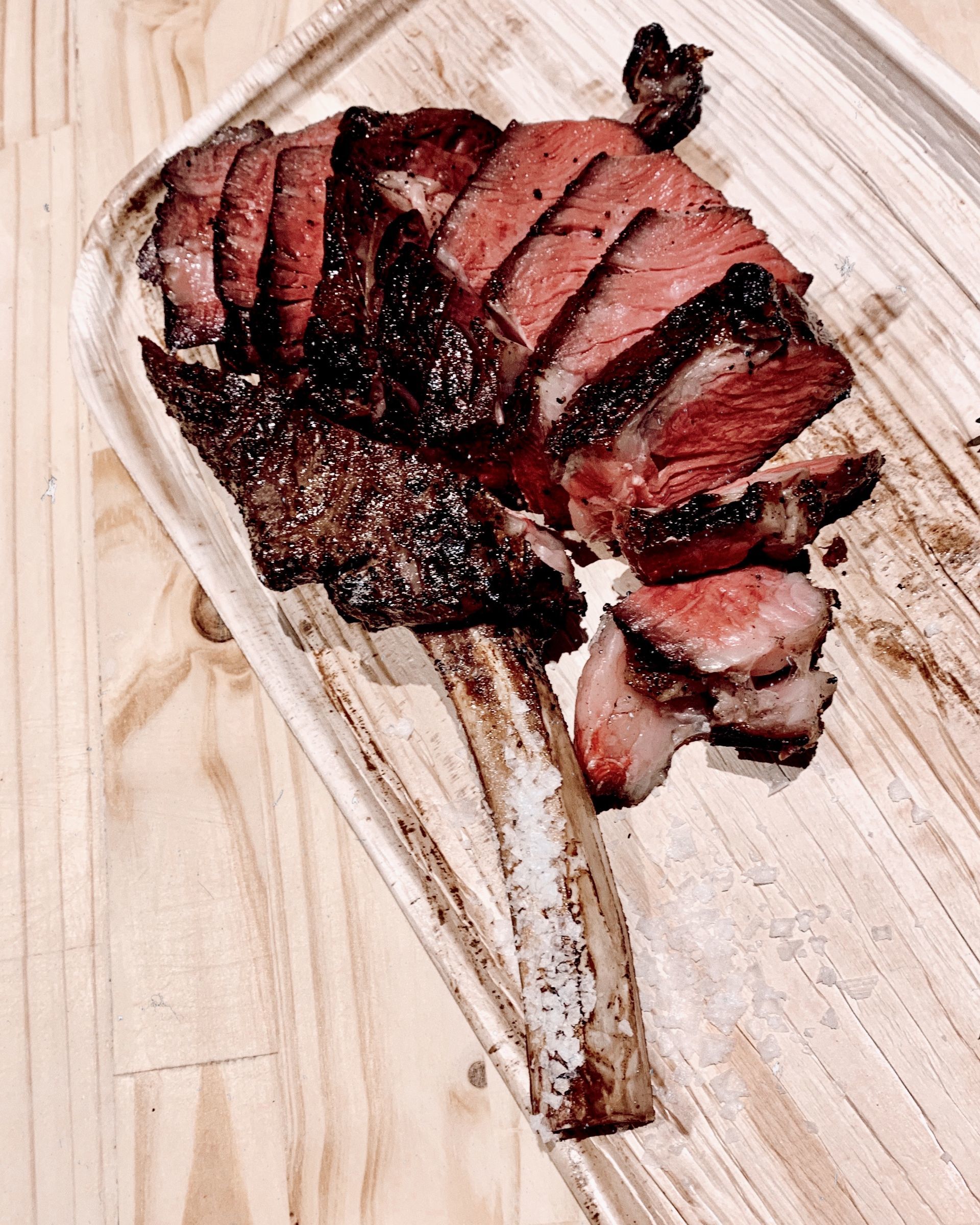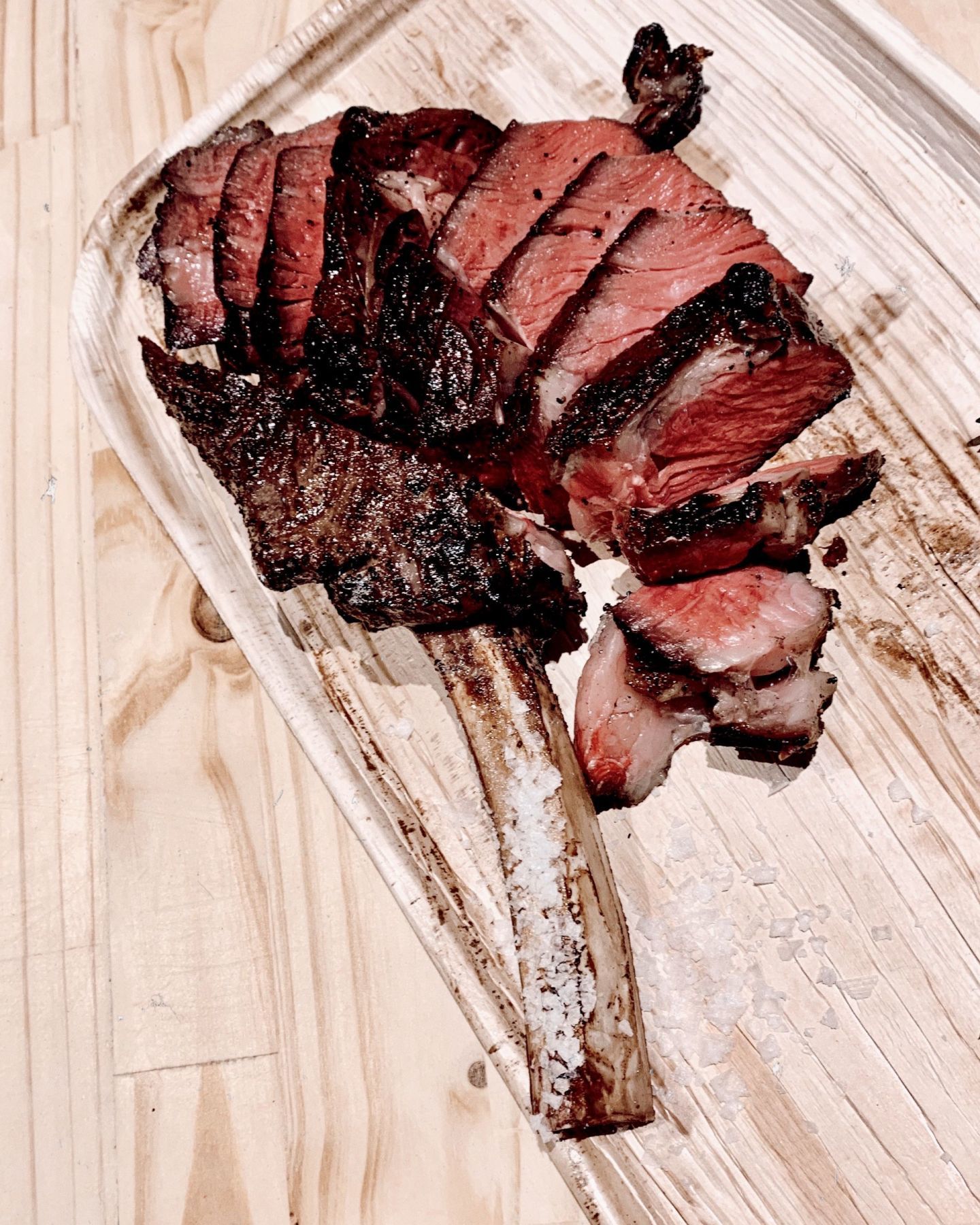 Meat: 40 oz Creekstone Tomahawk Steak ($128.00)- medium-rare topped with rock salt (definitely had a salt-bae experience LOL) & a hint of rosemary. The meat was too good! This dish had a bit more fat than the other meat options but it tasted amazing. Seasoned well & didn't take away from the beefy parts.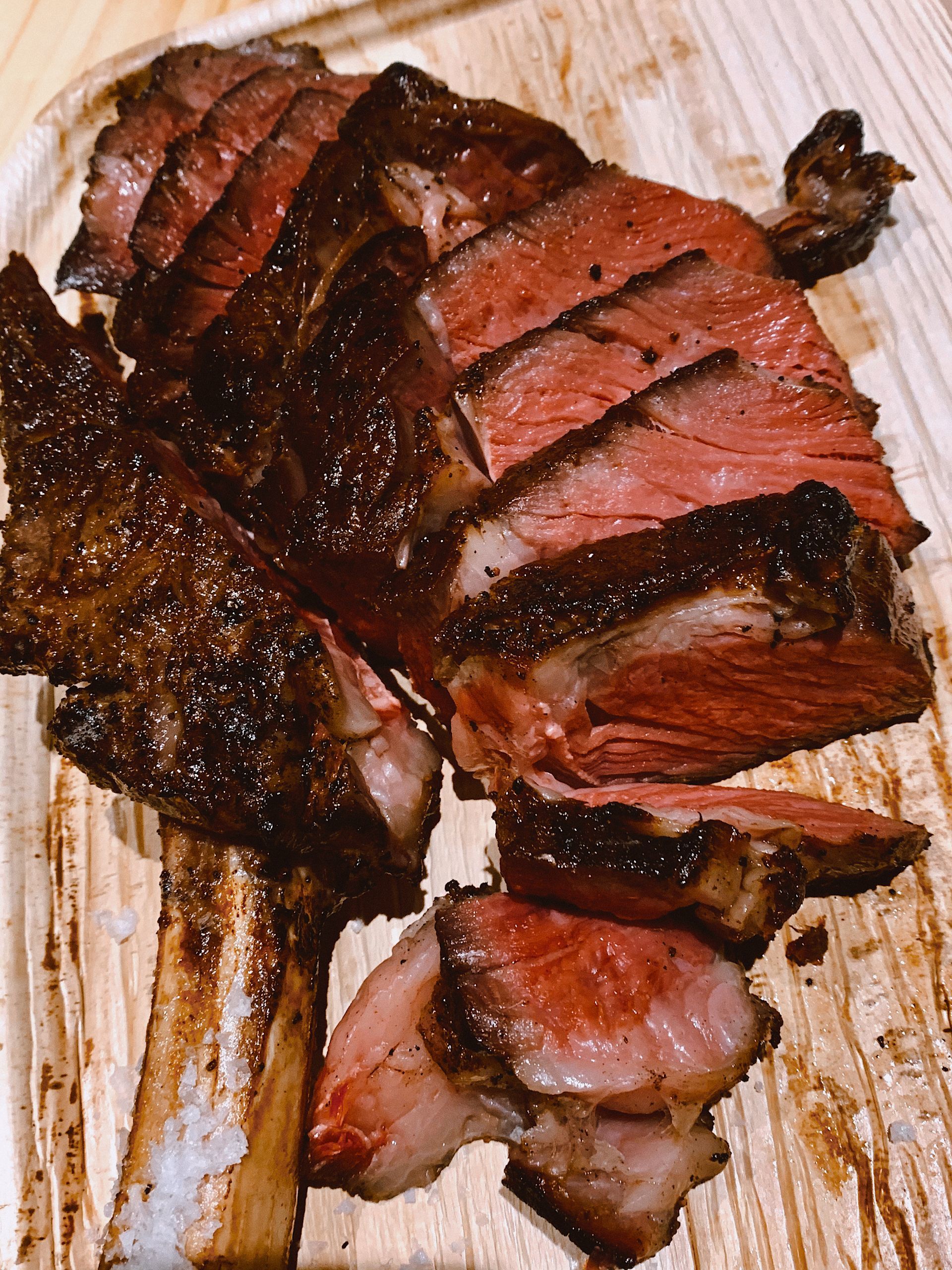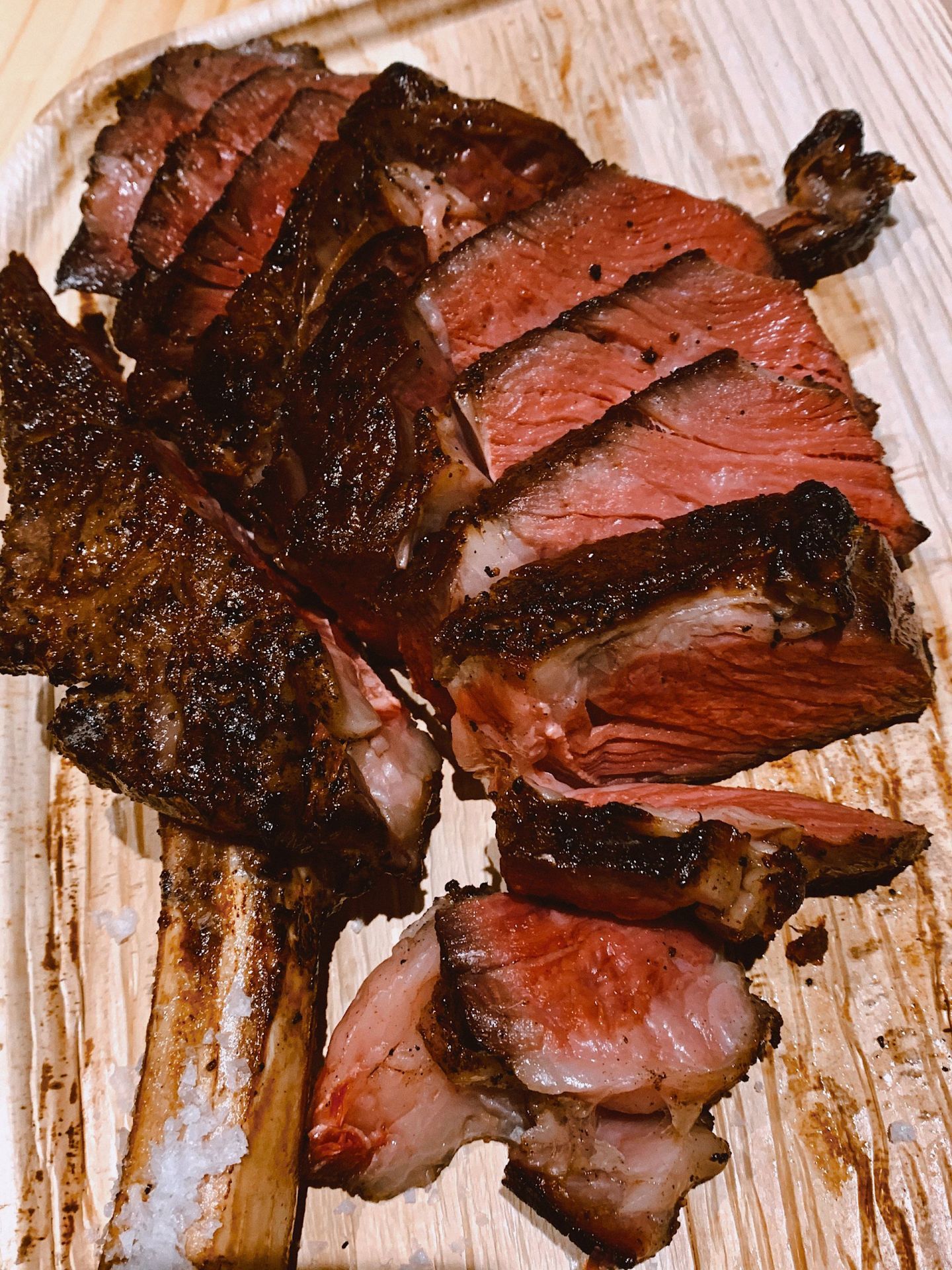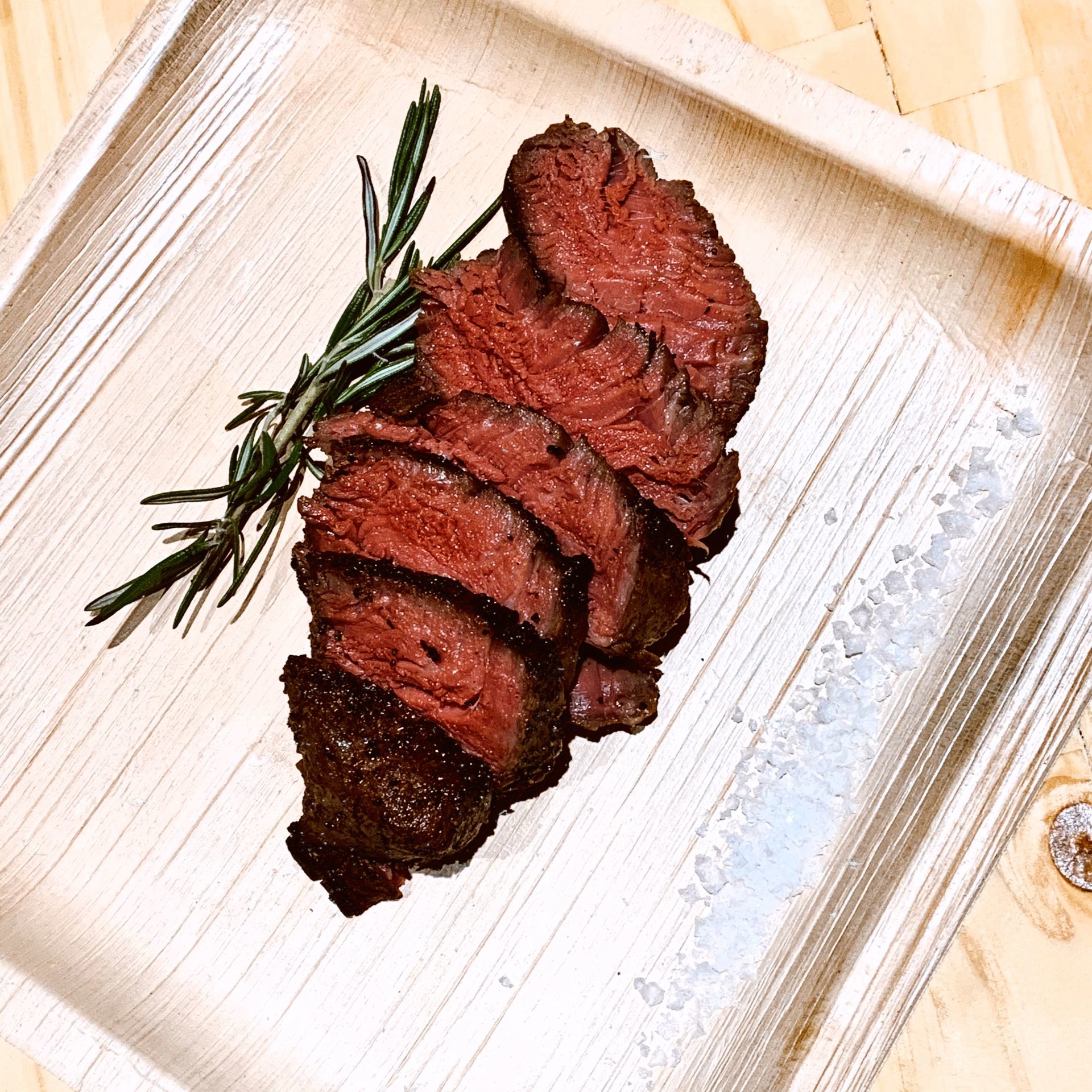 Meat: 8 oz PEI Tenderloin Steak ($46.00)- Medium-rare pieces. Very juicy and reminded me of a similar taste to Jacobs & Co. Steakhouse (which has halal options too btw!). This option is a great choice for those of you craving the steaks from there but not the price (can get pricey!). This steak was well worth it and MORE.
& FINALLY… PIES!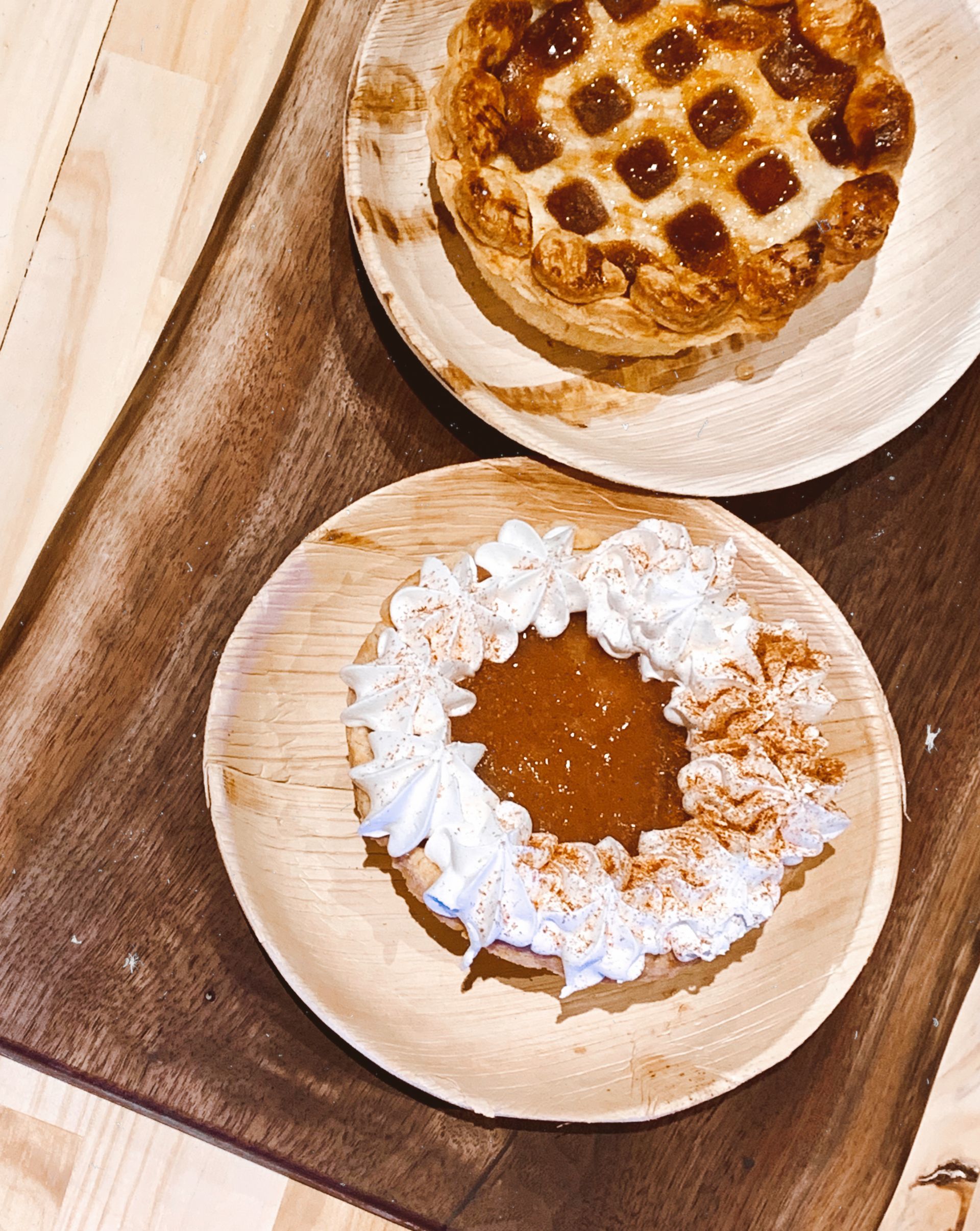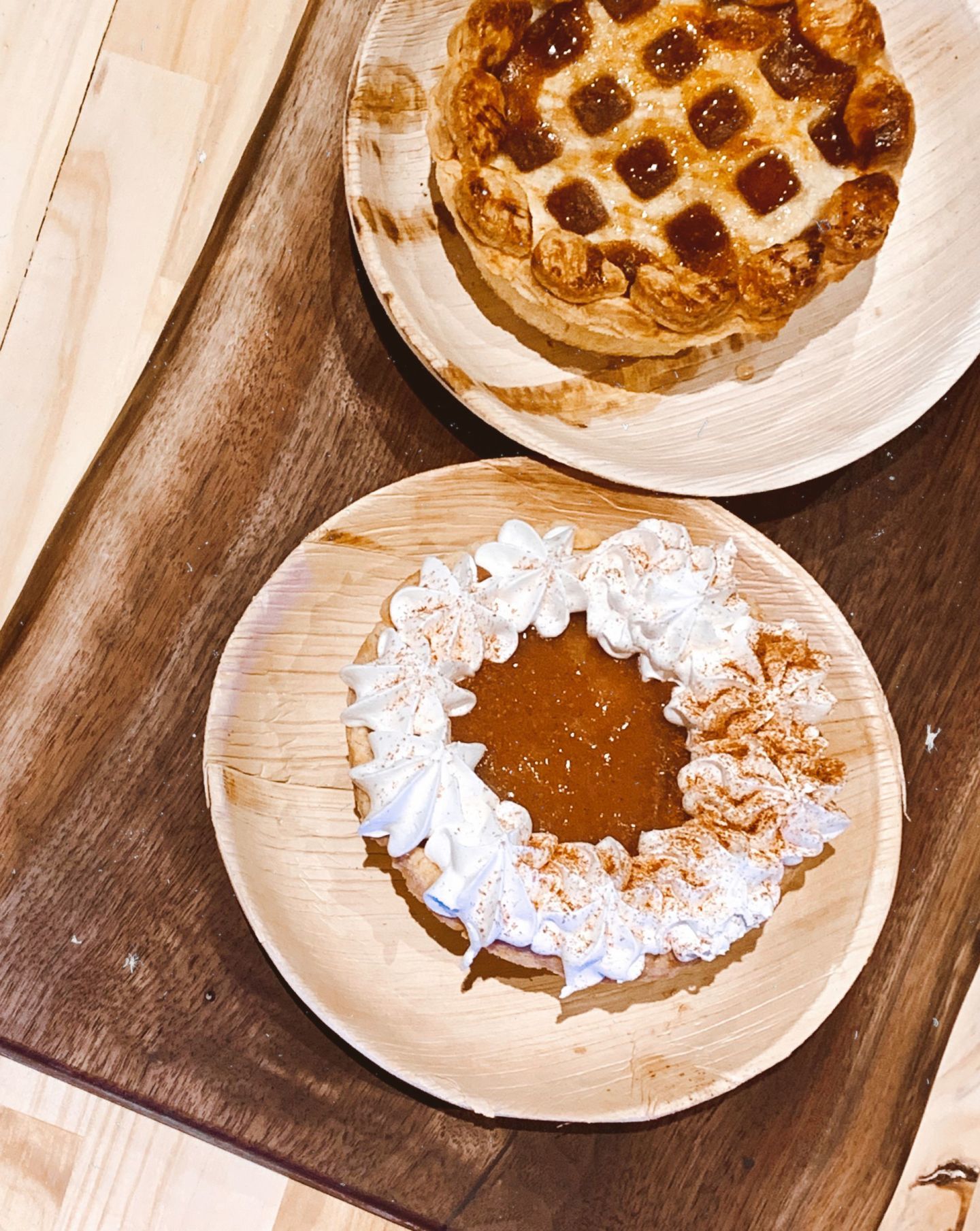 Dessert is SERVED!

Pictured above from top to bottom- Deep Dish Apple Pie / Apple Cheesecake Pie ($10.00 each)

Tried the apple cheesecake & it was bomb! For those of you that love cheesecake AND apples- a match made in heaven.
FINAL THOUGHTS
Overall, the family and I had a great experience at Meat & Pie Co. & some of us have already been back. From the food to the interiors- this place has it all. Great halal food & drinks- all for a great price. Adam and I will definitely come back here very soon. We're truly looking forward to it! Have you guys checked Meat & Pie Co. out? Would love to hear what you think.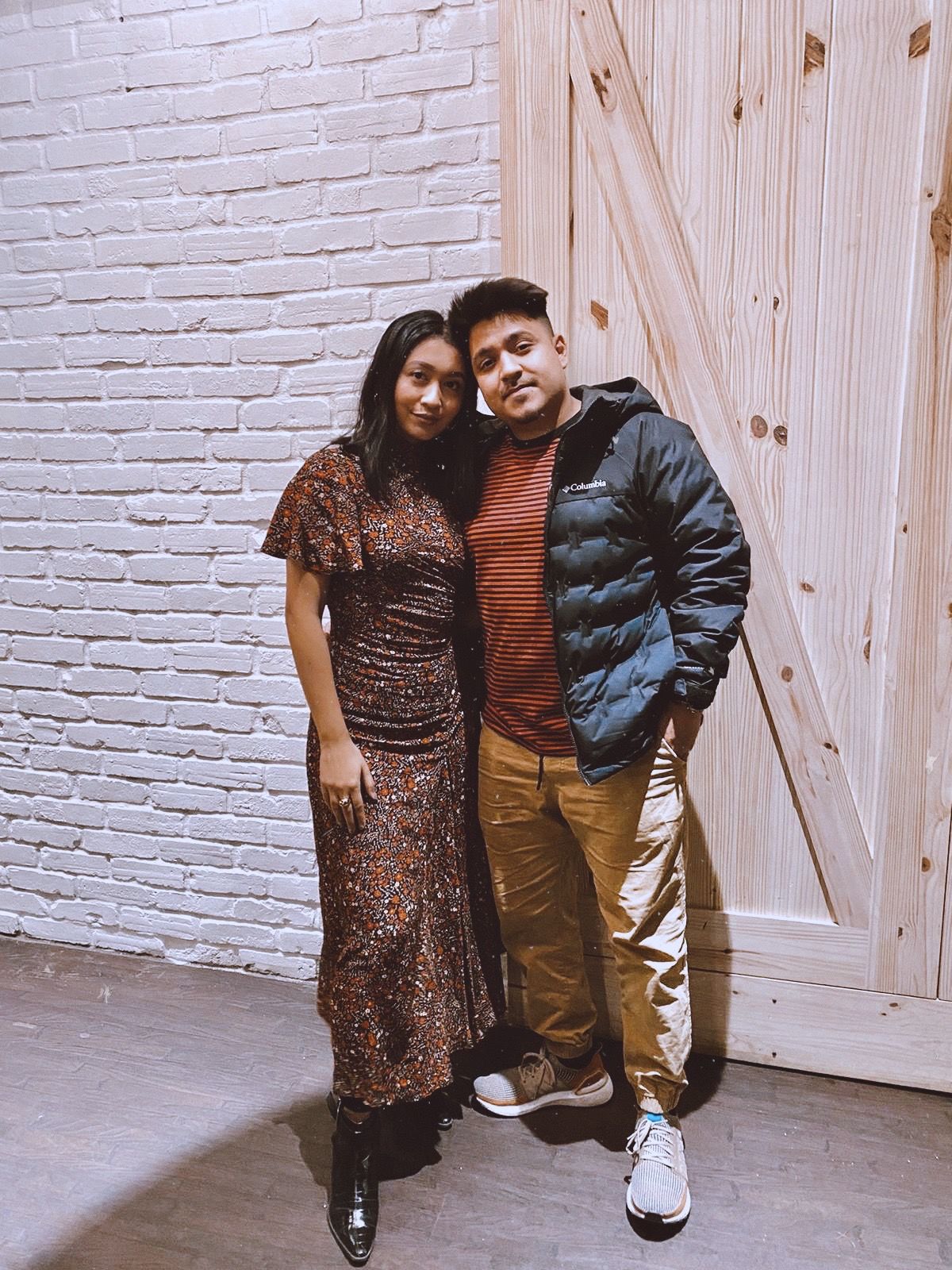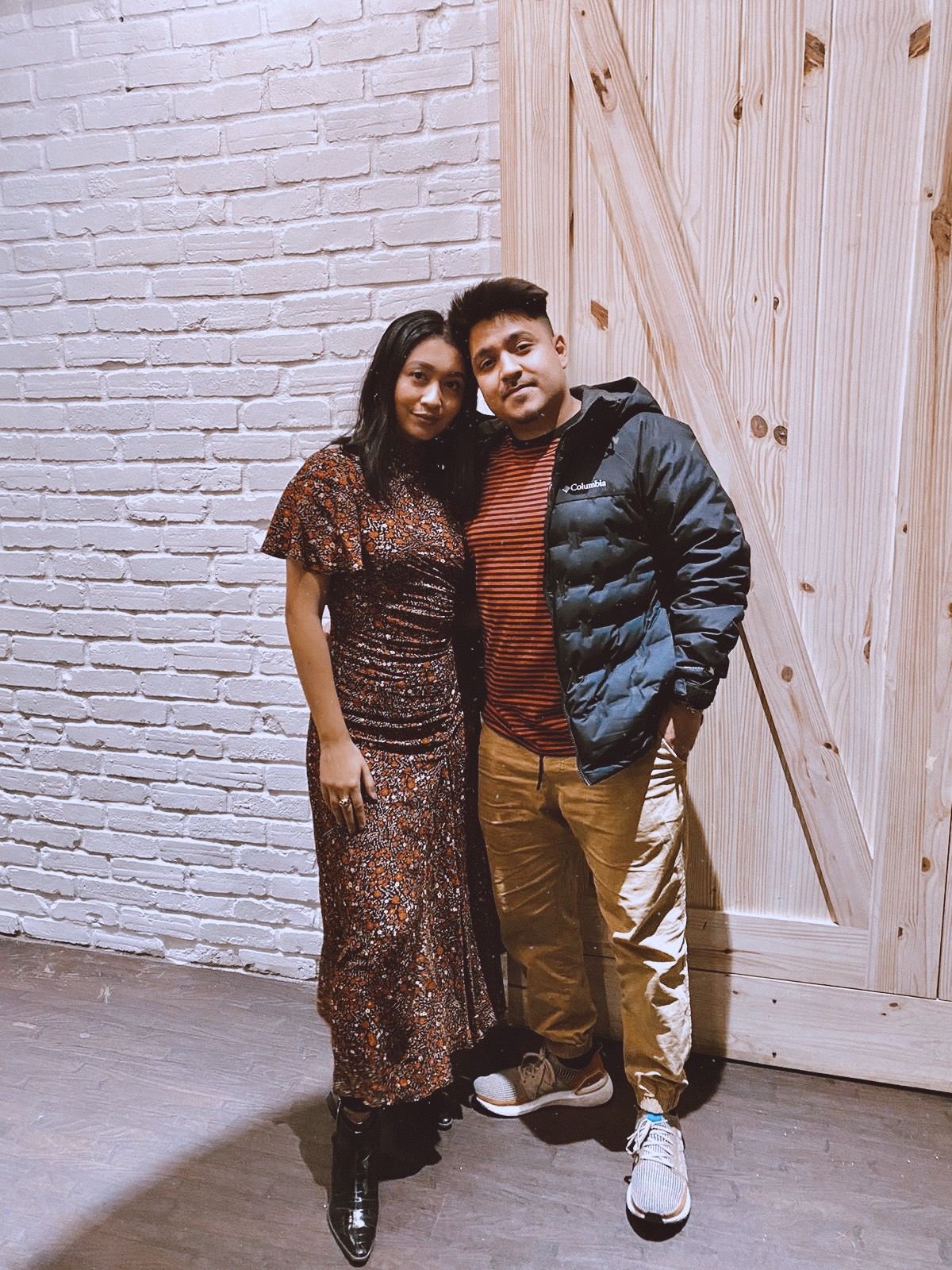 Hope you all enjoyed this blog post loves!
Make sure to check out my other blog posts, I PROMISE you will NOT be disappointed. I have a ton of food related content coming up so stay tuned…
Have you caught up on my recent ones? Catch up HERE!
Please make sure to follow me on all of my socials & subscribe to the blog before you leave so that you don't miss a single thing!
Thank you,
X