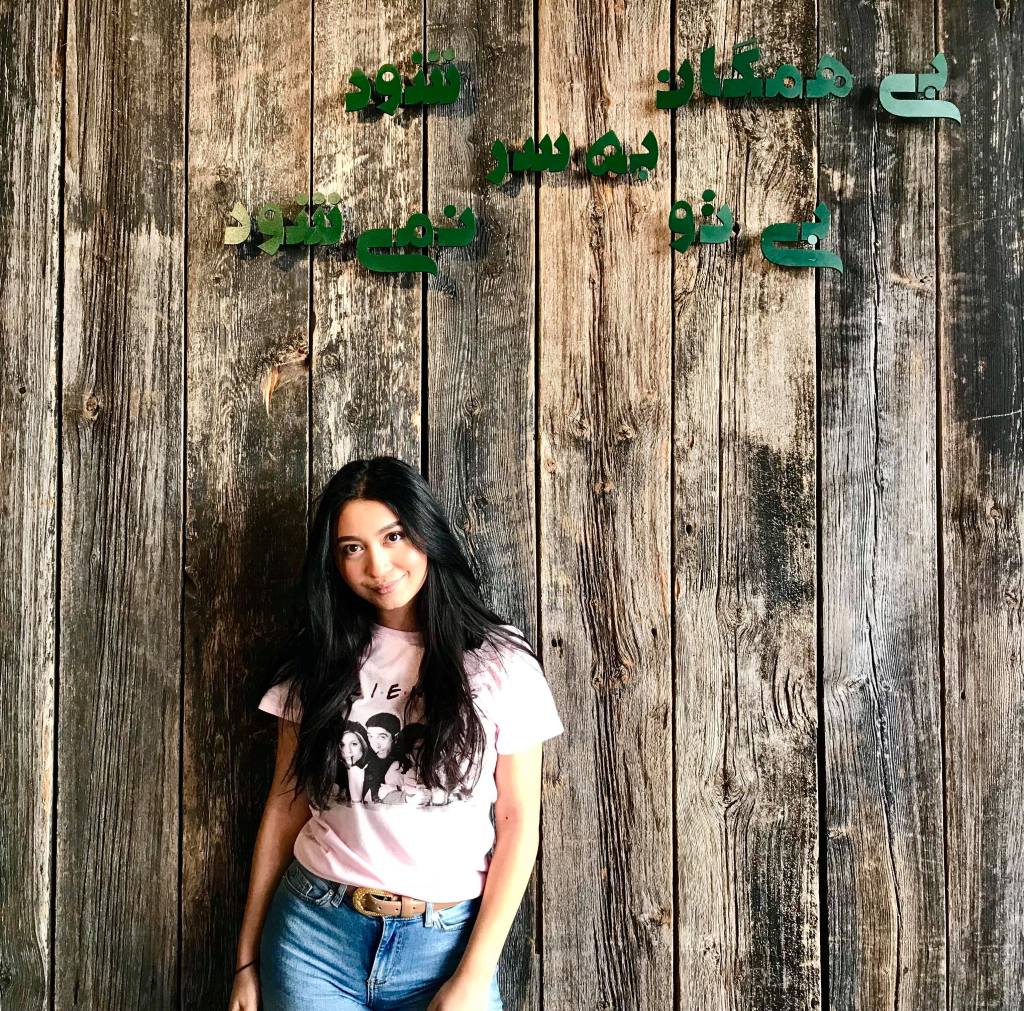 Hey loves! Today's post is about one of my favourite things in the whole world- FOOD! As a Muslim who only eats halal meat, it can be a bit tough to find some great spots to eat at, especially since there aren't THAT many places that serve this option. In this post, I've rounded up some recent spots that I've visited- and why you should to!
As a true foodie, I LOVE exploring new places and trying new things…
1. LOCATION: Tabülè- 810 Queen St. E, Toronto ON.
So where do I begin? The interiors of Tabülè were amazing, the food? EVEN BETTER. The dish I ordered was called the "Lahmeh" and I was able to add it with a tomato & garlic sauce.
WOW was it delicious!
The meat was soaked nicely in the sauce, which really gave it that tomato-y flavour that I know and love. Personally whenever I eat meat, I usually have it with some sort of tomato base as I've found that the flavours work really well together. The fact that I was able to add the sauce to my meal really made a difference and I was very happy with it. Some places aren't able to mix certain things together, but I appreciated that they were able to do this for me!
*Important to note: NOT EVERYTHING HERE IS HALAL! MAKE SURE TO ASK YOUR SERVER.
I ABSOLUTELY LOVE THE WALL ART WITH THE POP OF BLUE! SUCH A GREAT CONTRAST.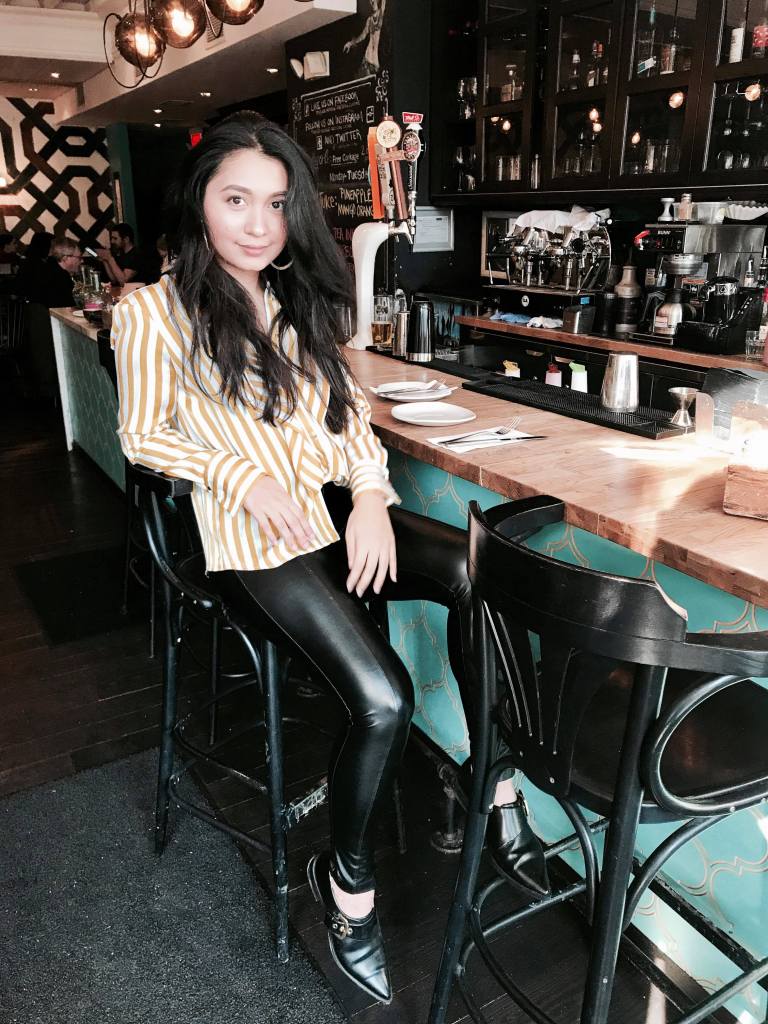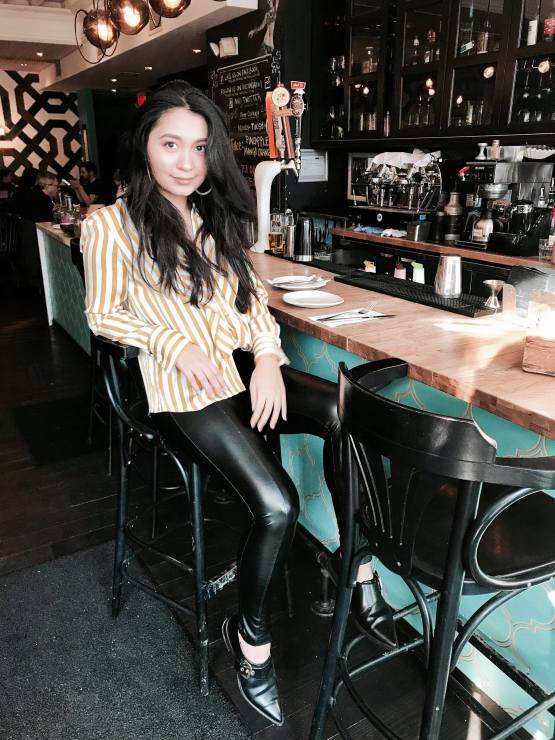 LITTLE BIT OF A SNEAKY OUTFIT PICTURE!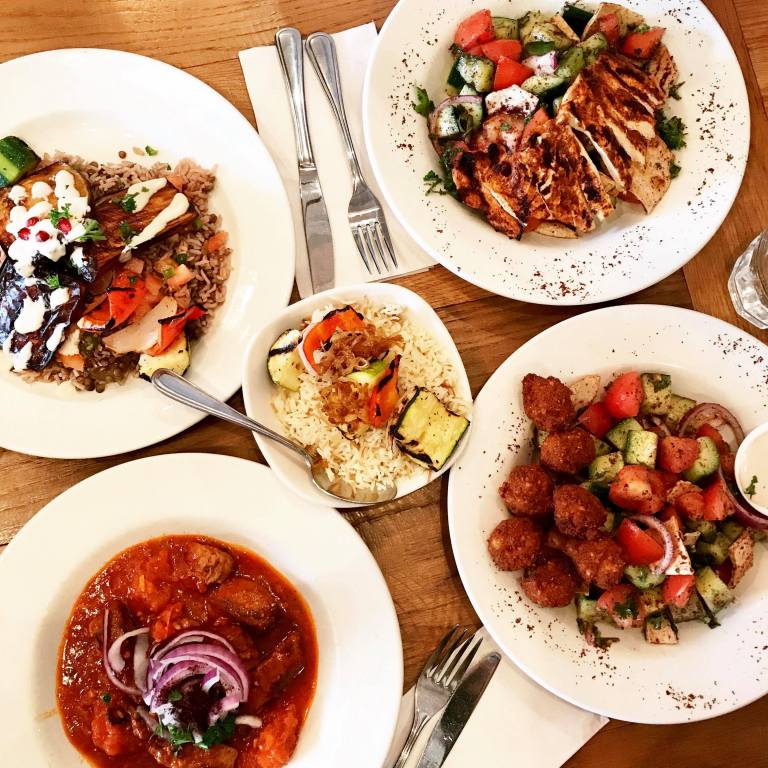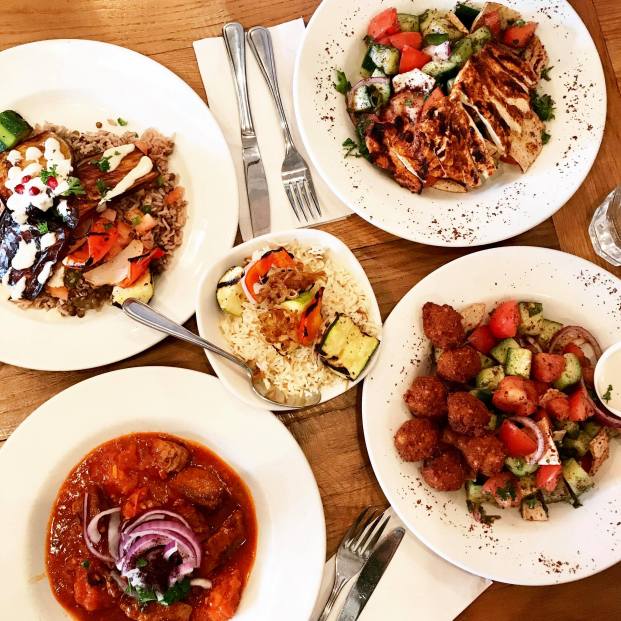 DOESN'T IT LOOK DELISH? MY DISH – BOTTOM LEFT CORNER.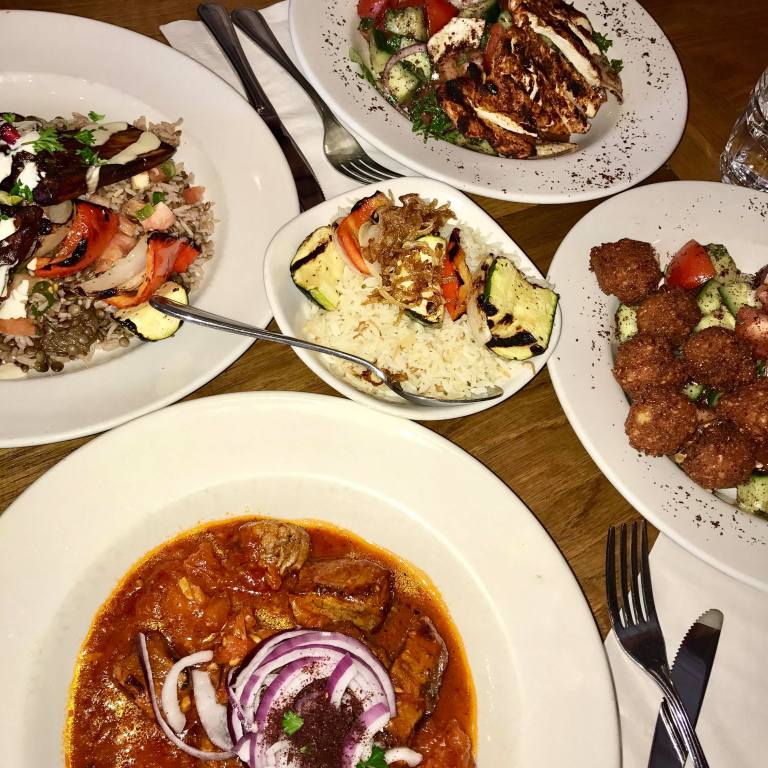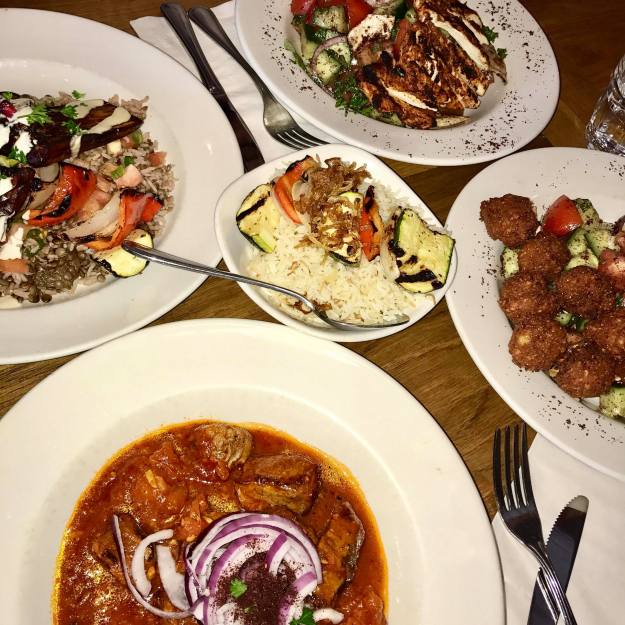 Next time you're there, I highly recommend that you try this dish. Definitely going to be ordering this again when I go back!
2. LOCATION: Orient Express- 4271 Sheppard Ave. E, Scarborough ON.
When it comes to noodles in soup, I DON'T PLAY. I remember looking up halal noodle places and this one came up as I was searching and I'm so thankful that it did! My boyfriend and I wanted to try it out so we went that same week and I can honestly say that it's a hidden gem in Scarborough. I've never heard of this place beforehand, and I'm a bit confused because it is SO darn good. They're actually a specialty noodle place as their noodles are hand-pulled: a special process that consists of repeatedly pulling, stretching and folding dough in order to create thin strands of long noodles. I've never tried these types of noodles before and now that I have I must admit this is probably my favourite kind of noodle… and I don't say that lightly.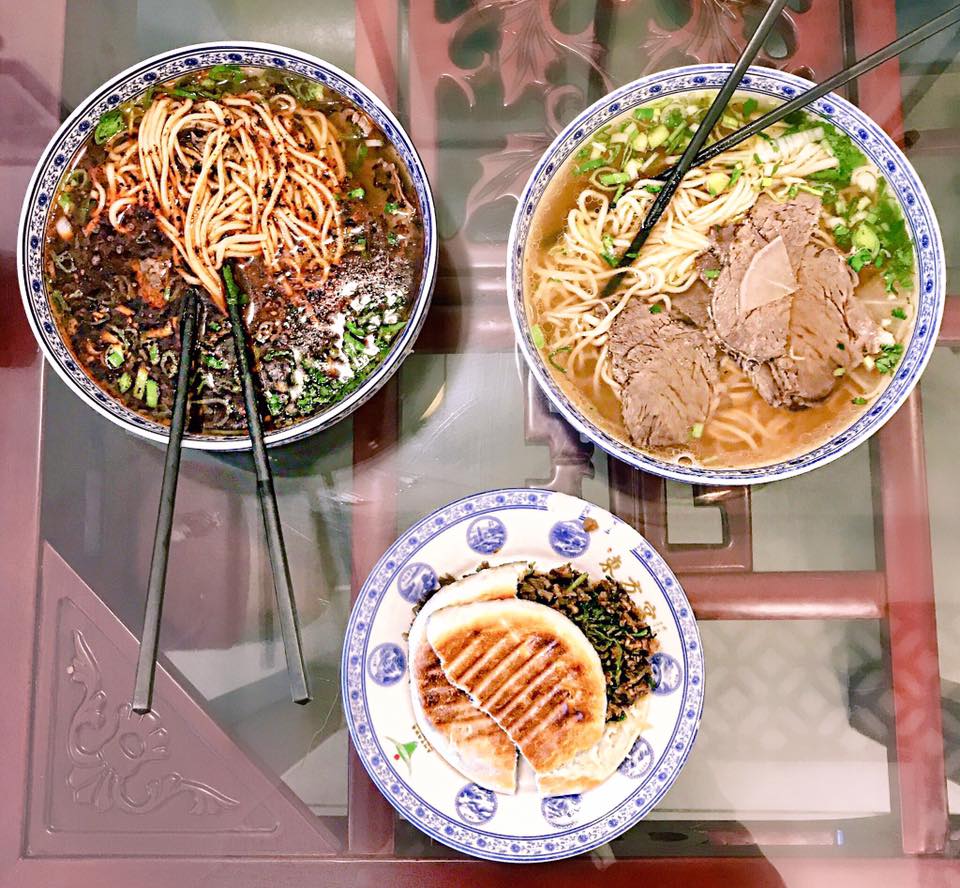 Definitely recommend!
My boyfriend and I tried their "Tradition Lanzhou Beef Noodle Soup" (he got spicy- I didn't!) & their clip bun- both really good! Whenever we want soups, we always come back to this place!
3. LOCATION: The Poet Cafe- 173 King St. East, Toronto ON.
My friends and I were looking for a great cafe that served Middle Eastern brunch and we came across this one… and I'm SO glad that we did. I remember being in awe of the decor and the fantastic wall art that displayed Arabic lettering. So beautiful!
*Important to note: NOT EVERYTHING HERE IS HALAL! MAKE SURE TO ASK YOUR SERVER.
THAT TABLE THOUGH… SERIOUSLY, IS THERE ANYWHERE THAT I CAN PURCHASE THIS?.. TOTALLY NOT KIDDING.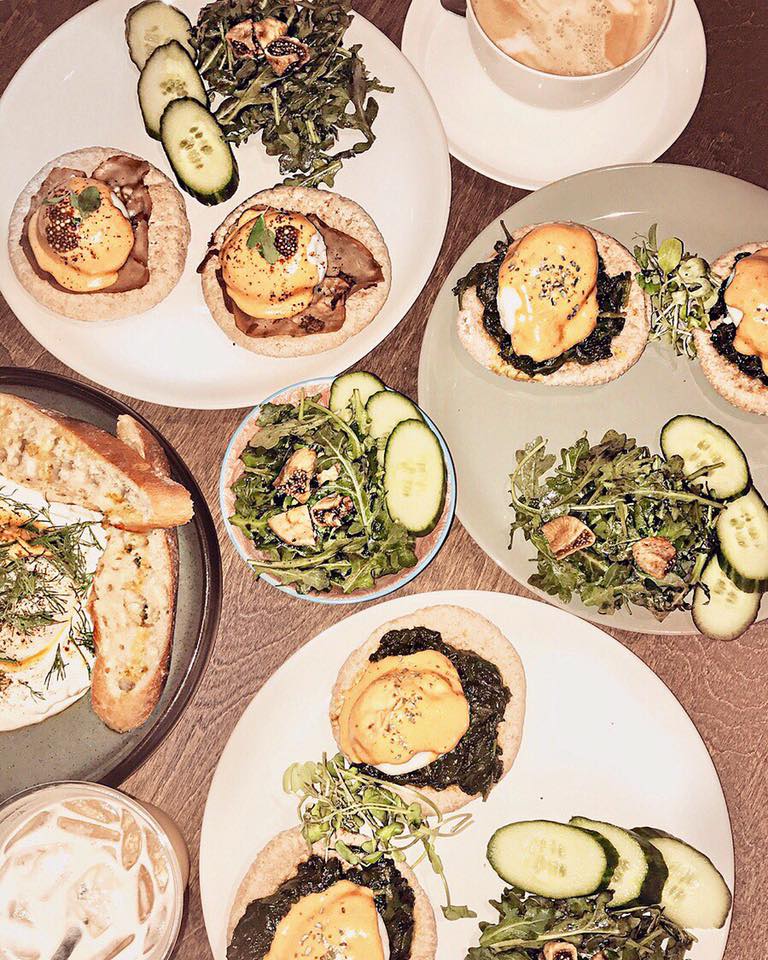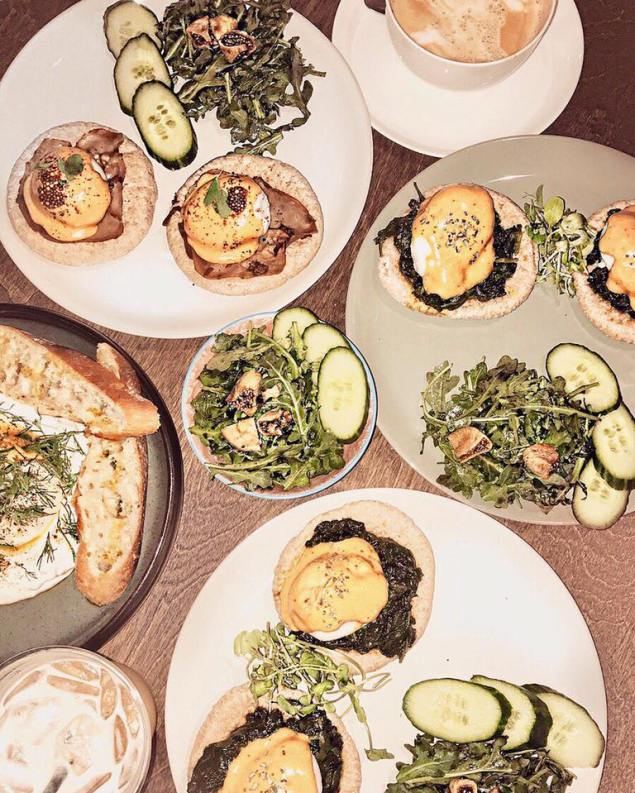 For brunch I ordered their Florentine and an iced latte to go along with my meal. I was pleasantly surprised! The drink was made very well (& I'm SUPER picky about my caffeine!) and the ingredients were truly fresh. The eggs were cooked perfectly atop the cute little pita breads, and the side salad with fig tasted pretty good (and that's coming from someone who doesn't really like salads or figs that much!).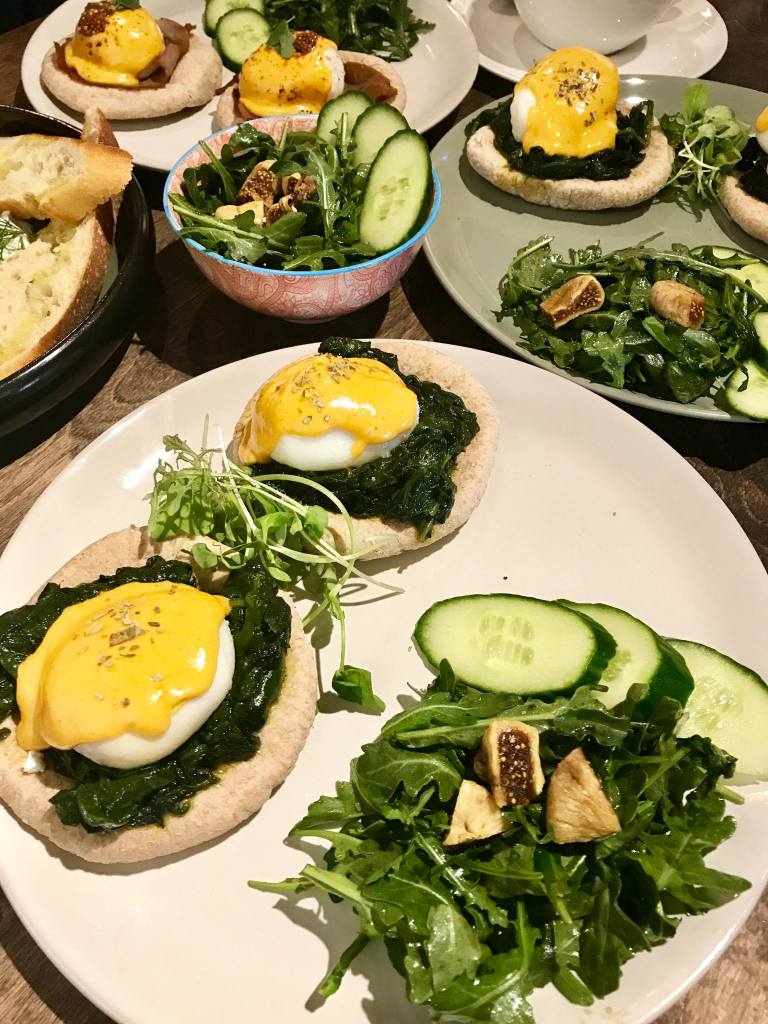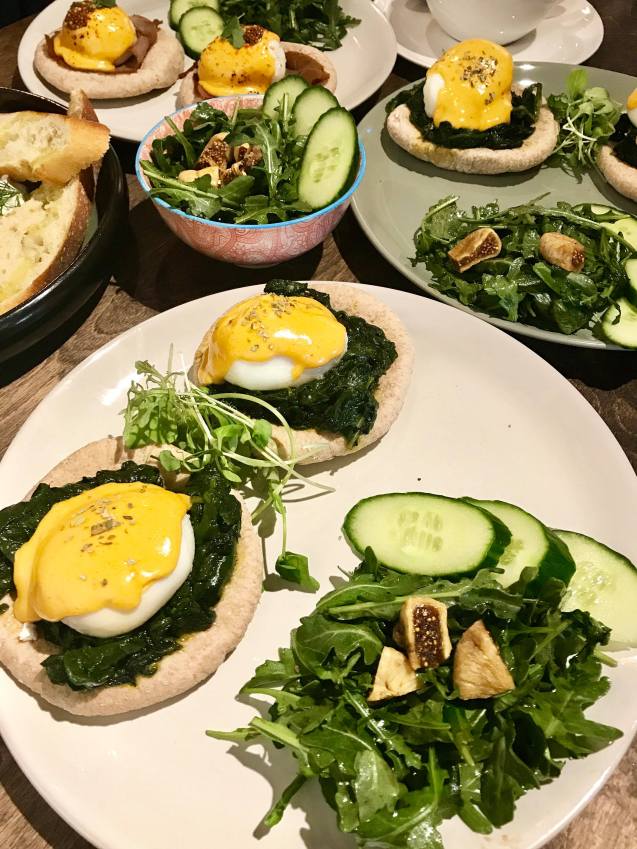 Absolutely loved every bit of my meal… wouldn't change a thing.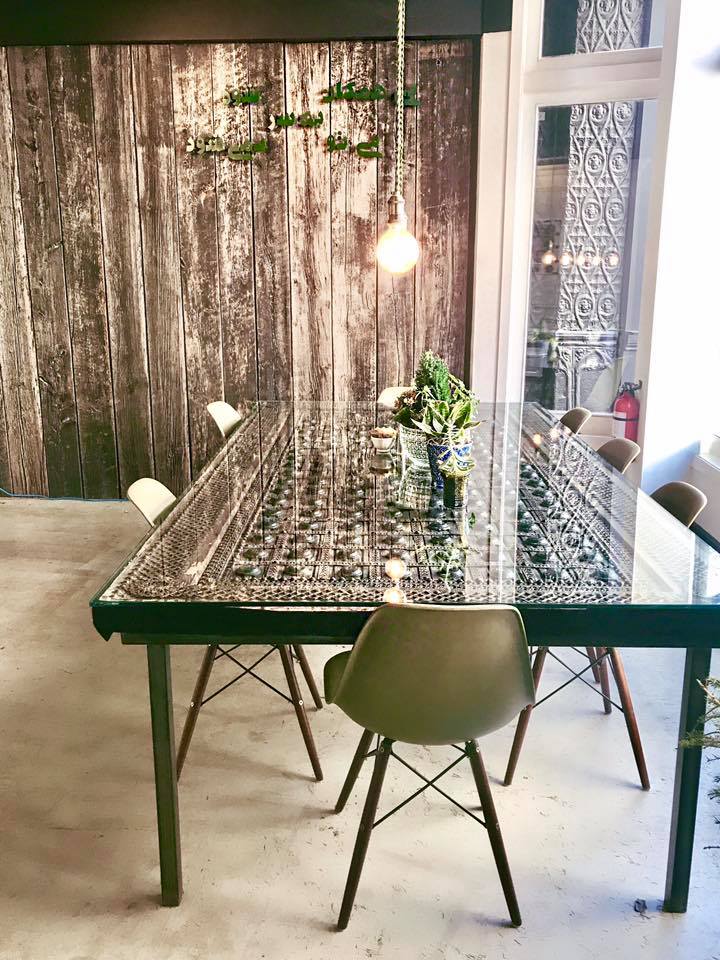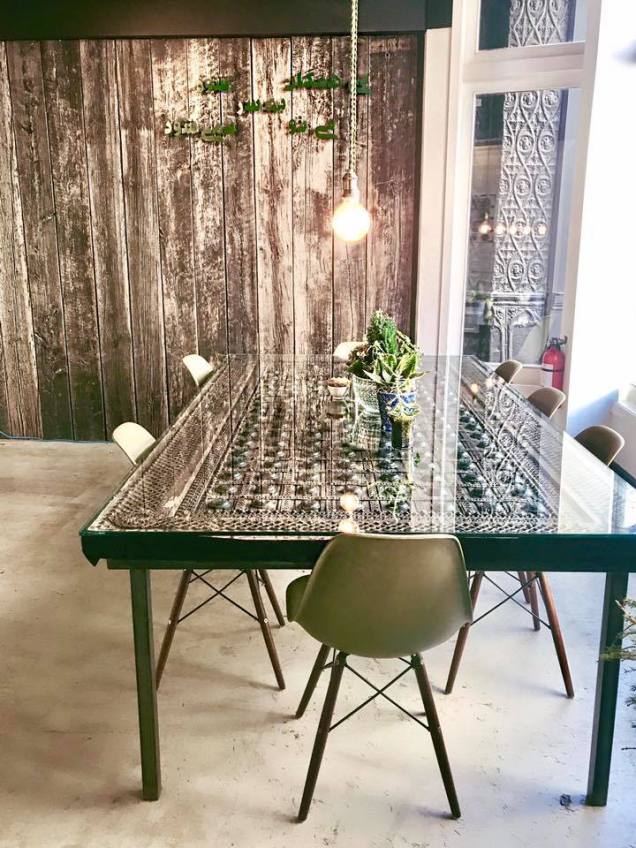 I JUST HAD TO SNAP A PICTURE IN FRONT OF THIS GORGEOUS WALL!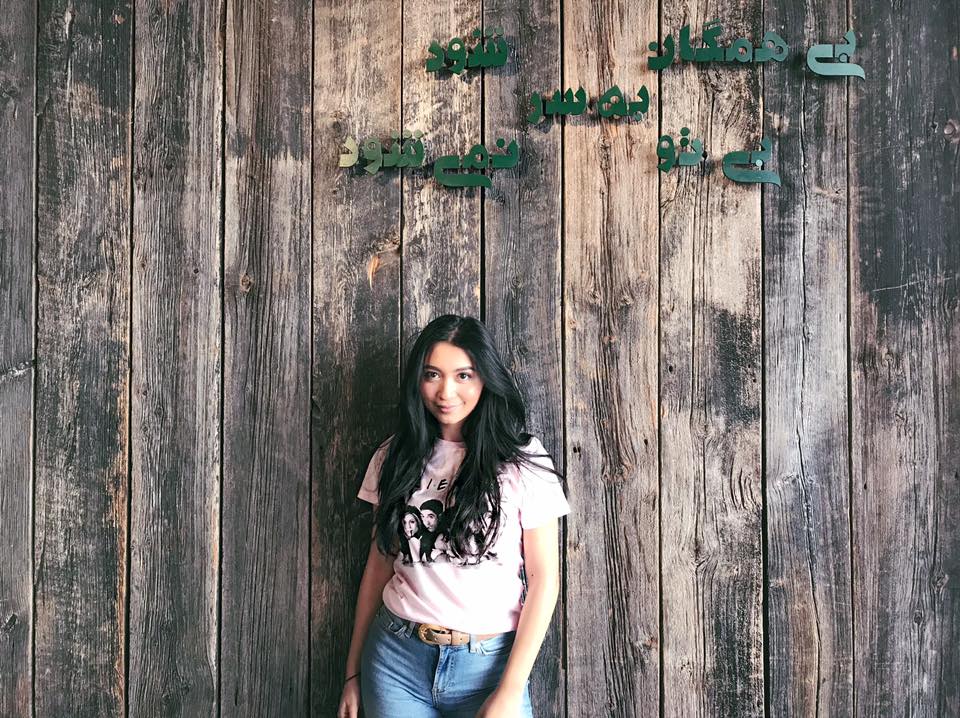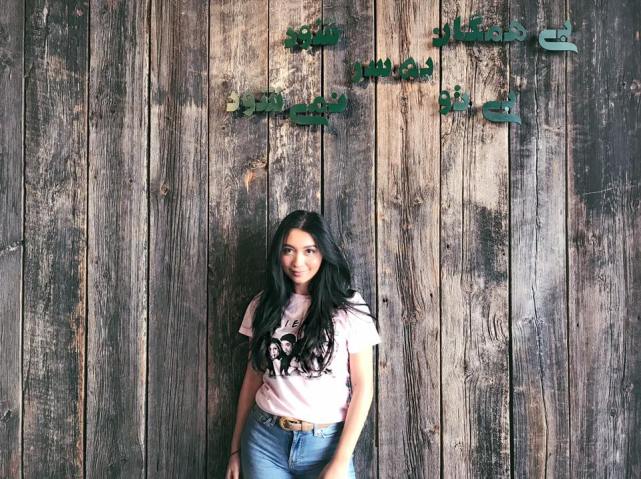 Overall, The Poet Cafe is truly a great place to check out if you're craving for Persian food (& a great OOTD backdrop!) next time you go brunching.
4. LOCATION: Barans Turkish Cuisine & Bar- 2043 Eglinton Ave. East, Scarborough, ON.
Because I'm half Turkish, I'm usually on the prowl, always hunting for new Turkish places to eat at. Once I saw that Barans had opened, I had to make sure that I tried the food from here! It didn't disappoint…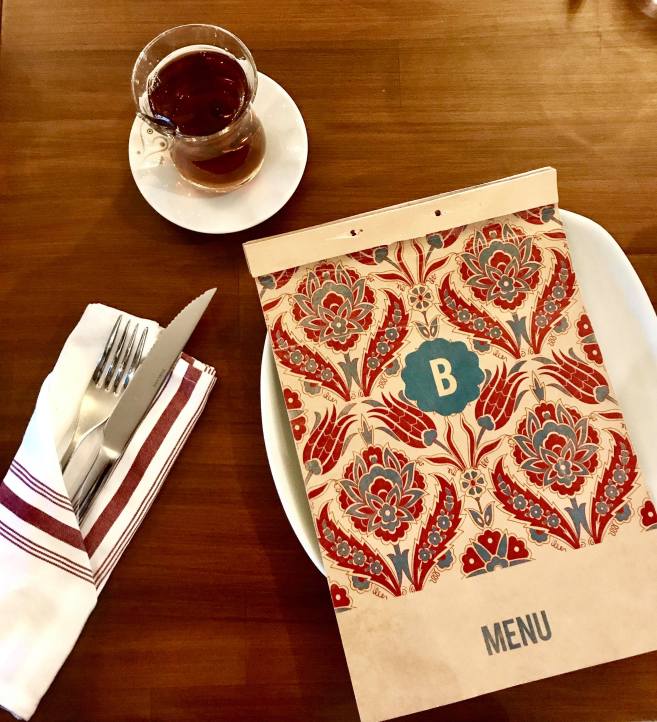 Turkish Cuisine in my opinion… is just one of the best! (Not trying to be biased or anything but..)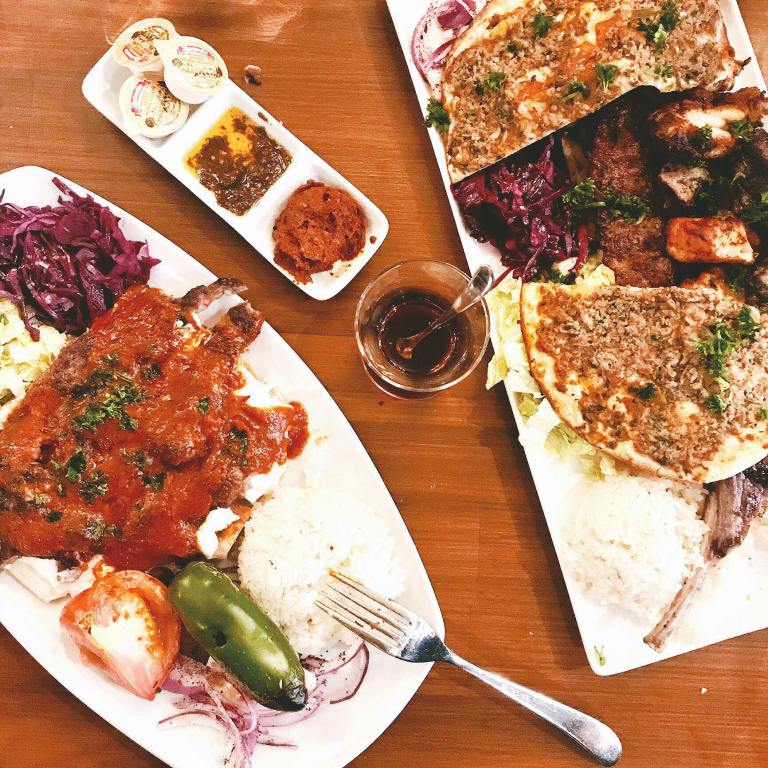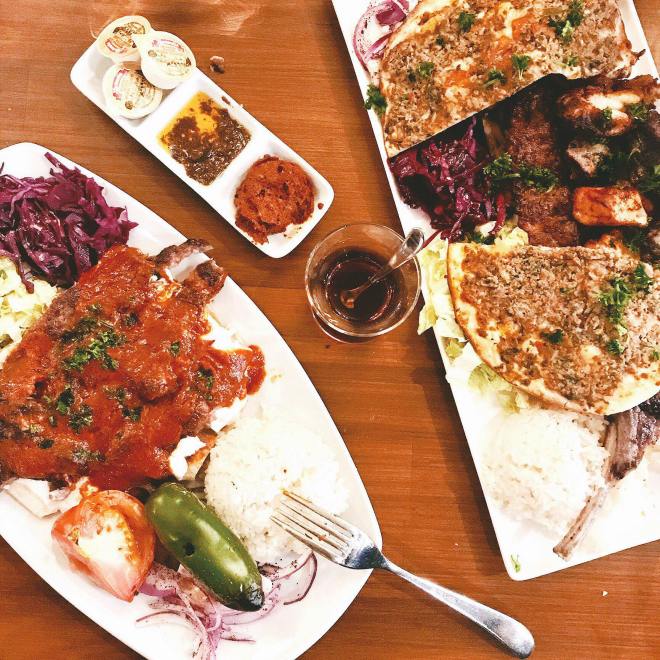 LOOK AT THAT SPREAD… SO. DARN. YUMMY.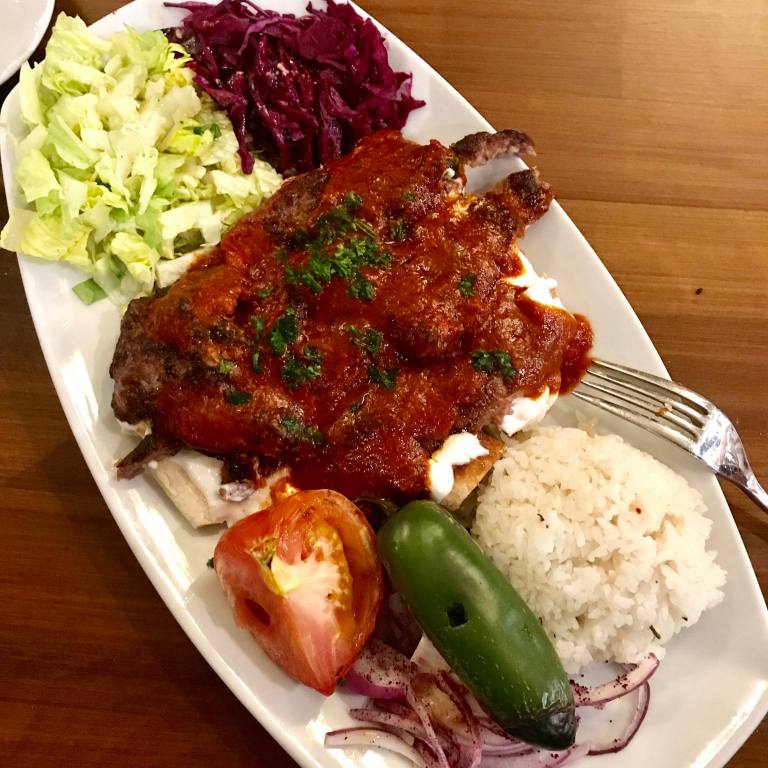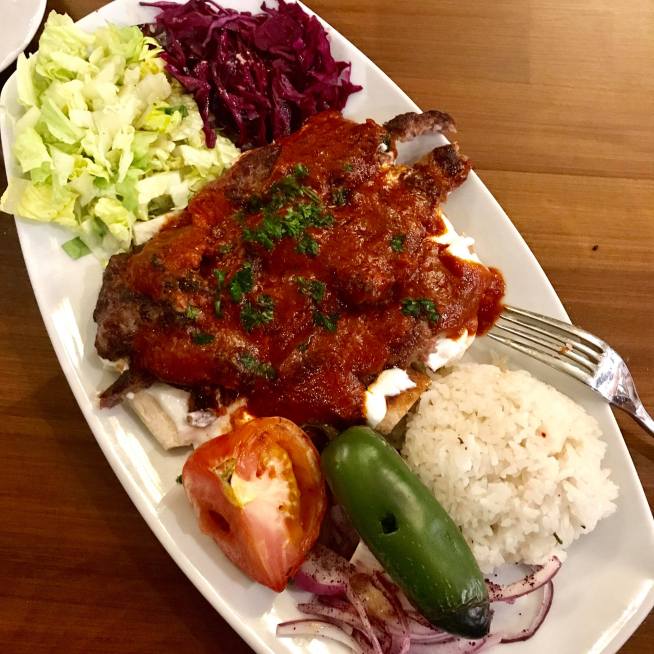 The first time I was able to try out this place was for a family member's birthday. I didn't know what to expect (well I knew it was going to be good because HELLO- Turkish food is amazing!) but I was excited to see what they offered. The interiors reminded me of back home… the charcoal BBQ and the whole vibe in general- it just took me back to Turkey. I ordered the "Beyti Kepap" which was a minced lamb and veal kebab wrapped in lavash (really soft yet thin flatbread), topped with tomato sauce and served with grilled veggies and salad.
Everyone including myself really enjoyed our meals! Their portions are very generous by the way… and because they gave me so much food, I had leftovers which was great due to the fact that I didn't have to buy food for work the next day LOL. I love having good food for leftovers, don't you?
4. LOCATION: BlackGold Cafe- 2101 Brimley Road, Scarborough, ON.
I remember when this placed first opened up… I was SO excited! The fact that there was a halal cafe NEAR my workplace had me all worked up. FINALLY, I had another place to add to my list of go-to brunch spots. It's such a cute little spot and included cool piping in the ceilings, accented with handmade menu signs which I thought was a cool touch. For such a small space, it packs quite a punch!
Their menu has an array of food items AND drinks that are both tasty AND instagrammable. What more could you ask for in a cafe?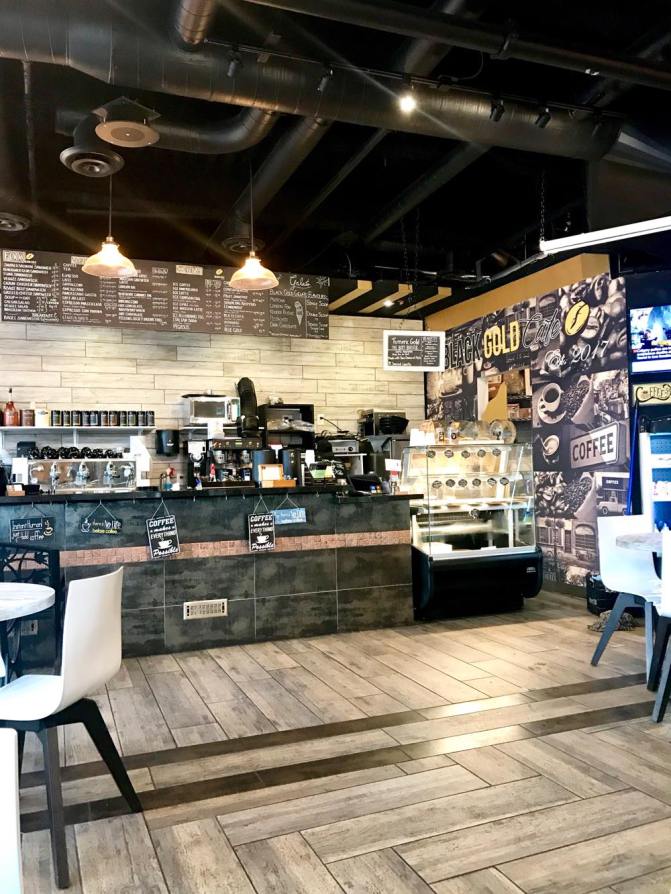 I BROUGHT MY FRIEND HERE FOR THE FIRST TIME RECENTLY AND SHE REALLY ENJOYED HER "CAJUN CHICKEN SANDWICH" (PICTURED BELOW). I OPTED FOR A BROWNIE & JASMINE TEA- A MUST-TRY!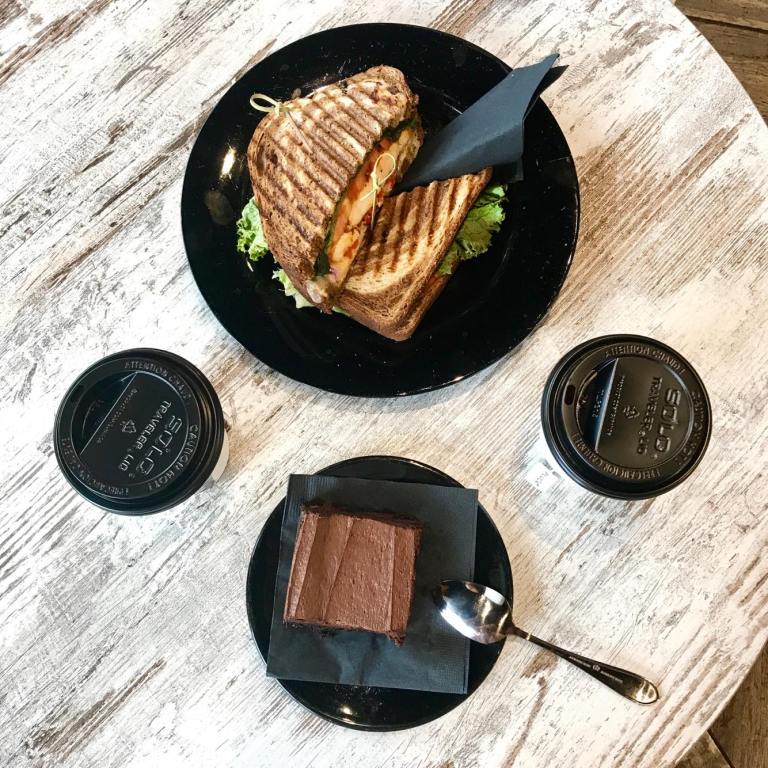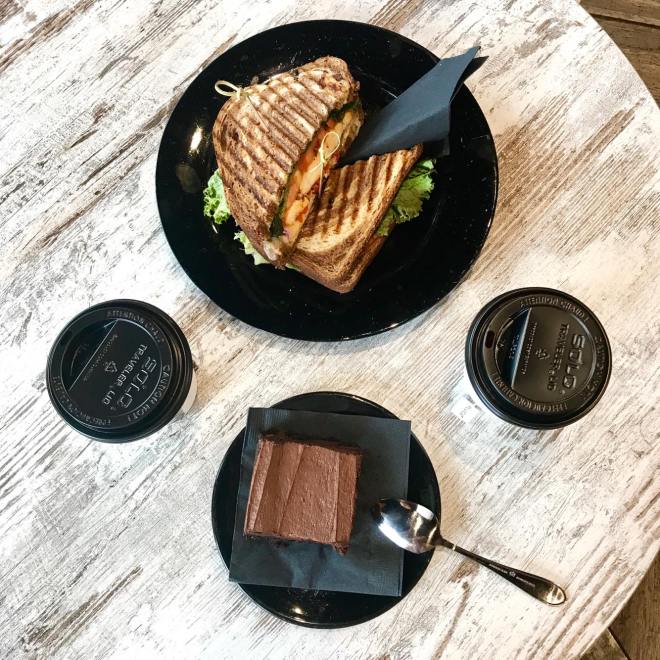 BECAUSE OF THE NICE WOODEN TABLES AND NATURAL LIGHTING FROM THE WINDOWS SURROUNDING THE ENTIRE PLACE, YOU CAN SERIOUSLY TAKE A GREAT FLATLAY PICTURE!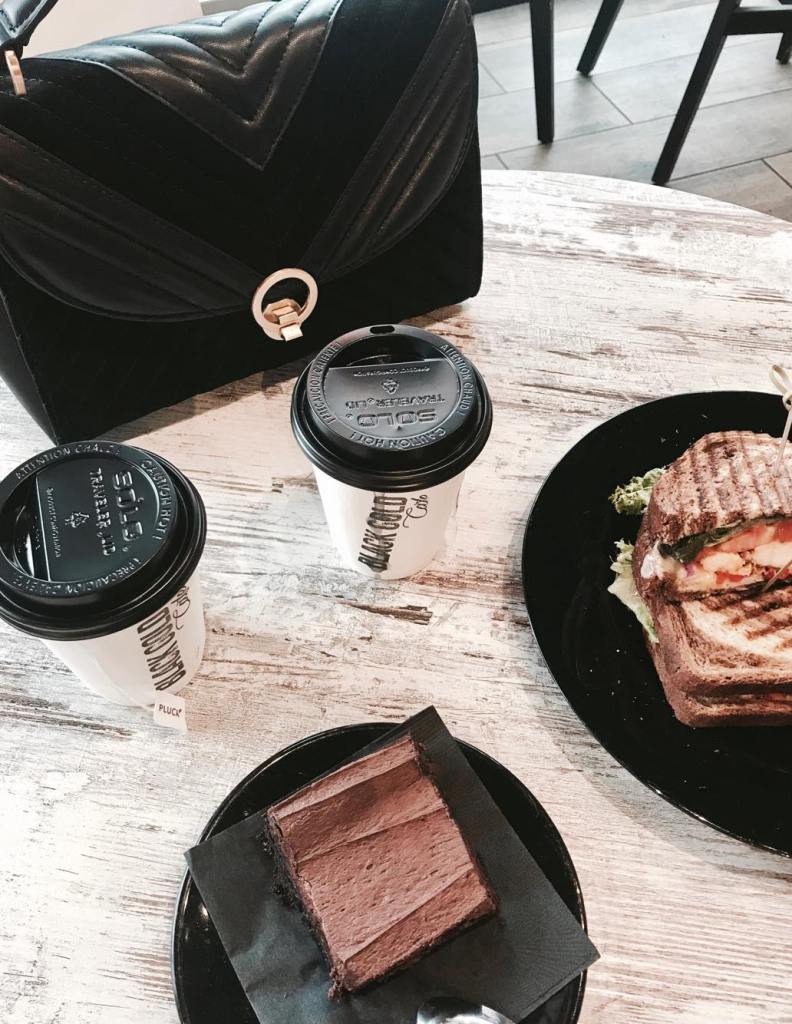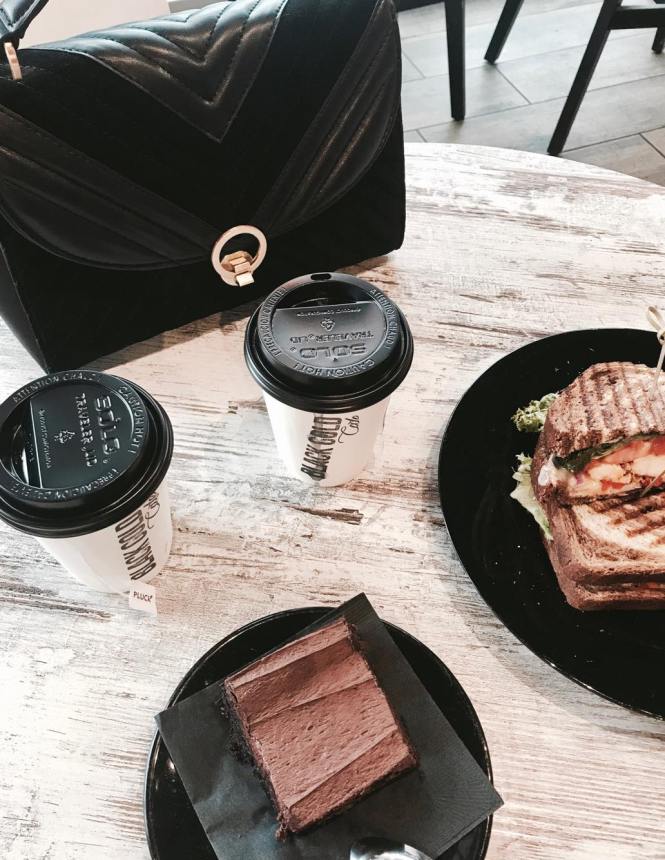 Overall, this place is ANOTHER hidden gem in Scarborough. I've tried a lot of their food already, and I have yet to come across something that I don't enjoy from here (& I doubt that will ever happen to be honest!). Their soups, sandwiches, desserts etc., are all amazing. If you're ever around this area, make sure to check this place out- you won't regret it.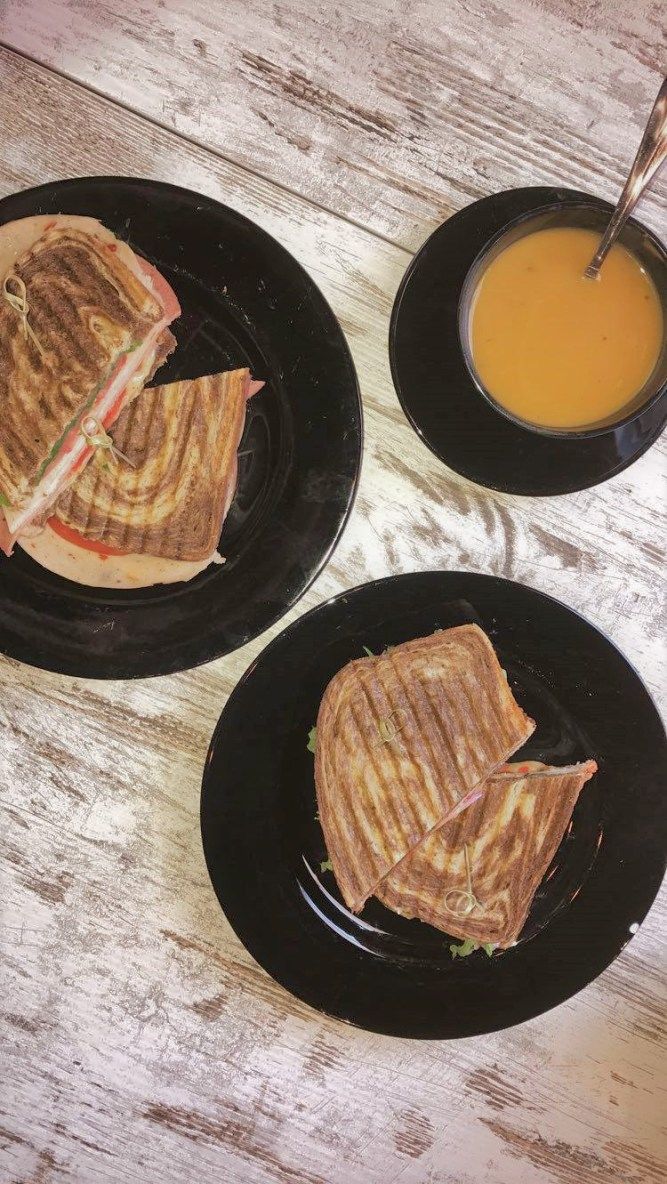 THERE YOU HAVE IT! These are some of the best Halal-friendly places that I like to eat at in the GTA! Whenever I come across other great places to eat at, I'll make sure to do a blog post about it.
Make sure to stay tuned and subscribe to the blog for more posts like this!
If you'd like to see what I've been up to, then definitely head over onto my instagram & follow me here: https://www.instagram.com/saylad/
Please make sure to follow me on all of my socials & subscribe to the blog before you leave SO THAT YOU DON'T MISS SINGLE THING!
Thanks loves!
X