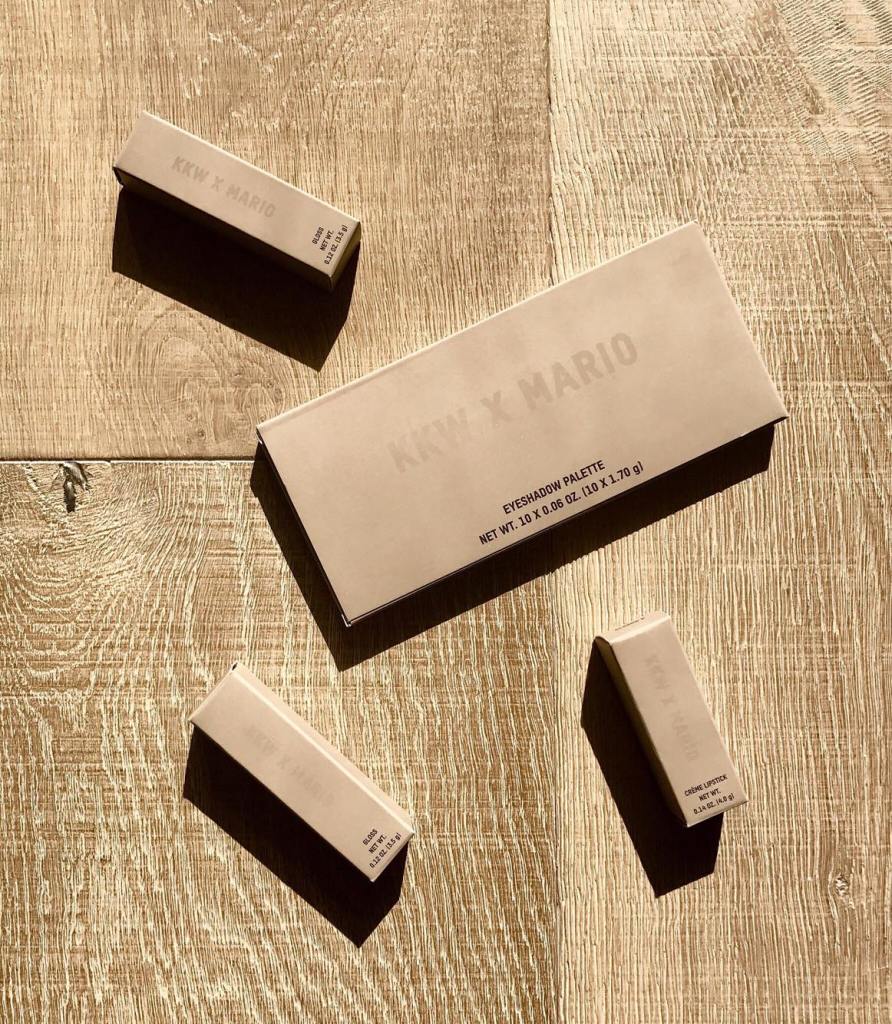 Hey loves, long time no see! I've been super busy at work and have been trying to catch up with everything but I'm back and I am SO excited to be here. I wanted to do a review for you guys on the fairly new KKW Beauty X Mario Dedivanovic collaboration which includes a few key items that will ultimately become staples in your beauty routine (it has in mine!).
Before I get into the review I just wanted to let you all know how much your support means to me! I've been gone for SO long and I just want to tell you I appreciate each and every one of you for checking out my blog and just overall supporting me!
I don't want to get too emotional and babble on SO let's just jump right into the review, shall we?

1 EYESHADOW PALETTE, 2 LIPGLOSSES & 1 LIPSTICK
I chose to grab the bundle collection because I felt that it was the most cost-effective choice, allowing me to try all of the products for a bit of a discount ($16 to be exact!), and it cost me around US$85.00 plus shipping (US$14.95) which came out to around $US99.95 ($130 CAD I believe- YIKES THAT'S QUITE A LOT!). I also had to pay around $20 in customs which was unfortunate but what can you do? I really wanted to try out this long-awaited collaboration so I had to bite the bullet! I mean, this collaboration seemed like it would be everything and more… right?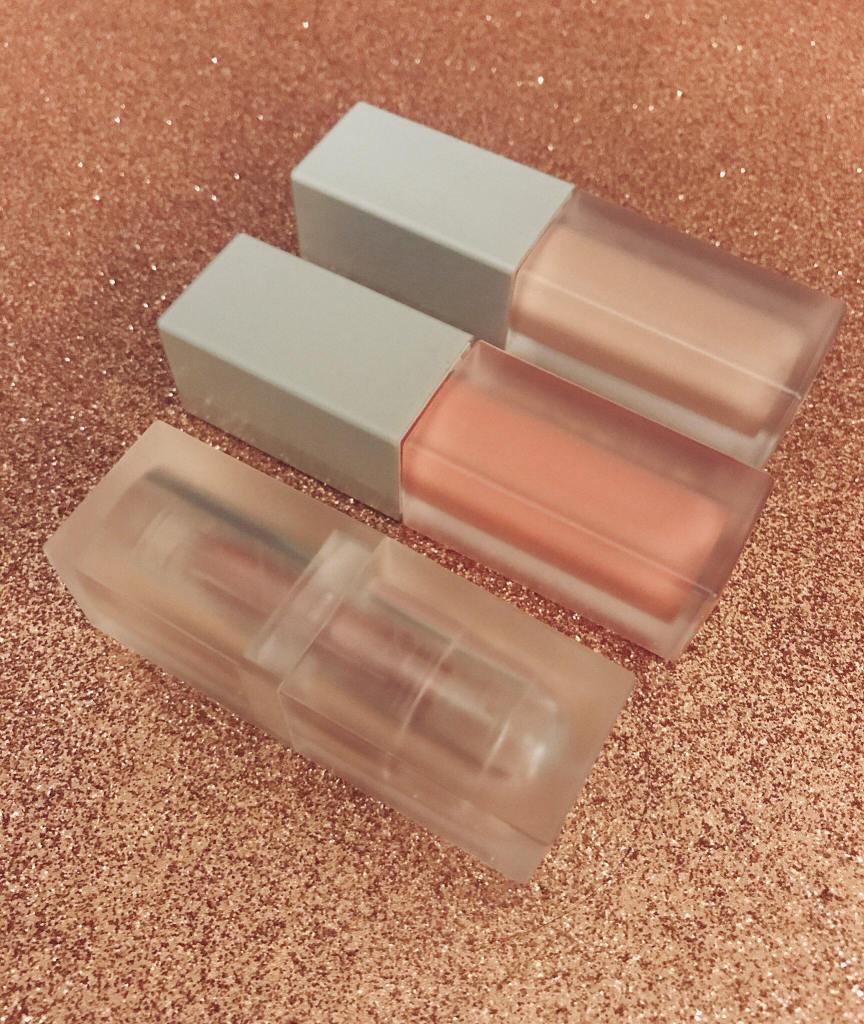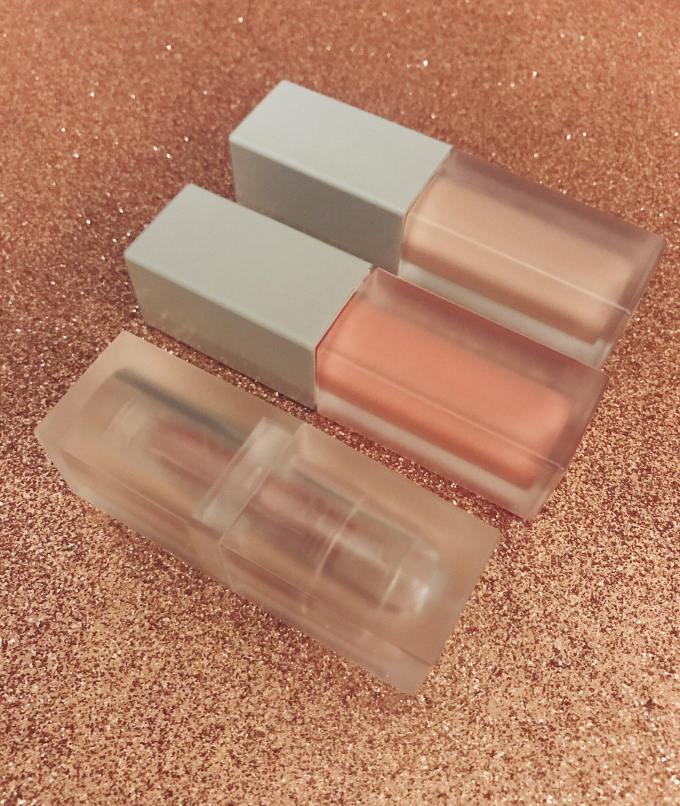 SLEEK FROSTED (PLASTIC) PACKAGING, SO MINIMAL… SO KIM!
Firstly, I've actually never ordered from KKW Beauty before so I wasn't sure about the formula and quality etc, but this collection has sure surprised me (in a good way!). I personally love both Kim Kardashian and Mario Dedivanovic & his makeup abilities which is why I had some expectations towards this collaboration but overall I truly did not know what to expect. I also was a little bit skeptical at first because Kim hasn't really been in the makeup game for so long (brand-wise) which is why I didn't have high expectations or assume anything beforehand. At the same time, I felt the need to get my hands on this. I mean, I definitely thought that this collaboration would be at least decent because of Mario- for one being a world-renowned makeup artist especially, BUT the real question was if Kim Kardashian was truly going to do this collaboration justice? Well, she truly did and…
this collection truly "WAOWED" me (Patricia Bright reference!). I am truly pleased with every single product. I had some issues that I will mention as we go along, but overall I am thoroughly obsessed.
LIPSTICK & GLOSS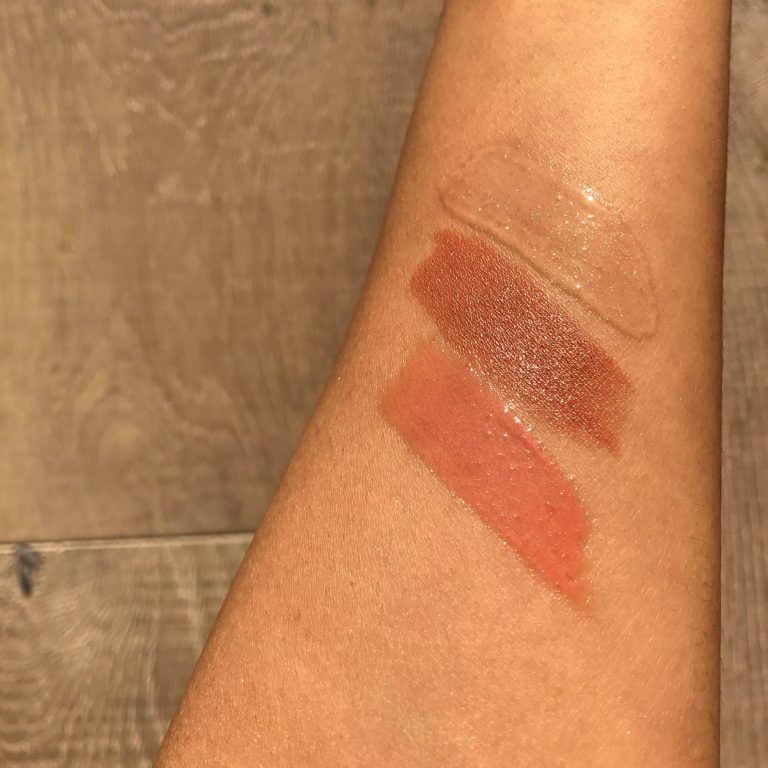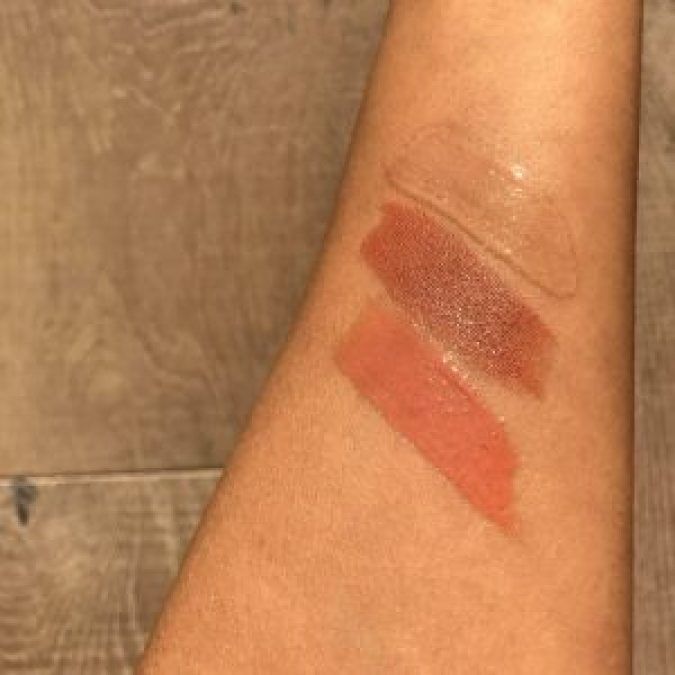 TOP TO BOTTOM: SUPER NUDE GLOSS, CLASSIC K LIPSTICK & JUICY GLOSS
Although this collection did not disappoint, I had some issues when it came to trying out the lip glosses initially, especially towards the application of the products. When I tried the lip glosses, I was a bit underwhelmed due to the "goopy" look that I felt it gave to my lips. It spread out a bit odd upon first application but I just let it sink onto the lips for about 2 minutes. To my surprise, this really helped in making the gloss "one" with my lips. I also discovered that I put on way too much when I first applied it, so remember a little goes a long way! By letting the gloss melt onto my lips, this step truly transformed them for the better and I was left lip-gloss smackin' happy!
I remember thinking "I CAN'T BELIEVE I SPENT ALL MY MONEY ON THESE," to "OMG, ARE THEY COMING OUT WITH MORE SHADES!?"
These glosses were truly something special! Both nude-toned colours look very flattering (not initially though to be honest) and aren't that sticky which is a huge plus. They leave my lips feeling a bit plump and hydrated which ticks all of my boxes in terms of lip-products. I hate when a product leave my lips dry and this does the exact opposite which is amazing.
As for the lipstick, well I have to report that it is absolutely stunning. Again, Kim and Mario nailed the formula. It has a satin-almost-matte type of finish that glides onto the lips seamlessly and without any issues. It's super creamy as well which again, is awesome for those of us who have dry lips (AKA MOI). The shade is a neutral terracotta that truly goes with any and everything. I love that it's a neutral tone that pretty much compliments my lips and looks great with every look that I've created with it. I don't have any complaints with this lipstick except for the fact that the packaging isn't that durable. I'm a tad bit scared to put this into my bag because I feel that the lid will just slide right off to be frank. It's just not that secure unfortunately! I don't know if I'll be able to throw this into my everyday bag for when I'm on-the-go but it looks pretty on my vanity anyways, so for now it'll just have to sit safe right where I can see it (& where it's not destroying the interior of my bag!).
EYESHADOW PALETTE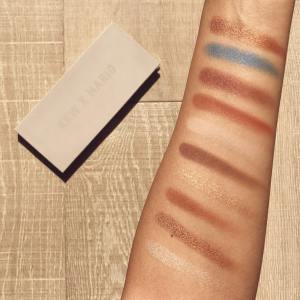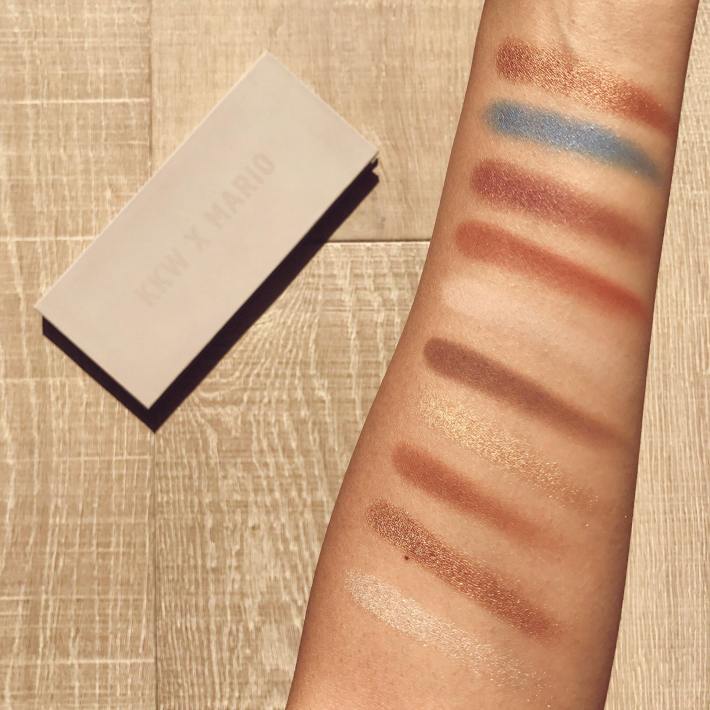 FROM TOP TO BOTTOM: BRONZY, LIBRA, VEGAS, ALBANIAN, DECADE, LOYALTY, ARMENIAN, MIAMI, GLAM & 2008
Well… onto the 10 pan eye-shadow palette. They say pictures are worth a thousand words right? When I saw this beauty in front of me all I could think of was one- GORGEOUS! I love the fact that there are quite a few neutrals in there and that pop of blue is absolutely stunning. I've always liked blue eyeshadow, and although I don't really wear it quite that often to be honest, I've always been drawn to them for some reason. There's just something about the shade of blue that truly gets to me, and this one did not let me down.
All of the shades went well with one another and the formula was consistent throughout the entire palette. They were all very creamy and pigmented- I seriously did NOT expect that. There also was a bit of fall-out, but I let it slide because the shades and quality of these eyeshadows were just that good- and I DO NOT say that lightly! The satin/foiled shadows are gorgeous and give off a beautiful sheen to the eyes when applied and the mattes are not patchy and truly show up on my eyes without turning muddy which really surprised me.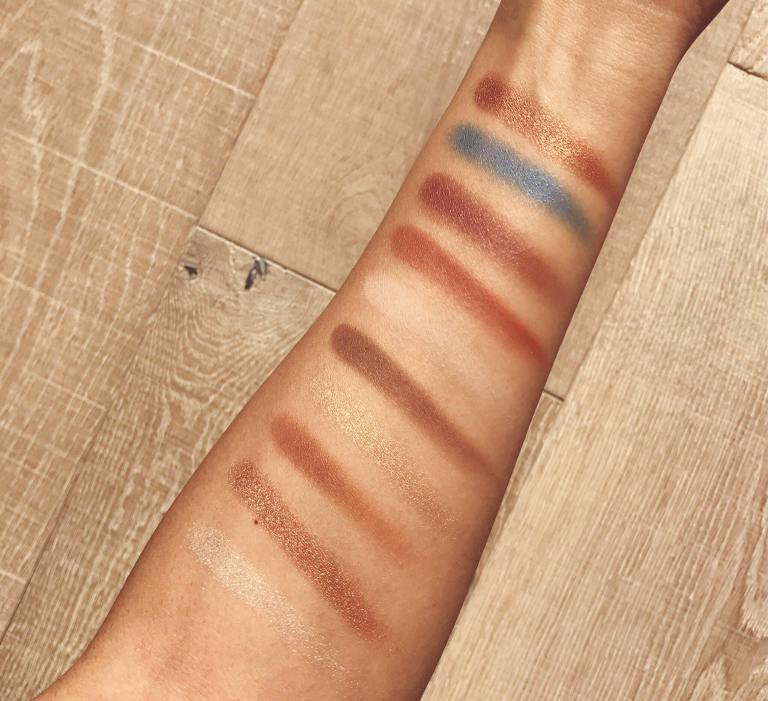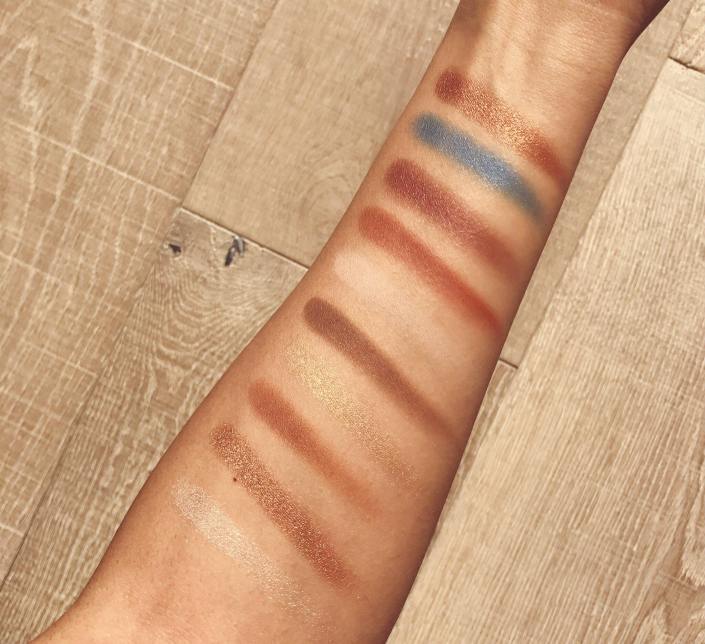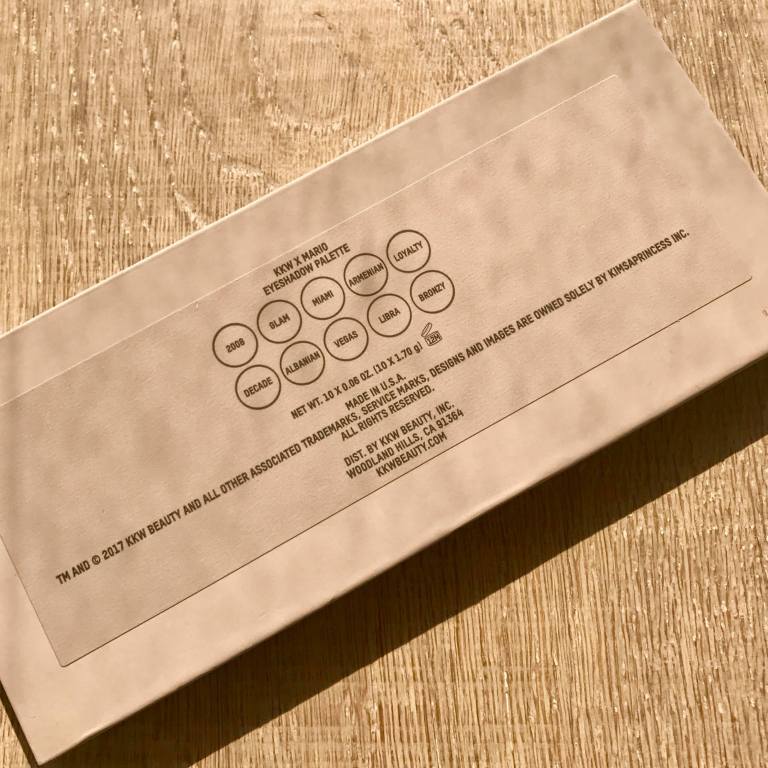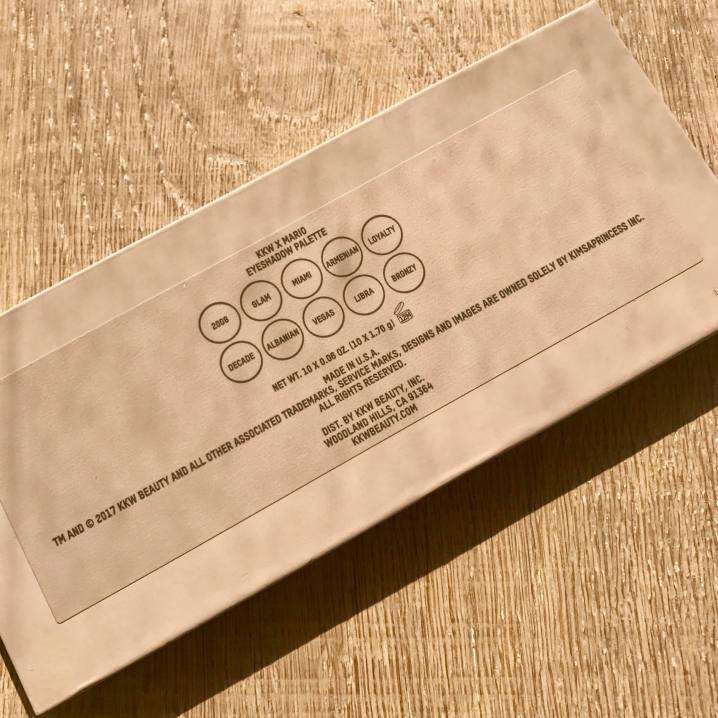 Again, I had no true bias or expectations but I did expect something to work for me (especially for the price!). My needs were met though and then thrown out the window (LOL) as they blended effortlessly and seamlessly onto my eyes. One thing to note about these shadows is that a little goes a very long way! They are quite easy to work with but I personally think that you should start out soft and build up the pigment to get your desired effect because of how pigmented they really are. Other than that, application and formula of the eyeshadows are astounding.
Cost Breakdown
EYESHADOW PALETTE:
COST / SHADOWS INCLUDED = US$45.00 / 10 EYESHADOWS
US$4.50 PER EYESHADOW
COST PER GRAM
COST / TOTAL WEIGHT = US$45.00 / 17 G
US$2.65
LIP GLOSS:
COST PER GRAM
COST / TOTAL WEIGHT = US$18.00 / 3.5 G
US$5.14
LIPSTICK:
COST PER GRAM
COST / TOTAL WEIGHT = US$20.00 / 4.0 G
US$5.00
Ingredients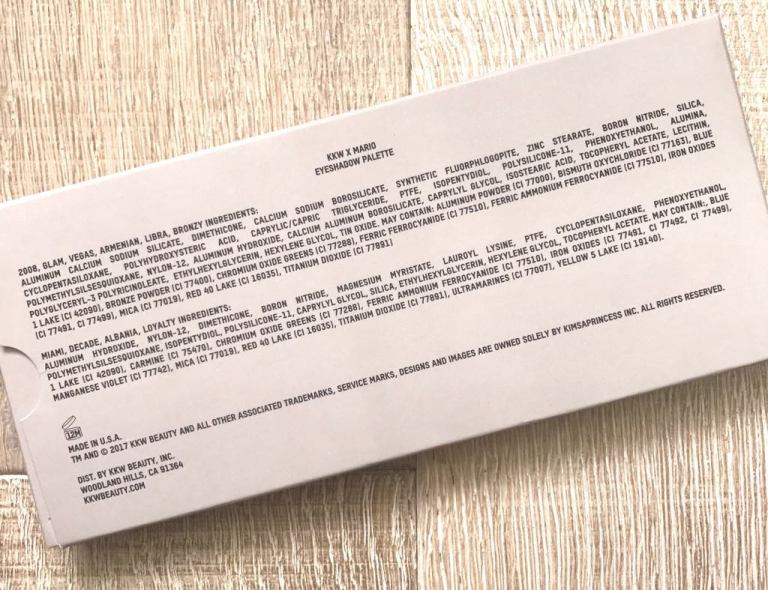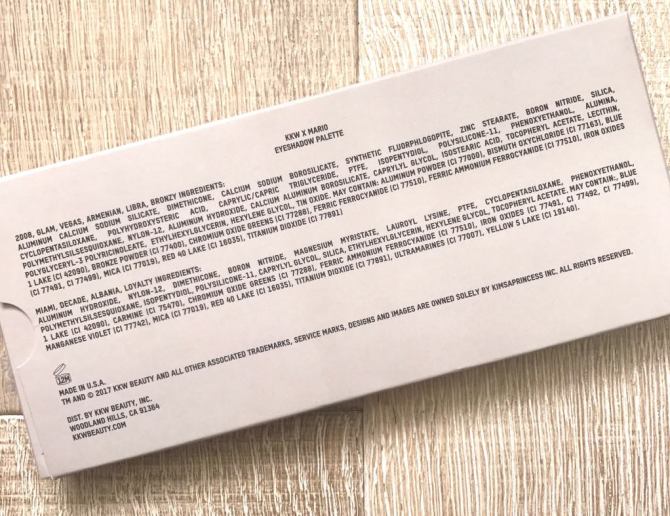 10 Pan Eyeshadow Palette: The KKW x MARIO eyeshadow palette, formulated specifically for easy layering and blending. Matte shadows provide a creamy powdery finish in an array of universal neutrals to add depth and shade to any eye look. The buttery smooth metallic shadows can be used wet or dry, with brushes or fingers. They glide on effortlessly and provide a saturated pearlized color finish. This go-to palette provides versatility and dimension to your favorite makeup look.
Shades:
2008 is a metallic icy silver
Decade is a matte peachy cream
Glam is a metallic rustic gold
Albania is a matte brick red
Miami is a matte warm caramel brown
Vegas is a metallic deep burgundy
Armenian is a metallic bright light gold
Libra is a metallic cobalt blue
Loyalty is a matte deep chocolate brown
Bronzy is a metallic coppery bronze with gold flecks
How much product?
10 X .06 oz. / 10 X 1.70 grams of product included in eyeshadow palette
LINK: https://kkwbeauty.com/products/kkw-x-mario-10-pan-eyeshadow-palette
Classic K Crème Lipstick: Formulated to deliver a full-coverage and luxuriously creamy wear. The lipstick blends beautifully with different shades of lipliner and gloss. Ingredients include a blend of lip quenching oils, extracts and high-performance pigments that work together to achieve an incredibly hydrating and smooth application with the perfect satin finish.
How much product?
LINK: https://kkwbeauty.com/products/kkw-x-mario-creme-lipstick
Juicy & Super Nude Glosses: The KKW x MARIO high shine gloss can be worn alone or with your favorite lipstick or lip liner for a smooth and ultra-glossy finish.
How much product?
0.12 oz (3.5 g) each gloss
LINK: https://kkwbeauty.com/products/kkw-x-mario-gloss
GET THE FULL COLLECTION HERE:
OVERALL THOUGHTS…
This collection was overall a great take on what KKW Beauty has to offer in terms of quality- I thoroughly enjoyed it! Don't get me wrong there were some cons to this collaboration, that being the price and packaging. For me, it's not the most cost-effective because of the fact that I paid about CAD$150.00, which to me was a bit steep, especially for being a brand that hasn't been fully established as of yet and has just recently gotten into the makeup game.
Also, the packaging could've been a bit more nicer in my opinion, but I know that minimalism is something that Kim likes and is going for in terms of her brand so I do understand why the packaging is simplistic. For the price, I just would've rather it didn't feel so "plastic-y cheap" but glass probably would've been a bit more delicate (therefore would've easily broke before it got to your door for example) so she went for the easier option of plastic packaging which I totally get. Overall, the packaging doesn't really bother me or has any real weigh-in on my opinion of the products. Do I appreciate gorgeous packaging- yes absolutely! Do I care too much about it (especially if the product itself is good?)- not so much.
One thing to know about me is that I truly am a makeup collector and I only keep a certain amount of products in my vanity. I carefully go through my products from time to time and weed out the products that I don't feel the need to keep and the fact that I haven't brushed this off yet really speaks volumes. As an avid lover of makeup and a fan of both Kim and Mario, I feel justified in my purchase of these products.
The pigmentation, longevity and overall quality of the products are quite wonderful. I didn't have any real issues with it so I must say I am impressed that they've done such a great job with curating such good products- and this is coming from someone who had no real expectations for this collaboration!
The shades of the shadows and the tones of the lip products really are great for those days where you want to go for a more minimal look yet I appreciate how it can be switched up for those nights where I want to amp up my look, especially with the pops of colours included in the palette!
All-round, I do believe that this KKW Beauty X Mario collaboration was definitely a hit. Do you absolutely need it though? Probably not, especially if you have bills to pay. For us Canadians and anyone that has to deal with taxes and duties for that matter, just make sure you know exactly where you're putting your money towards. There are a lot of extra costs that you incur once you convert your dolla' dolla' bills and on top of that the add-on for shipping and customs etc. The price overall is definitely a factor to consider before you make your purchase.
Would this be a great addition to your already growing makeup collection? Totally. It just truly depends on you and what you choose to spend your money on. As a makeup lover, I truly think that I made the right choice in purchasing this collab, and I hope that my review helps you on your decision in case you were planning on grabbing it!
If you liked this review and would like me to do another one on a specific product, make sure to follow me on my socials & subscribe to blog! Thanks loves!
X